Travel is a thrill. It's an adventure. It's a once-in-a-lifetime memory in the making.
Going to France opened my eyes to the world and made me realize I wanted to travel with my job. I am willing to relocate anywhere for work now because of this trip. This year I leave for Germany for a year for a dual-degree study abroad program between Illinois State University and the University of Paderborn in Paderborn, Germany. If it wasn't for my ACIS trip, I'd have no clue where I would be today or what I would be doing. This trip jump-started my college career. If I could do it again, I certainly would. I would recommend this for anybody."

ALLIE, ACIS Participant
Student Spotlight
Nick's Costa Rican Adventure
We're shining a spotlight on Nick, who traveled on an ACIS trip to Costa Rica. What did he think about his adventure abroad? Find out in this exclusive interview!
Read more on the Blog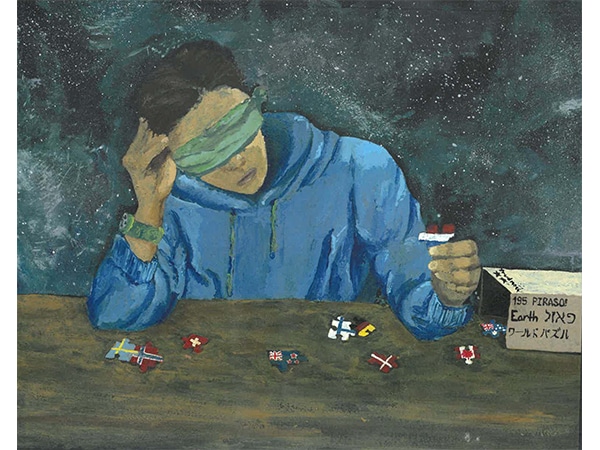 Global Jigsaw, by Ali Monzon from Wisconsin
Grand Prize, High School – $1,000 Scholarship
Ali's thoughts:
To me, becoming a global citizen means solving problems that the world faces with the other nations and counties and seeing how we all fit together to come to the solution. In the acrylic painting I did, the puzzle represents problems we face, not just as one part of the world but the Earth entirely.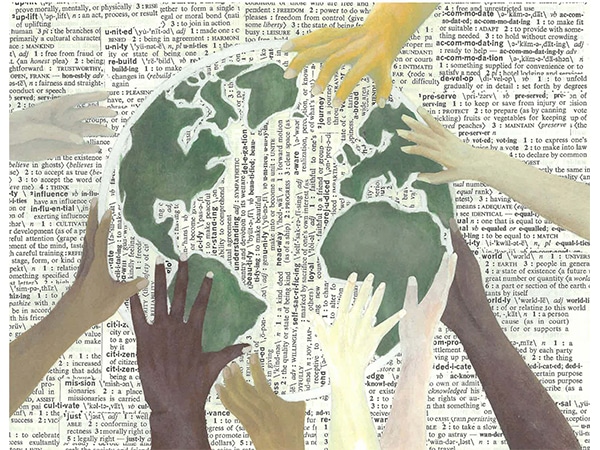 It Takes All, by Olivia Voge from Wisconsin
Runner-Up, High School – $500 Scholarship
Olivia's thoughts:
When I think about becoming a global citizen a lot of words come to mind. There is no clear cut definition and no step-by-step process to becoming one. It takes all, it takes error. It takes thought, it takes action. It takes logic, it takes emotion. Global citizenship is not one size fits all. It means something different to everyone, but everyone means something. Ultimately it means reaching out and helping others lift up the world.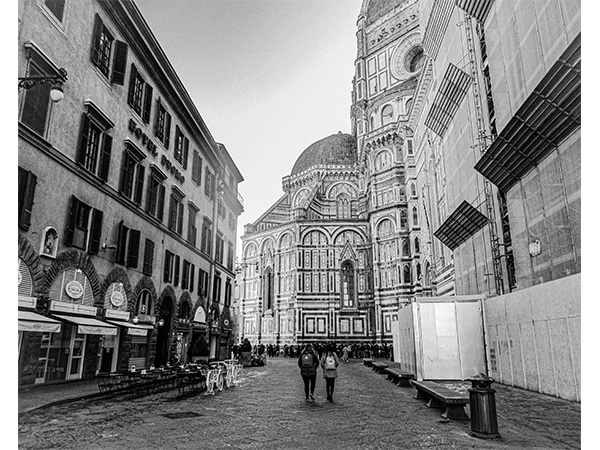 Ricordi del Duomo, by Gunnar Witcher from Texas
Grand Prize, High School – $1,000 Scholarship
Gunnar's thoughts:
I came to the realization that while traveling and learning is important, I must also remember who I am and where I came from, and I must share the world as it has shared with me. I believe this is the meaning of a "global citizen."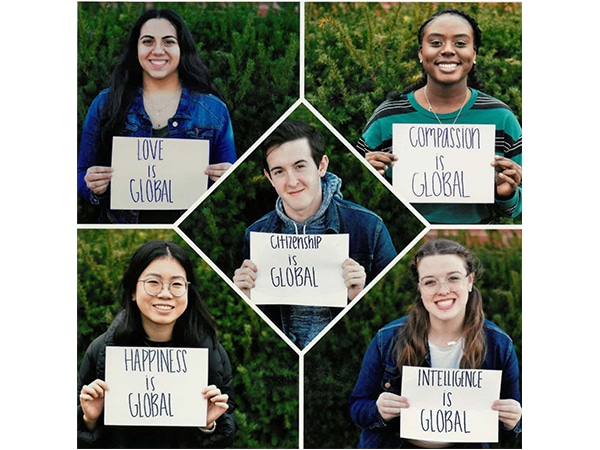 What is Global? by Grayson Cobb from Tennessee
Runner-Up, High School – $500 Scholarship
Grayson's thoughts:
Every culture is unique but human values transcend across any cultural or national ties. Being a global citizen means recognizing these similarities and breaking cultural barriers.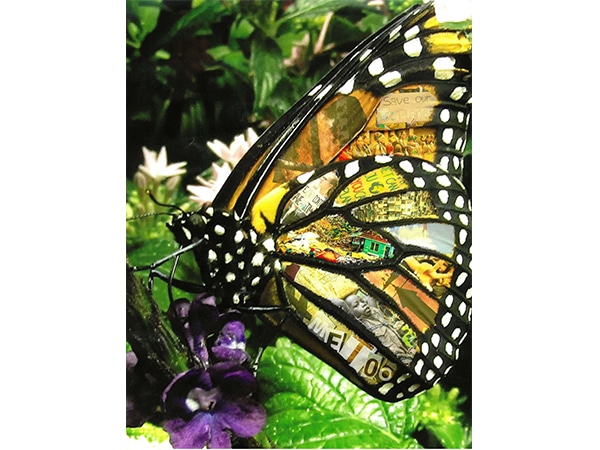 Wings for the World, by Sophia Addison Szabo from Maryland
Grand Prize, Middle School – $1,000 Scholarship
Sophia's thoughts:
The butterfly is a symbol for Global Citizenship, for traveling, hope and transformation. Its wings are small images highlighting world crises that Global Citizenship can solve such as global warming, pollution and gender inequality.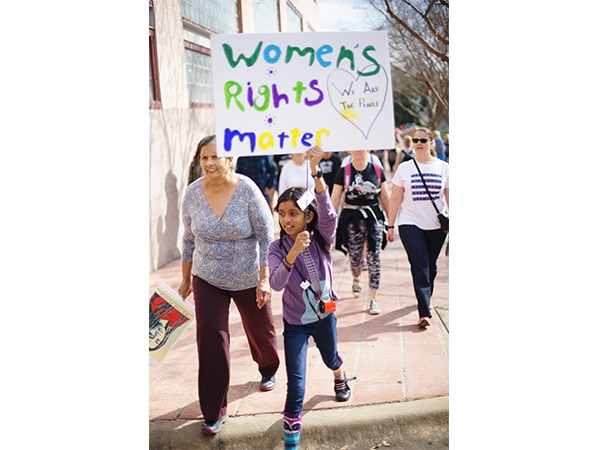 Global Citizen Means Advocacy, by Amari Pandian from Texas
Runner-Up, Middle School – $500 Scholarship
Amari's thoughts:
To me being a global citizen means learning about inequity in the world and teaching others about it. It means advocating for people whose voices aren't heard. And most importantly it means making an impact in the world, no matter how small.
A Girl in Class, by Vanessa Tasé Sueiro from Florida
Grand Prize, High School – $1,000 Scholarship
Vanessa's thoughts:
There is a common assumption that all immigrants are world learners and open-minded about other cultures, but this takes time and effort. Making a community takes accepting, if not embracing, our differences, which is represented in "A Girl in Class."
My Dolls, by Monique Evdokiou from California
Runner-Up, High School – $500 Scholarship
Monique's thoughts:
This piece demonstrates the prolific effect that a childhood tradition has had on my appreciation for assimilating with other cultures. Acceptance of differences creates and even more beautiful community.
Textbook, by Sidney Haines from Arizona
Grand Prize, Middle School – $1,000 Scholarship
Sidney's thoughts:
"Textbook" describes how global citizenship relates to one's humanity through the experiences it provides.
Runner-Up, Middle School – $500 Scholarship
Haeon's thoughts:
Stepping back a little and viewing the larger perspective of the world is crucial to becoming a global citizen. We often hear about racial and gender equality, but sometimes looking beyond these restrictive categories can allow us to see the simple connection from one human being to another. I wanted to express this necessary human connection in my poem.
Student Spotlight
Johnny Vrba
Johnny Vrba, a high school senior from Illinois, traveled with his classmates to France, Belgium, The Netherlands and Germany. We interviewed Johnny about his experience traveling to Europe, what it was like making new friends and how his tour manager, Jerome, completely made his experience what it was.
Read more on the Blog
First Place ($500)
Gavin V.– Pennsylvania
Second Place ($300)
David C.– New York
Third Place ($200)
Emily R.– Louisiana
Honorable Mention ($50)
Hanah N. and Audrey H.– Virginia
Honorable Mention ($50)
Michaela L.– New Jersey
Honorable Mention ($50)
Rio G.– New Jersey
#Tag Along
Get a taste for what's really happening on tour. Browse recent participants' photos and posts by visiting instagram.com/acistours. Then when you travel, tag along with us on Twitter or Instagram using #ACISTours. You may even see yourself here one day!