Getting Ready to Travel
Sustainable Travel Tips
Travel changes lives
and helps us to see the world differently.
As curious travelers and global citizens, we believe we also have a responsibility to preserve and protect the places we visit, and to make positive change in the world. There are many opportunities to do this through the choices we make and actions we take. Everything we do—from the food we eat, to the products we buy, how we spend our free time, and the transport we take—has an impact on the planet and its people.
We encourage everyone in the ACIS Community to strive to be sustainable travelers, whether exploring close to home or further abroad. What does that mean? Being mindful that our travel approach maximizes positive benefits to local communities, their culture, the environment and its sustainable management. You may be surprised at some of the simple choices that can contribute in a positive way to these goals.
This list of sustainable travel tips is full of easy suggestions to get you started. Together, our collective action can make a difference for the benefit of people and the planet—ensuring travel can continue to change lives for years to come.
Keep in Mind...
Being a sustainable traveler starts before we have even set foot outside our front door. Asking 'What impact do I want my trip to have?' is the first step as we consider how and what we prepare for our trip. Pack a sustainable mindset by considering the following suggestions:
Borrow it: The most sustainable option is to take the travel items you already own. If you find you need essentials for your trip such as a suitcase, plug adapters etc., try to borrow them from non-traveling family and friends rather than buying new.
Shop smart: The most effective way to reduce waste is to avoid creating it in the first place. Consider only buying what is really essential for your trip, choosing items that are made responsibly and are built to last (you can even find swimsuits made from recycled plastic now).
Eco-friendly luggage: If you do need to buy a new suitcase, seek to purchase one that is made from recycled materials, or a brand with a repair service so your bag can last longer.
Pack light: Take just essential items and multipurpose clothes you can mix and match, minimizing the rest of your packing. A lighter bag is much easier for you to carry when moving about, and also reduces carbon emissions produced traveling by plane, train, car or boat.
Respectful clothes: Find out what is appropriate behavior and body language in the local culture(s) you'll be visiting. Pack some items of clothing so that you can be respectful and aware of local expectations, such as dressing modestly at a religious site.
Unwrap at home: Bring as little packaging with you as possible so that the country you are traveling to doesn't have to dispose of your waste. Unwrap any purchases and recycle the packaging before leaving home.
Pack eco-products: Choose eco-friendly products in non-plastic packaging, biodegradable shampoo/soaps, and sunscreen with less chemicals (octinoxate and oxybenzone are harmful to marine life) to avoid polluting the environment.
Reusable toiletry bottles: Avoid single-use travel-size shampoo, conditioner and other toiletries and instead purchase reusable containers which you can refill over and over with your favorite products from home (saving money too, bonus).
BYO bottle and more: Pack an empty refillable water bottle—maybe also a reusable coffee cup if you're a caffeine-fiend—and a foldable tote bag to keep in your day pack for souvenir purchases. Reusable cutlery (folding spork or reusable straw) and a small container to store snacks can also come in handy when visiting local markets and can help reduce your plastic consumption when traveling.
Download a refill app: There are many water refill apps available for different countries that tell you where you can top off that refillable bottle you packed. This reduces waste and you might save money too. http://refillambassadors.com/refill-apps/
Bring a journal: The best souvenirs are free—the memories you've made, the stories you tell and experiences you share when you return home. Pack a journal to capture your reflections, thoughts and feelings on your trip, ready to inspire others when you return home.
Share your sustainable mindset: Do you have any other ideas to support sustainable travel prep? Notice how others prepare for travel—what can we learn from them? Spread the word and help others take action: share your tips with family, friends and with us (@acistours on Facebook, Instagram and TikTok).
Think Global, Act Local…
When "on the road," the actions and choices we make locally can have a positive impact globally. In the USA and around the world in homes and villages, across cities and networks of countries, communities of all sizes are making great efforts to contribute positively to the sustainable future of the planet. As global citizens we have the fortunate opportunity to learn from the different places we visit, to share our own experiences, and to contribute to united efforts toward reducing waste and pollution, conserving water, energy and resources, and supporting local communities.
While on tour, experiencing the wonder of extraordinary sights, meeting new people, and discovering new places, consider the following suggestions to maximize the positive impact of your trip, locally and globally:
Reduce, Reuse, Recycle
Shop smart, buying only what you truly need. The most effective way to reduce waste is to not create it in the first place.
Avoid single-use plastics. The best way to prevent single-use plastics from ending up in the ocean is to avoid using This might mean treating yourself to an ice cream cone (instead of a cup) sans plastic spoon, or ignoring any complimentary plastic water bottles in hotel rooms. Eight million metric tons of plastic escapes into the ocean each year—that is the equivalent of placing five garbage bags full of plastic trash on every foot of coastline around the world.
Collect memories not plastic bags. Carry a compact reusable tote bag for shopping and souvenirs. Decline extra packaging. Over 70 countries worldwide have a full or partial ban on single-use plastic bags and this number is constantly growing. Many European countries visited on ACIS tours will charge a fee if you ask for a bag, to limit their use. Using your own reusable bag helps protect the environment and you will also blend in, just like a local.
Refill: You packed your reusable water bottle or coffee cup, right? Make refilling at your hotel part of your morning routine, use an app that tells you when and where in a city you can fill up, or just ask your ACIS Tour Manager. Many European cities including Paris, Berlin and Vienna have pledged to become free of single-use plastic and water bottles are one of the main contributors to this issue. By refilling your bottle, you adopt local customs, save money and support places in meeting their sustainability goals.
Carry reusable cutlery like a folding spork or reusable straw. Small containers for snacks can be useful to help reduce your plastic consumption.
Keep recyclable waste that you acquire during the day on your person if a recycling bin isn't nearby. Stick in your pocket or carry a bag in your rucksack for this purpose, and then recycle the waste once you find an appropriate place to do so.
Use digital maps and apps for tourist information, and return paper leaflets and booklets to the museum, heritage site etc. you're visiting for reuse once you have finished with them.
Avoid using the toiletries provided by the hotel if they're in single-use containers. Or if you do use some, take any leftovers with you, as half-used bottles are thrown away. Finish off the product at your next stop, or at home, and then reuse or recycle the containers. Many countries around the world are now restricting the use of these products and you're more likely to see larger refillable containers in your hotel room. Notice what eco-initiatives are in place at your accommodation and the differences you find in each country.
Ask the hotel about recycling bins, and where to go near the hotel if they don't have in-house receptacles, then use them. This also lets the hotel know it's something their guests feel is important.
Return your hotel key card when you check out, so the hotel can reuse it and reduce plastic waste. This simple action, when repeated by travelers around the world, saves an enormous amount of plastic and related carbon emissions.
Take Your Time, Choose Active Travel and Connect
Walk, cycle or use public transport instead of taking a taxi or rideshare (the cost of public transport is covered by ACIS for you in major cities on your trip). Active travel is good for your health, saves you money, and shows you more. Exploring a location this way like the residents do will help you connect with local people, gain new perspectives, give you stories to tell and reduce carbon emissions. Many countries incentivize low-carbon travel options, some provide them for free. As part of the EU's low carbon initiatives, by 2035 all new cars for sale will be non-CO2-emitting.
Spend more time in one location to experience it more deeply. Leave room to stroll, to explore on foot. Don't rush from one attraction to the next. This way you use less transport, have time for authentic experiences, and help to improve a local setting, while going at your own pace. Let go of stress, rejuvenate and simply enjoy your surroundings.
Appreciate the small, the simple, and the local. Savor moments. Appreciate the differences. Notice the world around you and have a sense of wonder about it.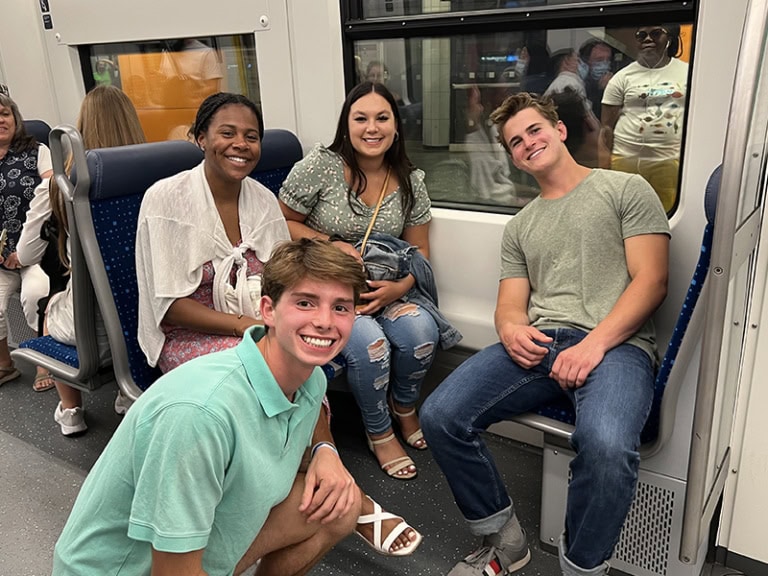 Buy Less. Do More. Keep it Local.
Think like a global citizen not a consumer. Be aware of your choices every day and how they can benefit people and planet. Give back to the local economy, you might learn something new along the way.
Shop at local businesses and in markets, buying traditional handicrafts, artisan goods and locally-made products rather than mass-produced trinkets. Many souvenirs are not as authentic as you might think, and are imported from a factory on the other side of the globe.
Support communities by making sure your money stays local and can benefit them. Instead of heading to a big international coffee chain or shop, try a small independent café or boutique.
Consume foods and drinks that are seasonal, fresh, and native to where you are, instead of imported ones. Local products involve less transportation and require less packaging.
Make a point to try some local plant-based, vegetarian or vegan delicacies when choosing your breakfast foods and lunch spots. More resources are used to cultivate meat, poultry, and fish than plants. See how many tasty and innovative plant-based food combinations you can try—you might discover a new favorite!
Choose 'just enough' to avoid food waste. Take only the amount of food you can finish at breakfast and buffets, choose lunches mindfully or split a larger meal with a friend, and aim to arrive at dinner ready to clean your plate. As food waste breaks down, it produces greenhouse gases and currently contributes to 8% of all global carbon emissions. If food waste were a country, it would be the third highest emitter of greenhouse gases. Choosing 'just enough' helps make a significant difference.
Invest in quality products that last. What we take home for ourselves or as gifts matters. How long will your friend really keep that small plastic souvenir? Look instead for gifts you know people can use (delicacies and foods) or items that will be cherished, used or worn for many years. Or, as the saying goes, 'Fill your life with experiences, not things. Have stories to tell, not stuff to show.'
Look for fair trade or similar logos that indicate products were made sustainably and treat artisans and producers fairly.
Explore vintage and secondhand stores, local flea markets. You will grab a unique bargain, save money and help the environment.
Conserve Water & Energy
Turn off the lights, air conditioning, television and other appliances when not in your hotel room. This also includes computers, iPad, phones etc. when they are not in use.
Follow the hotel's instructions for indicating you do not need daily room cleaning (often this means leaving the "Do Not Disturb" sign on the door). This avoids unnecessary use of chemicals and energy in cleaning, vacuuming, and providing fresh bed linens and towels to your room each day. Hanging up towels in your bathroom often indicates that you want to reuse them. Making this simple choice reduces hotel laundry-related energy consumption by 17%.
Take a shorter shower. Five minutes or less is ideal. This uses gallons less water and a lot less energy than a bath or longer shower. It also reduces greenhouse gases created during the wastewater treatment process. Having a quicker shower will make you a good roommate too.
Control the temperature in your room. In warmer climates aim for the air conditioning to be around 24C (78F), and in cold climates for the heating to be 18C (64.4F) to keep comfortable while saving a significant amount of energy.
Leave No Trace
Don't litter, remove objects from their natural environment or deface anything (buildings, trees, street furniture, etc.). Whether you are walking down a city street, on a beach or exploring the countryside, leaving no trace of your visit is important.
Take care of the environment while you are making memories. Pick up litter, even that left by others, and dispose of it when possible.
Take only photos, leave nothing but footprints.
Respect Local Communities
Immerse yourself in the countries you are visiting—learn about their customs, local traditions, religions, and social values. Follow and respect local rules.
Find out what is appropriate behavior and body language in the local culture. Check when swimwear, beach attire, and athletic clothes are appropriate. Dress respectfully and be aware of local expectations. Dress modestly at religious sites.
Be respectful to locals. Always ask before photographing or videoing people, privacy is important for everyone. Show and share your images with them, they will be curious, and this will prompt moments for respectful and meaningful interaction together.
Share your sustainable mindset:
Do you have any other ideas to support sustainable travel? Notice how others conduct themselves while traveling—what can we learn from them? Spread the word and help others take action: share your tips with family, friends and with us (@acistours on Facebook, Instagram and TikTok).
Record, Reflect, Share…
Travel changes lives for all ages and making sustainable choices impacts everyone, however the future belongs to young people. What pledges might you make to shape positive change and ensure a just future for all? Personal experiences become powerful when we reflect and share with others. Moments that warmed your heart or left you bursting with ideas are the reasons people love to travel. Sharing your experiences and thoughts can inspire and make others want to learn too.
When you return home, here are some suggestions for how you could chat with your friends and family to spark an interest in them about a sustainable mindset and actions they can take too:
Record the ways you have made a difference during your trip and how you feel about it. Take photos, write a poem, make a Reel or TikTok. Share with your friends and family. Start a conversation about what is important to you and how your actions at home benefit communities both local and abroad.
Are you inspired by the sustainable practices of the communities, cities and countries you have visited? Is there even more you think that people could be doing?
Consider how you and your friends and family can put your travel experience into local action. How might you influence change? Some ideas to get you started:

Share your experiences and what you have learned.
Adopt simple lifestyle changes and choices into your at-home day-to-day.
Start a new initiative or campaign in your community to promote awareness and motivate others into action.
Write to your local representative advocating your values and hopes for a sustainable future.
Write something for your school newspaper or blog.
Get creative thinking about the impact your local community can have for people across the planet. Write a song, paint a picture, raise awareness with your talents.
Talk openly about your values and what they mean to you and your future.
These sustainable travel tips align with 10 of the 17 UN Sustainable Development Goals:
2 Zero Hunger
3 Good Health and wellbeing
4 Quality education
6 Clean water and sanitation
7 Affordable and clean energy
11 Sustainable cities and communities
12 Responsible consumption and production
13 Climate action
14 Life below water
15 Life on land
The Sustainable Development Goals (SDG) are the blueprint to achieve a better and more sustainable future for all by 2030. They address the global challenges we face, including poverty, inequality, climate change, environmental degradation, peace and justice.  https://www.un.org/sustainabledevelopment/sustainable-development-goals/
10 everyday actions for each of the 17 SDG explained in the 170 actions booklet available here: https://issuu.com/perceptionchange/docs/2211102e_170_actions_web_e
Developed with Pippa Couch
Pippa is a Cultural and Creative Learning Consultant and holds both a Carbon Literacy certification and the GSTC (Global Sustainable Travel Council) 'Professional Certificate in Sustainable Travel', the global standard for sustainability practices in the travel and tourism industry. Pippa has worked in educational travel as an ACIS Tour Manager / Trainer since 2000.
MA History of Art, Courtauld Institute of Art, 2010
BA English Literature and European Studies with Spanish, University of Sussex, 2000