All ACIS tours connect participants with the societies they visit.
ACIS Service Learning tours push this ideology one step further. We provide participants the opportunity to actively contribute to the local community in a significant way. The goal of each project is to educate and engage participants, while at the same time, help a community that needs it.
Depending on their school's specific policies, students may use ACIS service work to satisfy community service requirements. All participants receive a certificate of completion for participating in an ACIS Service Learning project.
Build Your Tour
We've found that teachers who are interested in leading service learning tours generally want to customize their program to best suit their group. We make creating a service learning tour as simple as:
Select one of our 20 service projects from these locations
For Latin America, Asia and North America, check out sample itineraries that include that project as inspiration. In Europe, build a custom tour around these days of service, or add or substitute a day to an existing itinerary.
Talk to your Program Consultant! He or she is an expert and will work with you to build the tour that best suits your group and exceeds even your highest expectations!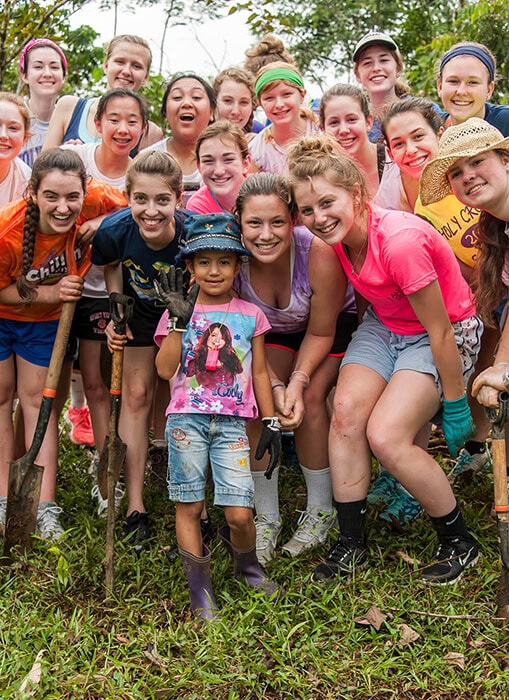 Costa Rica
Community and Reforestation Service Project
Students will focus on both community development and ecological projects to help the area residents. You'll begin the day with community-minded projects such as painting or grounds upkeep at local schools, followed by contributions to the local ecosystem and agriculture during reforestation work on area farms.
Sample Trip Sarapiquí Conservation Learning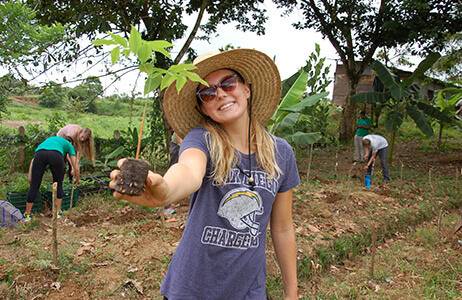 Costa Rica
Animal Sanctuary Service Project
Students have the opportunity to participate first-hand in the important conservation efforts undertaken by La Marina Wildlife Rescue Center Foundation in Aguas Zarcas. Through projects such as feeding the animals, collecting data or building new enclosures, you'll learn about Costa Rica's diverse and threatened animal population and help to rehabilitate the sick and injured creatures that are relying on the sanctuary for survival.
Sample Trip Costa Rican Animal Sanctuary
Costa Rica
Sea Turtle Conservation Project
Participate in an important coastal-marine conservation effort as you work collaboratively with your group to promote the nesting and hatching of leatherback sea turtles. Whether building hatcheries, removing debris from the nesting sites or collecting valuable data, you'll be treated to a unique and insider look at the turtles' ecosystem and life-cycle. Please note that we are regrettably unable to guarantee sea turtle sightings during the tour.
Sample Trip Conservación Costa Rica
Dominican Republic
Coral Reef Data Collection Service Project
Help save the Dominican Republic's coral reefs and ocean ecosystem. Students will be based in Las Galeras and work with Reef Check Foundation. Founded in 1996 by marine biologist Dr. Gregor Hodgson, Reef Check Foundation is a nonprofit organization dedicated to the conservation of tropical coral reefs. After three days of Healthy Reef Protocol coursework that involves both classroom study and field work accomplished through snorkeling, students will be ready to serve. During the subsequent three days, they will collect data from the reefs that will be studied to ensure the reef's continued health.
Sample Trip Dominican Republic Reef Check
Dominican Republic
Río Grande Abajo Community Project
Live with a local family in rural Río Grande Abajo, a small community that relies on an agriculturally-based economy. Students will work on projects that are run in cooperation with Brigada Verde to fulfill community needs. One large project is building stoves. Other projects include work to enhance local, sustainable development, such as composting and recycling. For groups that have the skills, larger construction projects are also available. Groups are encouraged to donate Spanish books and technical equipment to the community's new library and computer lab.
Sample Trip Río Grande Abajo Homestay and Service
Dominican Republic
DREAM Environmental Service Project for At-Risk Youth
Partner with the Dominican Republic Education and Mentoring Project (DREAM) and spend five days collaborating with local school children to create art projects that will raise awareness of local and international environmental concerns. The program will provoke thoughtful analysis and hopefully create sustainable solutions.
Sample Trip Dominican Youth Conservation Project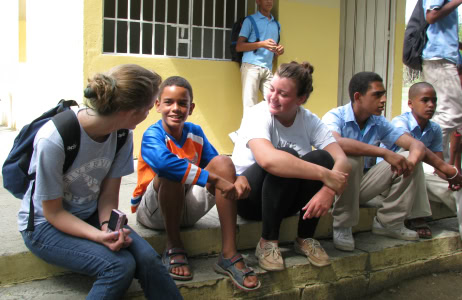 China
Children's School Service Project in Beijing
Volunteer at a Beijing school for disadvantaged youth. During your visit, you will share laughs and stories. You'll break up the students' routine and provide an experience they look forward to and enjoy. You will also develop an understanding of their daily lives, studies, and challenges and have the opportunity to contrast what you learn and experience at the school with your own lifestyle and school system back home.
Sample Trip Children of China
China
Children's School Service Project in Shanghai
Volunteer at a school for less fortunate urban students. Meet the children and learn about the hardships they have endured. Compare and share details of your daily customs and activities. Many groups bring along school supplies or gifts to distribute to the children.
Sample Trip Children of China
China
Tree Planting in Xi'an
Work with community members and plant native trees to help with Xi'an's reforestation efforts. Project staff will not only teach students how to perform the service, they will also explain the importance of reforestation to maintaining a sustainable ecosystem.
Sample Trip Children of China
Europe
Dedicate a Day of Service in Europe. To ensure our service projects are both meaningful and genuinely beneficial to the local community, our European projects require a day devoted to service. Talk to your Program Consultant to learn more about how you can modify an existing ACIS itinerary or build your own custom tour and include service work.
France
Sustainable Development in Fontainebleau
Students will visit the Forest Educational Center of Fontainebleau and attend a workshop about the local flora and fauna and approaches to sustainable development. They will then help the center's staff clean the forest.
Talk to your Program Consultant about including this service work
Italy
Roman Archaeological Dig
Meet a member of the Gruppo Archeologico Romano who will explain the importance of ongoing excavations. Tour the archaeological site, and gain an understanding of the structure as it once was and how Roman design and engineering solved the same challenges of human habitation we face today. Learn the techniques of excavation and spend time working on site. Your contribution to maintaining an active dig site is important in the fight against opportunistic relic hunters.
Talk to your Program Consultant about including this service work
Italy
World Wildlife Fund Project
Visit a reserve or state park and assist the local World Wildlife Fund's efforts. Projects may include taking inventory of species and counts of fauna after becoming trained in identifying local species, cleaning beaches or constructing fences that protect young plants and trees from being eaten and destroyed by animals.
Talk to your Program Consultant about including this service work
Italy
Roman Soup Kitchen
Visit a local soup kitchen in central Rome and help the staff prepare for lunch by setting up the canteen. As people come in, assist with the serving of the meal, then take time to sit and talk with the people attending.
Talk to your Program Consultant about including this service work
Spain
Reforestation of National Parks
Working with an organization that fights desertification, deforestation and erosion, students will learn about the global impact of environmental issues and then actively contribute to bettering it. Activities vary from planting trees to the protection of flora and fauna to the conservation and maintenance of natural spaces. Sample locations are: Doñana National park near Seville, the Sierra de Guadarrama near Madrid or even in the parks of the capital city itself.
Sample Trip Language Immersion in Spain
USA
Homelessness in New York
Help the local homeless population when you prepare and serve an evening meal for them at the Quaker Meeting House in New York City. The next day, break into small groups and serve at an area food pantry, soup kitchen or clothing bank.
Sample Trip Service Learning: New York City