How to Plan an Educational Tour
A 101 Guide for Future ACIS Group Leaders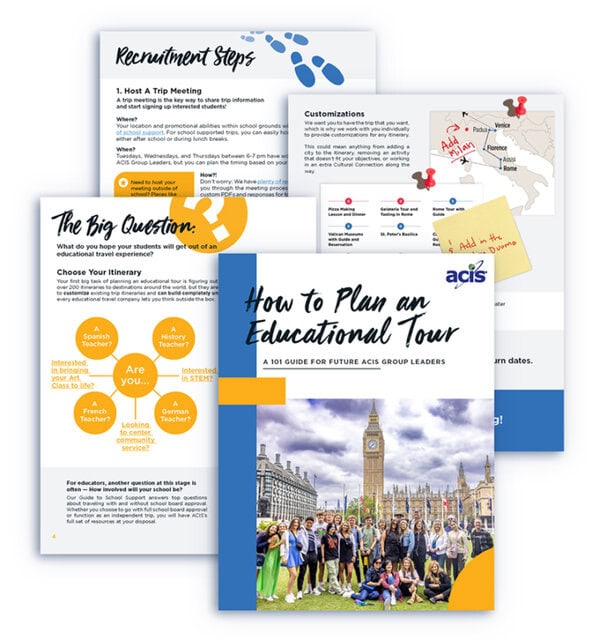 Get a step-by-step guide on how to plan an educational tour with ACIS!
Open the world to your students through the world of educational travel. Often called a "life-changing experience," an educational tour abroad expands the classroom beyond four walls, building foreign language skills, cultural connectivity, and global mindsets.
But how do teachers go from the front of the class to the front of the colosseum?
This 101 ACIS guide on how to plan educational tour will take you through the process step-by-step, demonstrating the key components of an ACIS planning experience:
Prepared, passionate staff members – You are more than a number to us. We pair you with a small team of Program Consultants who are dedicated to planning your tour
Customized itinerary selection – We want you to plan the tour your want. ACIS offers customizable itinerary options that range from tweaks to complete custom builds
Recruitment tools specific to your tour – Each group is given individualized recruitment tools and tech to keep everyone organized and excited
Rewards for Group Leaders – To thank our loyal travelers, ACIS offers a generous World Traveler Rewards program that can be used toward future travel, trip upgrades, and more
Whether you are brand new to the concept of educational travel or you have been thinking about travel and don't know where to begin, this free guide will provide you with the materials you need to plan a tour.
You will be saying Bon Voyage before you know it!
Fill out the form and download your FREE guide on how to plan an educational tour!
Fill out the form below and download the ACIS guide