School Trips to Spain
Marvel at Gaudí's masterpeices in Barcelona, dance flamenco steps in Granada, taste tapas in Madrid and practice your Spanish language skills every step of the way. Whether you're a Spanish, history, art or science teacher, a school trip to Spain will ignite your and your students' senses and expand everyone's understanding. Plus, it will be so much fun.
My trip to Spain with ACIS was the BEST TRIP that I have ever taken. Our guide handled everything. I learned more from her than I have since I graduated from college over twenty years ago. From the bull fighting ranch to the museums, it was all excellent. "
Free resources to plan and inspire your next school trip to Spain

2023 Spanish Language Calendar
We've put together a 12-month calendar comprised of inspiring photos and significant dates from across the Spanish-Speaking world.
Learn More

Cultural Resources for the Spanish Classroom
A comprehensive guide of free, online resources, from curated university libraries to embassy sites, that explore the history and culture of the Spanish-speaking world. Plus, free ACIS lesson plans and blog posts.
Learn More
Perdido en Madrid
This two-part video lesson plan is for high school level Spanish classrooms. Each video comes with an exercise packet, carefully crafted by Spanish teachers and native speakers, that puts essential Spanish language skills into practice in a funny, relatable format.
Learn More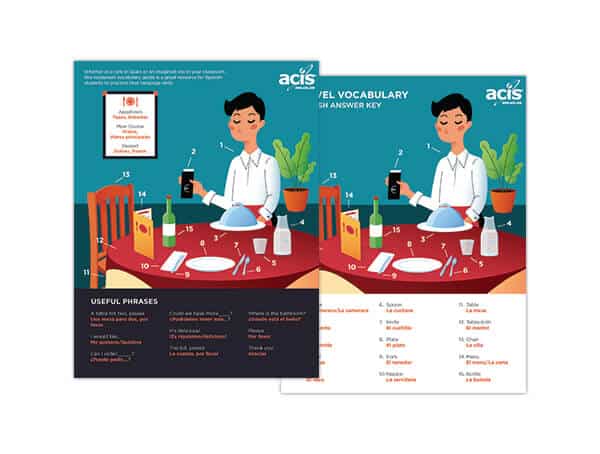 Spanish Visual Vocabulary
Whether you are traveling abroad with students or looking to make language come alive in the classroom, our Visual Vocabulary piece is a great way to practice vocab basics. Test your knowledge and see how many items you can name. The worksheet also includes a series of useful phrases.
Learn More