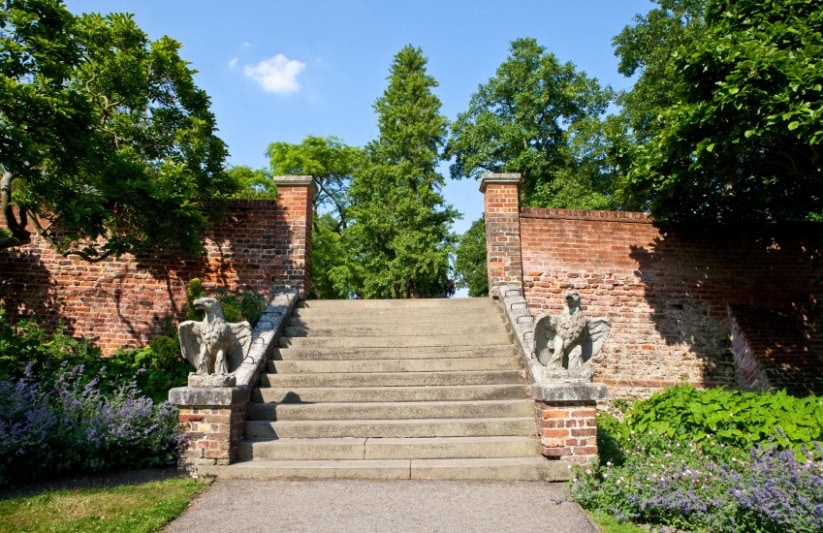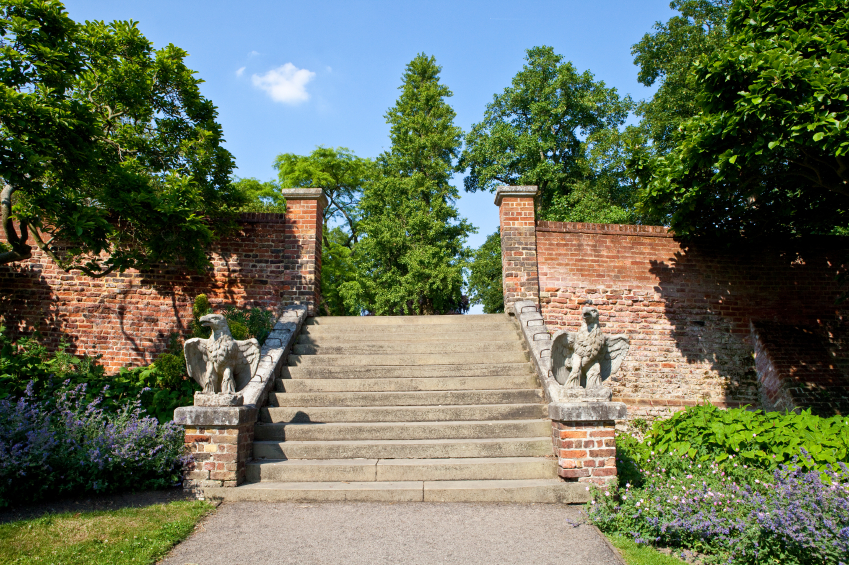 You know the sights, you've done the back streets, you've even bought the T-shirt. So now you probably want to get away from the crowds around Big Ben or the Eiffel Tower. The question is where? You want a change from the noise and hubbub of the city without actually leaving the city. So how about a city of the dead?! And say what you like about the dead, they make very little noise and even less hubbub. Perfect for a peaceful afternoon mooching around among dilapidated tombs and faded funeral chapels at the end of a metro line.
Whether it's London or Paris, a visit to one or more of each city's famous cemeteries is an excellent antidote to the vibrancy of the city centre – and even offers an interesting counterpoint to it. Not only are cemeteries very different in each city, to some extent they reflect them – and their respective cultures – a little.
London's cemeteries are more ramshackle, more overgrown and more rural, as if even in the metropolis, the English still want to be buried in a country churchyard. In Paris, they are more urban, more urbane, more regimented. In Paris, everyone lives in blocks of flats, and the cemeteries are packed into neat rows. In London, everyone wants a house with a garden, and the graves are surrounded by grass, which is often overgrown.
The most famous cemetery in London is at Highgate (pictured below), which in Dickens' day was a village a short coach journey away, but is now an elegant and sought-after (i.e. expensive) suburb to the north of the City of London. Karl Marx is the most famous resident, closely followed by George Eliot, Michael Faraday and more recently Douglas Adams.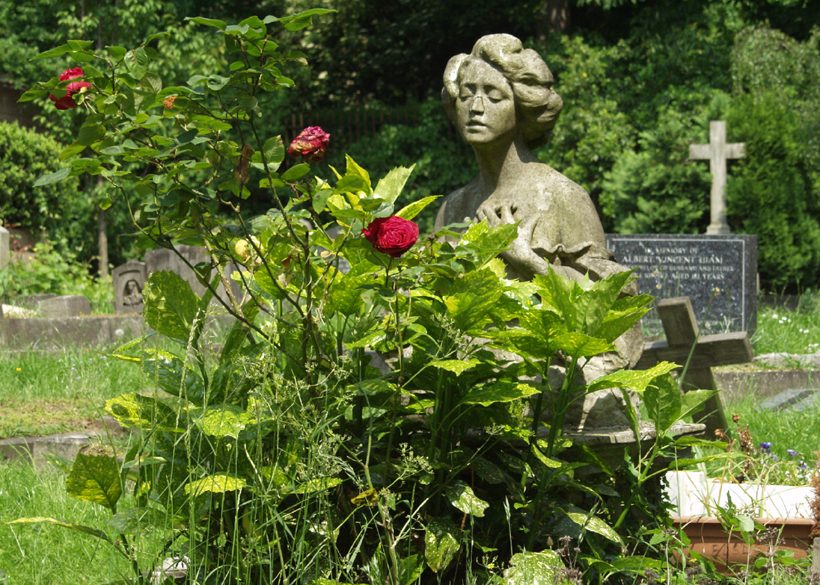 Not all London's burial grounds are open to new arrivals, especially in and around the City of London, where one often stumbles across small graveyards among the glass and steel of London's financial district. Unlike the rambling cemeteries still in use, these are more like museum mortuaries, historically preserved and interesting to look at but no longer relevant. So a bit like the royal family. Bunhill Fields, for example, is home to eminent writers like William Blake and Daniel Defoe, and of course many of Britain's writers and artists are buried in Poets' Corner, in Westminster Abbey.
In Paris, Pére Lachaise (pictured below) is the most well-known, and with good reason. It's a rambling, Gothic monster of a place, with wide boulevards of uneven cobblestones, and fabulous chapels and tombs, many festooned with baroque extravaganzas involving weeping angels or stone garlands. Much to the dismay of the Parisian bourgeoisie, for many years a lot of visitors went to pay their respects to Jim Morrison, lead singer of The Doors. Finding him was never difficult. Every few metres a tomb or grave was desecrated with a scratched arrow, and often the words "Jim" or "Lizard King." Nowadays, he's been superseded by Kurt Cobain as the lost prophet of misunderstood youth, so probably attracts fewer well-wishers.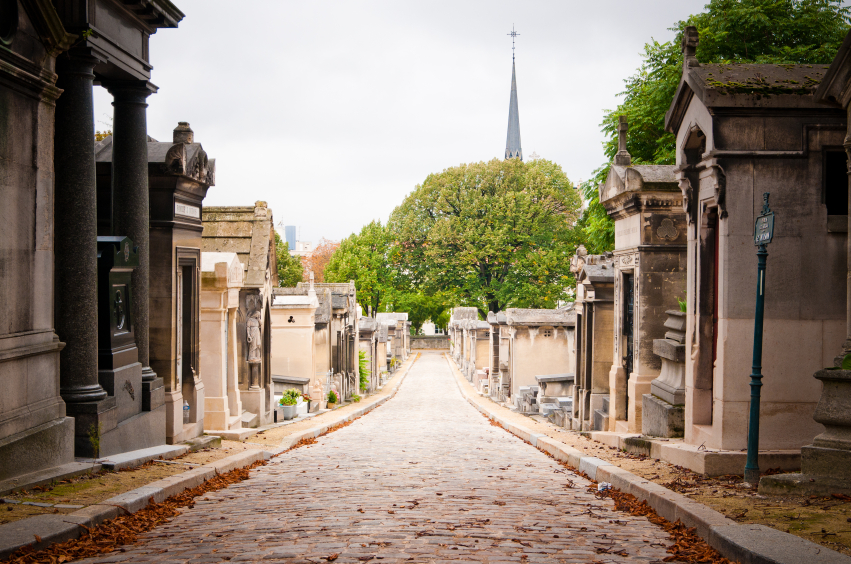 Here too are Chopin, Balzac, Proust, Edith Piaf, and another doomed poet and icon of eternal youth, Oscar Wilde, whose rather suggestive tomb was long ago emasculated, either by a prudish guardian of the city's morals, or a souvenir hunter. None of them is easy to find, though, even with a handy leaflet to guide you, but it's well worth it for the satisfaction of stumbling across an old friend.
However, you don't have to trek all the way out to Pére Lachaise for a city-based cemetery experience. Montparnasse Cemetery (pictured below), close to Denfert Rochereau, is smaller and more manageable, and easy to combine with that other great monument to the dead, Les Catacombes, for an instructive double-whammy of mortal contemplation.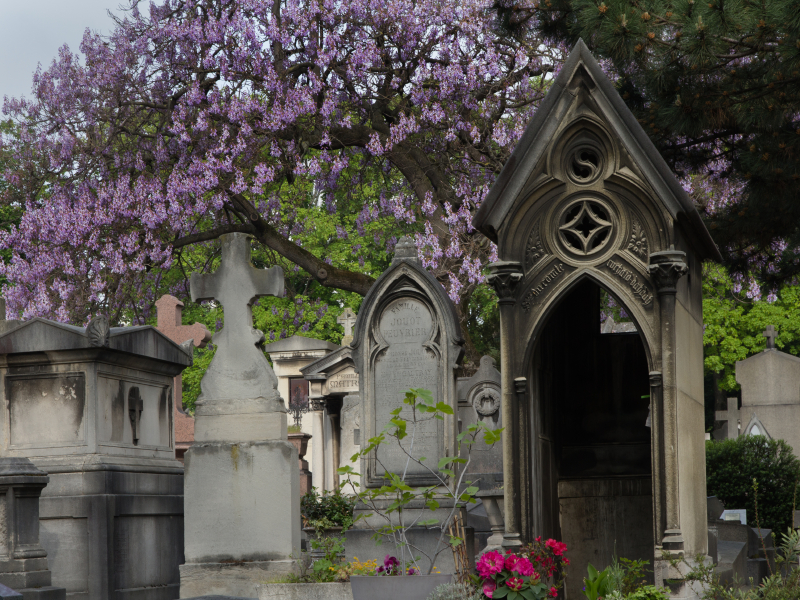 Here you'll find two of the great existentialists, Sartre and his lover Simone de Beauvoir, the poet Charles Baudelaire, Alfred Dreyfus of the Dreyfus affair, as well as one of the greatest playwrights of the 20th century, Samuel Beckett. More recently, French rock star Serge Gainsbourg is buried here, and his tomb is often decorated by mourning fans with gifts that include packets of his trademark cigarettes, Gitanes, and, bizarrely, cabbages. And sometimes cabbages wearing sunglasses!
What is most interesting about these cemeteries is to compare the tombs of famous artists and writers with their life works. Both Becket and Proust, for example, two towering writers of the 20th century who left behind major works of art, are commemorated with very simple granite slabs. Whereas people you might not have heard of enjoy ornate and elegant stone sculptures and chapels, complete with altars, gates and stained glass windows.
So next time you feel you've had enough of Oxford Street or the Champs Elysées, jump on the underground. The dead will always be happy to receive you.
---
Jono Bennett is an ACIS tour manager and travel writer. He lived in Barcelona for many years, before reluctantly returning to his native England. He recently surfed his way round Great Britain, living in a camper van, and is now writing a book about it.
Need ideas what to say about travel on your Twitter profile? Start by retweeting us @ACIStours!
[button style="btn-success btn-lg" icon="fa fa-twitter-square" align="left" type="link" target="true" title="FOLLOW US" link="https://twitter.com/ACIStours"]