Back to Blog Home
Pourquoi Québec? 5 Reasons Canada is the Perfect Introductory Trip for French Students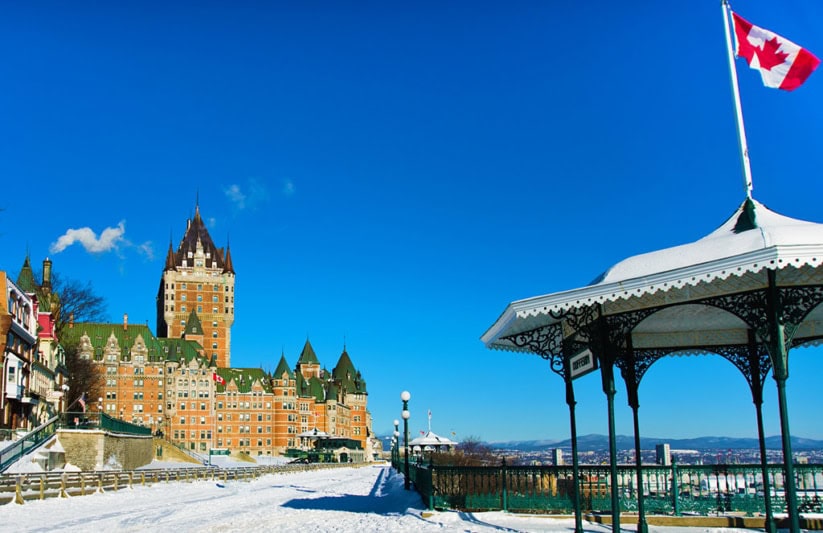 Beth Marshall is an ACIS Academic Travel Advisor and group leader who has been traveling with us for over 23 years. She shares her recent travel experience to Québec and why it makes a great starter trip for French students. 
Download the 2019-2020 ACIS USA and Canada Catalog
Bonjour, tout le monde! I am going to begin with a confession: I have been teaching French almost half my life, and I had never been to Québec until I went last year on an ACIS trip over spring break. I went with a fabulous group of young travelers, parents, and a colleague (a middle school French teacher in my county).
Visiting the province of Québec serves as the perfect introductory trip for French students. It is the gateway to future trips to France, or further afield. It proved to be a wonderful opportunity for my younger students in high school and my colleague's middle school students to practice their French with native speakers with no passport required and closer to home. Canada is the perfect launch point for trips further afield: more than half of my students who traveled with me to Québec signed up for a European trip the following year. I am so glad that I have been introduced  to the beauty of our neighboring country to the north and am excited to be returning this March with a new group of excited students!
Here are the top 5 reasons why my students and I feel that Québec is a great choice for travel for students studying French.
#1: First-time travelers can gain confidence to try their French where people are happy to communicate in French or English.
My student Ella said, "going to Canada was a great first experience because most of the people there are bilingual, so you get the experience of talking to people who are fluent in French, but they are able to help and explain things to you in English if you don't understand."
#2: Shorter trips allow students to get their "feet wet" in international travel that is less expensive than Europe without being too far away from their families.
I found that a trip that was less expensive was a much easier "sell" and many parents were so thrilled with how much their child gained by their trip to Canada that over half of my students who went with me to Québec signed up for a European trip the following year.
My student Alexis adds: "I had never traveled out of the country before I traveled to Canada. It really allowed me to immerse myself into a new culture and showed me that there are so many opportunities to learn outside of a classroom. I was able to meet new people and experience what it was like to speak a different language. My passion for travel grew so much from this trip that I was given the amazing opportunity to travel to Europe! I think traveling to Canada helped me break out of my shell and truly shaped me into the person I am now."
#3: Maple syrup, anyone?
A unique experience that is truly Canadian are the cabanes à sucre (sugar shacks). One of Hannah's favorite memories of our trip to Montreal and Québec was our last dinner where our entire group danced, played spoons, sang and ate an entire meal of pancakes, ham, tourtière (a Québécoise meat pie) beans and more — all covered in maple syrup!
As my student Hannah said, "my Québec trip was my first trip out of the country, and it was so much fun! I made friends with the people I traveled with, practiced my French every day and learned so much about the history of Québec. My favorite part was the sugar shack. We learned so much about the culture there; we played spoons, learned Canadian dances, listened to amazing music, and ate delicious food! It was all in all a once-in-a-lifetime-experience."
#4: Vive la neige! (Long live the snow!)
Although we do see some snow during the winter months in Virginia, many students have not experienced being in a place that celebrates the snow quite like Québec does! Even if you cannot get to Carnavale (which takes place each year for 10 days in February), you can still take part in the celebration of snow, which is still on the ground sometimes as late as April in Québec! This March, my group will visit the ice hotel, slide down the luge just next to the Chateau Frontenac, participate in dog sledding and visit the waterfalls at the Parc de la Chutes Montmorency, which is taller than Niagara Falls! I am so excited to be able to try some new winter activities, and to take our picture again with the smiling mascot of Carnavale, Le Bonhomme de Carnavale!
#5: Deepen your knowledge of the Francophone World!
After returning from Canada last year, I have now added a unit on the history of French in Canada, complete with music, a virtual visit to Carnaval de Québec and a tasting of poutine, queues de castor, and "tire à l'érable" (maple taffy on the snow) to bring the spirit of Quebec alive to all my students!
According to my student Brayden, "traveling to Quebec was a unique and rewarding experience. I learned so much about Quebec's distinct French-like culture and also got to explore the differences between France and Canada. Exploring old Montreal and its European influences and to compare to modern Canadian architecture created a meaningful history and culture lesson. Québec City also had much to offer, such as the spectacular view of the St. Lawrence River and the stunning Chateau Frontenac. This trip has really influenced me on what and how I think about different cultures and understand those differences and accept them. Also, let's not forget the amazing cultural food, such as poutine, queues de castor (beaver tails – a sort of Canadian donut – c'est délicieux!), Canadian maple syrup, etc. I hope others can experience this beautiful part of Canada and can obtain enlightened views about the world around us and learn to appreciate differences among our cultures."
A special thanks to my colleague Lesa Randall for encouraging me to try our neighbor to the north! Ready to start planning your adventure to expand the walls of your classroom and allow your students to practice their French and bond over some adventure-filled Winter activities (depending on the time of year you travel)? Consider Canada and be the teacher whose name your students will never forget and whose trip just might be the students' first experience traveling outside of the U.S.