Back to Blog Home
A French Teacher Gives the Gift of an Educational Travel Trip to France
Holly, a French Language Teacher from Alabama, recently returned from her first-ever ACIS Tour and shares how the magic of educational travel inspired her students and her own goals in ways she did not imagine possible.
"Madame Swafford! I just bought these and I only spoke French the whole time!"
My student Mary Viriginia holds up a paper sack of gorgeous ripe strawberries with a grin on her face. The sun is barely up and we are at the Marché Edgar Quinet in Montparnasse, our first full day in Paris. A handful of students volunteered to begin the day's adventures early by walking to the market before breakfast, and I'm delighted at their eagerness to practice their French.
A few moments later, I peer down the rows of vendors and stalls and see my student Matthew with his mother, Monty, ordering and accepting a coffee through smiles of "mercis" and head-nodding. They clasp their paper cups as if they're golden chalices and continue their stroll through the market, Matthew pointing out names of fruits and vegetables in French to his mother. "We watched a video on these kinds of markets in class: It's so cool that we're actually here!"
ACIS Tours for French Language Educators
Even through their jet lag, their tiredness, their five-ish hours of sleep a night, I continued to witness countless moments like this over the next seven days. And every time, it continued to amaze and surprise me. We had selected our educational travel itinerary in October 2022. On paper, it was one thing. 36 travelers, 5 group leaders, 8 parents, 21 students, 2 alumni. I had rehearsed the numbers and done the spreadsheets and the roommate math and scribbled down all the notes. I had opened about a million Google docs and sent countless emails. But now we were here, and the numbers and papers were nowhere in sight. The names and places were no longer an idea: They were here, in front of us, and every moment was a new and unrehearsed experience waiting to unfold.
None of those student travel documents or spreadsheets or slideshows could have ever truly prepared me for the magic of witnessing my students experience – and embrace – the French language and culture, in a country that I fell in love with many years ago because of my own French teacher's decision to take the leap and go. I can safely say that I fell head-over-heels in love with France all over again and encountered it in new ways, better ways, through the fresh lens of my students' eyes.
A friend and seasoned traveler told me while we were still stateside to look for the small moments, the unexpected moments, as those are the ones that we'd remember the most and would come to mean the most. As I've reflected on the trip with my students, this certainly holds true. The best moments are rarely the expected ones, or even the most picturesque or "instagrammable" ones. While standing in front of the Eiffel Tower or looking out on the Seine are certainly memorable and noteworthy moments, they are not the moments that take root in your heart and may even fundamentally change you as a person.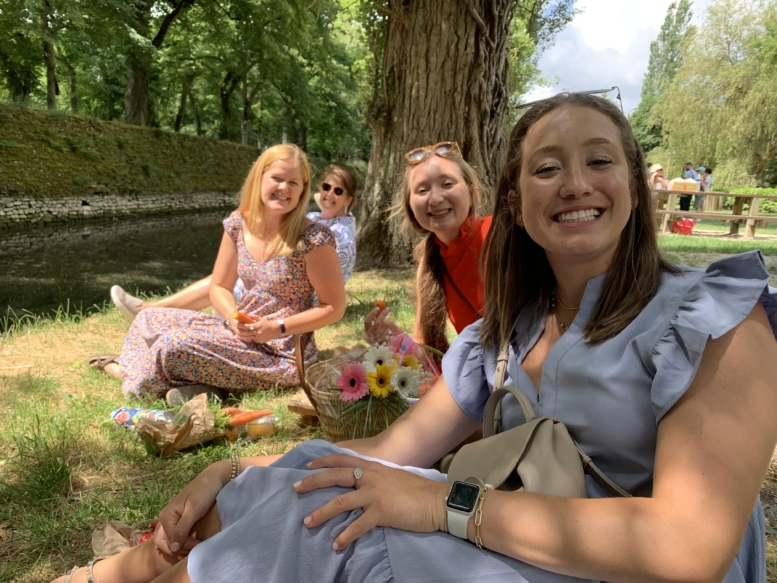 The real, heart-changing moments look more like:
Standing with your feet in the sand on the beach of Trouville-Sur-Mer, wind whipping our faces and hair, reading letters from D-Day soldiers to their families, just breaths away from where they were sent.

Biting into a ripe apricot at a picnic on the banks of the Loire, enjoying conversation with students and friends, delighting at their excitement from their early-morning market finds.


Staring up at the lush greenery and neon glow of Café de Flore and ordering a café crême, the same café we had recreated for a French video competition one year ago.


Gazing at the towers of the Rouen cathedral and marveling at the fact that my favorite painter, Monet, had shared this same viewpoint when he recreated its beauty on canvas.


Singing and skipping to the tune of "Champs-Elysées" while making the pilgrimage to the base of Mont Saint-Michel, foggy and fairytale-like in the distance.


Sampling half a dozen French cheese varieties on torn bites of baguette and spoonfuls of local honey in front of the ostentatiously grand Chambord castle.


(Falling off of my rented bike and face-planting in the grass in front of said castle. No injuries, yet another story, for another time.)


A student doing a near-perfect impression of our ACIS Tour Manager John on our flight home, reminding us to turn our Vox sets to channel one and listen in for his instructions.


The clackety-clack of our luggage wheels (a sound that will live rent-free in our heads forever) on the cobblestones of Saint-Malo as we trekked to the hotel.


The warm hugs and cheers and smiles as we stepped off the escalator and into baggage claim, back in our city's airport, eager to recount all of the stories to our loved ones.

View the Full Fleur De Lys Trip Itinerary
These are the moments that were, and are, every teacher's dream-come-true: a transfer of book knowledge to life knowledge, to heart knowledge, to stay-with-you-forever knowledge.
I knew that the trip would be a memorable one, and certainly for my students, many of whom had never traveled out of the country before. What caught me by surprise was how much the trip ignited a passion in me to keep showing students the world, keep moving them out of their comfort zones, keep fostering in them a love of other people to promote respect and empathy. I have never done anything like it, but I feel compelled to continue to open up this world to my students. What a gift, and what an honor.
To my fellow teachers: you may be waiting for the stars to perfectly align and every piece to fall flawlessly in place before making the leap of leading an educational travel opportunity. I'm here to tell you that it won't – but take the trip anyway. For every ounce of inconvenience, complication or obstacle, there are buckets and buckets of delight, wonder, and pure bliss in witnessing students experience a new country and culture. 
Why Choose ACIS for Your Educational Travel Experience?
I cannot imagine taking students abroad with an educational travel company other than ACIS, because they allowed us to experience such a profound and eye-opening adventure with ease, patience, and an abundance of care. These moments-turned-memories were only possible because of their acute attention to detail, from the authentic French meals at dinner to a lesson on Impressionist painting by the Seine. Most of all, their tour managers are a wealth of knowledge, and ours certainly had an immeasurable impact on the trip itself through his ability to engage students with his cultural and historical expertise. He modeled what it means to be a lifelong learner so brilliantly that we have requested him to lead our group again next summer. All in all, ACIS made it easy for me to be fully present, and to fully enjoy these moments with my students.
My high school French teacher took me to France at 15 years old and it isn't an exaggeration to say that it changed my life forever. When I saw Paris with my own eyes, I felt like a kid opening an amazing present on Christmas. But being the group leader, taking students abroad, witnessing their joy of discovery, is like watching your kids open presents on Christmas – somehow, even better.
Thank you, ACIS. You've made a loyal traveler and group leader for life.