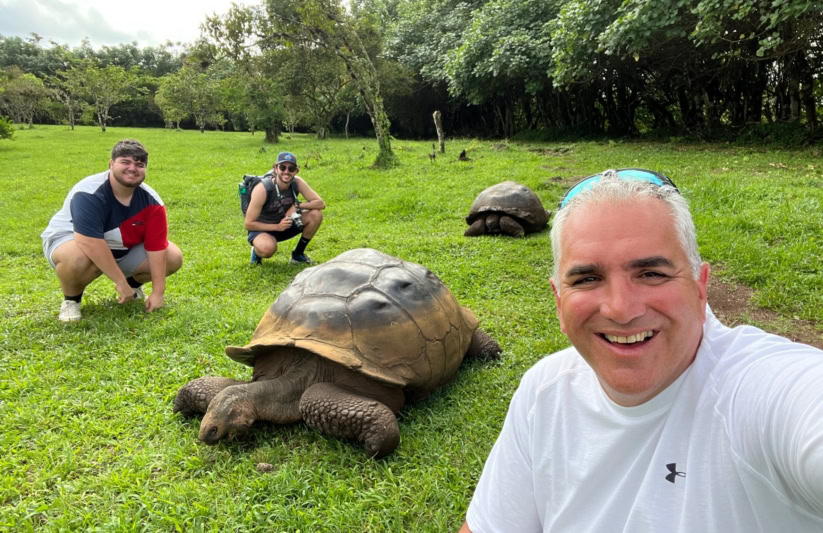 Sometimes, an ACIS trip can be so inspiring, you have to start planning a new itinerary right when you return home! We chatted with ACIS Group Leader Lawrence, who recently attended an ACIS Global Conference in Ecuador and the Galápagos: He was so inspired by the experience, he has decided to plan an educational tour to the same destinations for his students.
Tell us about yourself! What do you teach? Any interests outside the classroom?
My name is Lawrence and my wife and I are the proud parents of three children. I am from New York and have been teaching math for over twenty years at a local high school. When I was in college, I spent a semester abroad in London and travelled extensively through Europe afterwards. I have loved traveling and the sense of exploring new destinations ever since. I used to be the Assistant Group Leader for my schools ACIS trips, and once the foreign language chair retired, I took over the European adventures. I am always fascinated by learning new things and exploring new destinations.
What were the highlights of your ACIS Global Conference in Ecuador?
This past year I was able to attend the Galápagos Family Friendly Global Conference with my two boys, Drew (22) and Owen (21). We literally had the time of our lives, encountering amazing marine life, delicious food, and some of the most remote locations we have ever been to. My son's friend asked why we were getting up so early on vacation, and his response was "we are not on vacation; we are on an adventure." My favorite part was staying in Isabela Island and the snorkeling tour at Las Tintoreras. We were able to swim with sea turtles, sea lions and other amazing underwater animals. The blue-footed boobies and the Galápagos penguins were the icing on the cake.
How did the conference inspire you as an educator and a Group Leader?
Upon my return, I originally thought to myself I would never go back, that it was a once in a lifetime experience. After reflecting on such an amazing journey, I realized that in fact it was my calling to share this same experience with my students. I am currently in the planning stages of a student trip to the exact same destinations. This was such a life altering experience and even though it was on my bucket list, I feel the need to go back and share it with others. The food, cultural experiences and even the friends that I made while away were so incredible that as an educator I felt the need to have others share my experiences. I also have had time to reflect on what an amazing opportunity it was to travel and bond with my own children. This will be a trip that we will remember for all of our lives, and the motto "Travel Changes Lives" could not be more true or evident in my experiences.
Learn More About ACIS Global Conferences
What are your future travel plans so far?
This trip was a complete change to my usual trips to Europe, and I felt like South America is certainly underrated. It was so incredibly beautiful and now I want to explore more destinations in that region. I am headed to Medellin for my next global conference and am so excited to explore more of this part of the world. Although the trip was advertised as family-friendly, and I was able to enjoy it with my own children, I feel a very strong desire to share it with my "other children" also known as my students 🙂
What would you say to fellow educators who might be considering educational travel?
This trip was so well planned from the extra paperwork needed for travelling to the Galápagos Islands to the beautiful hotels we stayed in and the daily excursions. I would say when you travel with a company like ACIS you literally do not have to worry about any of the particulars. The trip becomes a vacation with students as opposed to having to "chaperone". The company has had years of experiences, and I truly believe they have worked out the kinks in travel. It's all about the fun and adventure while on tour.