This week's recipe takes us to Greece for Yemista or Greek-Style Stuffed Peppers. Similar to our baklava recipe, this is a dish commonly found in countries spanning from North Africa, through the Balkans all the way to the Middle East. Its place in Greek cuisine is representative of the multitude of cultural influences intertwined with Greece's national history. This is a dish even the most inexperienced of cooks can feel confident giving a try, especially if you're trying to masquerade as an accomplished chef!
For more recipes from Greece and other countries across Europe, check out our World Cookbook!
This week's entry was submitted by Heidi Pettit, Regional Director of International Programs from our Boston Office. Enjoy!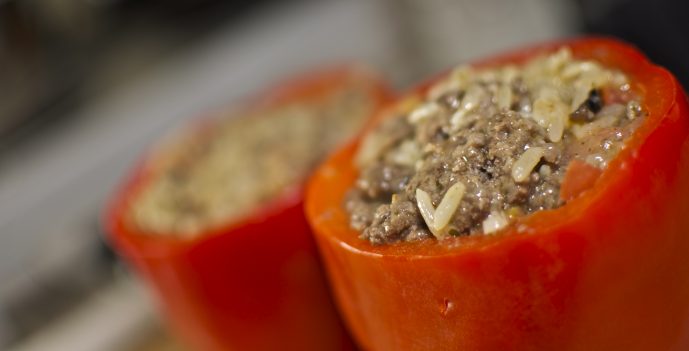 Greek-Style Stuffed Peppers
Yield: 6 servings
Total Time: 1 hour 10 minutes
Prep: 15 minutes
Cook: 55 minutes
Ingredients
1 pound lean ground beef
1 (10-ounce) package frozen chopped spinach, thawed and squeezed dry
1 medium zucchini, coarsely grated
1 small onion, minced
1/2 cup bulghur
1 egg, lightly beaten
1/2 teaspoon dried oregano
1/2 teaspoon salt
Freshly ground black pepper
3 red bell peppers, halved lengthwise, cores and ribs removed
2 (14 1/2-ounce) cans low-sodium stewed tomatoes, finely chopped
1/3 cup crumbled feta cheese
Directions
Preheat the oven to 350 degrees F.
In a large bowl combine the beef, spinach, zucchini, onion, bulghur,egg, oregano, salt and a few grinds of pepper. Mix until thoroughly combined.
Arrange the pepper halves cut side up in a 9 by 13-inch baking dish and fill each pepper half with the meat mixture. Pour the tomatoes over the peppers and sprinkle with the feta cheese. Cover with foil and bake for 30 minutes. Uncover and bake until the meat mixture is completely cooked and the peppers are tender, about 25 minutes longer.
If you give the recipe a try, make sure to come back and leave a comment to let us know how it came out!

17 FREE RECIPES
ACIS World Cookbook
Bring the world into your kitchen with recipes from 10 different countries.