This is a guest post from teacher and ACIS group leader Erin Maliszewski. It was originally published on her blog. Interested in having your educational travel blog post featured here? Drop us a line! 
"A world I thought would both make me into the woman I know I could become and turn me back into the girl I'd once been."

– Cheryl Strayed in Wild
The Wednesday leading up to MLK weekend, I hopped a plane to Athens, Greece.
I took part in a Global Conference – meeting and exploring the cradle of Western civilization with fellow language teachers. World travel is a perk of my job as a French teacher who uses ACIS to travel with students and part of my job description as I aim to inspire my students to seek outside of their known world.
Travel is high on my list of musts.
And traveling alone on a plane is pure bliss. I (maybe!) slept an hour as I opted to catch up on my long-list of movies like Boyhood and Silver Lining Playbook (finally! and a new favorite 🙂 ).
Stay with if you'd like a walk through my trip to Greece. It's a step away from the more child-centric posts I've written lately, but I do believe in spreading my wings too – on my own – whilst parenting. It makes me a better mom, teacher, wife, person … a better everything, really.
If you're still here – YAH-sas (hello) – and here we go. I'm fluent in a few words now – and I used them constantly – so Greek is less Greek to me now.
Here is moi in front of the Parthenon in Athens. The Mediterranean blue sky makes me feel so at peace – a piece of me forever dreaming of Aix-en-Provence, France, the home to my junior-year abroad.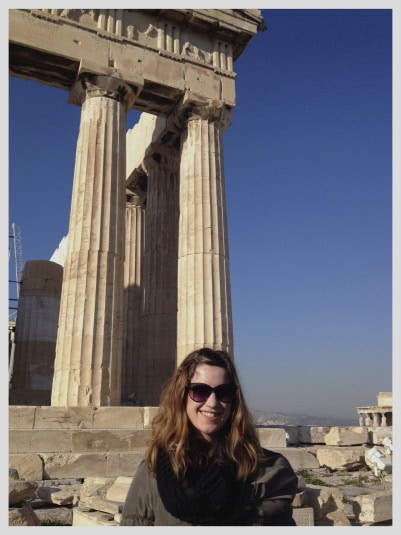 The signs of infinity, like on the pillars below, abound in Greece.
My husband and I saw Jamiroquai at the Arènes de Nimes, in Nimes, France in 2005. Seeing one of my favorite musicians in ancient ruins was hands down my the show of my life. Wouldn't you love to see a musician Live at the Acropolis? I'd probably (!?) even see Yanni.
I stood on top of Mars Hill at dusk. This rocky hill is named after Mars, the Roman God of War.  It was an important meeting place to discuss philosophy and religion. It's also where the Apostle Paul preached, "Now what you worship as something unknown I am going to proclaim to you. The God who made the world and everything in it is the Lord of heaven and earth and does not live in temples built by hands." (Acts 17:24)
I strolled through Monastiraki , the flea market neighborhood in the old town of Athens. This area is a bazaar-like collections of shops and is a site to wander (thankfully I was with a guide – Yay, Nina!, from Andy's Tours).
Olives hold a prominent position in Greek society. Fossilized olive trees – 50,000-60,000 thousand years old – were found in the volcanic rocks of the island, Santorini, and olive oil is one of the staples of Greek food today.
In the market, there was hundreds of varieties. This transaction looks so serious, but as Anna – our tour leader –  taught me, serious-looking/sounding isn't always so serious in Greek…
The seafood is squeaky fresh and local.
If I wasn't a non-meat eater already, I would have turned after walking through the butcher section. How do you know if the meat is locally sourced, you ask? Well, the fur is left on the feet and tail. Eeeeek, sorry Peter.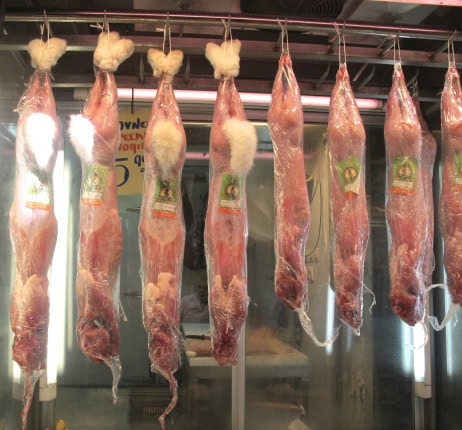 One piece of advice: Keep your head in the game at all times as a pedestrian. The Greek drivers make Chicago drivers look like passive wimps.
We crossed the Corinth Canal to visit a vineyard and a seaside town. The canal cuts through the narrow Isthmus of Corinth and separates the Peloponnese from the Greek mainland.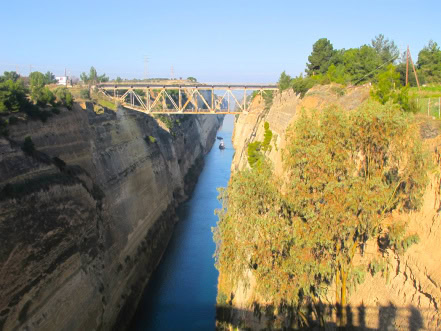 There were love locks, like the Pont Des Arts in Paris.
We visited a Greek Orthodox church in the charming town of Nafplio.
Tamata (Greek: ταμάτα ) are an offering used in the Greek Orthodox Church. It's a small metal plaque, printed with an image of the body part needing prayer.
I fell in love with Greek cuisine. It's largely vegetarian, like this sesame-crusted feta dish.
In life, these are words I always need to see.

It's Europe so there were lots of boys running in squares playing Κύριες Μεταφράσεις – that's Greek for futbol.
On the last day, we took a ferry to the island, Hydra.
You get off the boat and the donkeys are waiting to take you on your journey.
Obviously, I couldn't resist a donkey ride through town.
I love shots of laundry drying in the sun.
Although, seriously? … Why does everyone smoke? It's my one complaint of Greece.
They smoke on boats: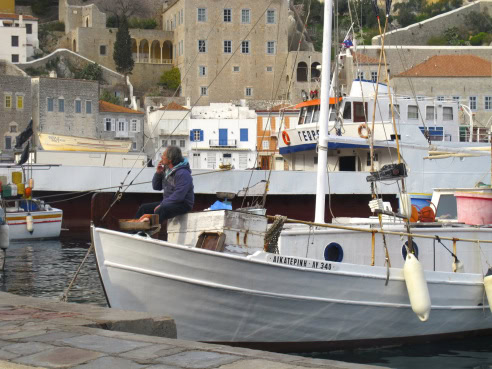 And on donkeys: So charming, but … you're smoking.
Hydra was a peaceful island, though, and I bopped around the streets lapping up the tranquility. It was a Sunday, so this was special.
I missed my girls when I saw this little one on her scooter outside of her house.
And then there were the Cats of Greece – everywhere.
Waiting for the fishing boat to dock, eager for a sample:
Some obviously chilling:
Others hidden. Can you spot the black cat?
The Cats (and dogs) in Greece are part of the community. As our tour leader, Anna, stated, the dogs and cats belong to no one, and yet they belong to everyone.
In Athens:
In Hydra, this one jumped on my new friend's lap as we dined at a taverna.
Here are two stray dogs lounging in front of the Acropolis Museum at sunset.
The museum is a solid spot to have a Fix beer and take in the Acropolis lit up at night. The view is of the backside, though. If you want to see the front, the best view of the Parthenon is at the Hotel Grande Bretagne. Head to the 8th floor for a drink. It's a must!
The last night we had a fancy-pants dinner complete with traditional Greek food, music, and dance. At one point Patrick Swayze's brother bumped into a server and a tray ostacked high with plates crashed.
We all gasped, but, Opa!, he picked up a half-broken plate and tossed it again. It was a shtick and we were all given plates to smash on the floor. Therapeutic! I could have used another.
Opa! It was a riot to dance in a circle while intermittently shouting "Opa!"
Walking through the Plaka, this statue freaked me out: Right? What are you doing there?
Signs that Greeks were supporting the French: Je suis Charlie!
There's charming outdoor dining at every turn.
I'll leave you with the story of this picture.
Once, a long, long, long time ago, Athena, the goddess of wisdom and Poseidon, the god of the sea, both wanted to be the patron of Athens.
They held a contest – whoever gave the city the best gift would be rewarded the highest honor. Poseidon was first to go. He struck the earth with his spear and produced water. Being the god of the sea, the water was salty. The people were not pleased.
Athena buried something in the ground, which grew into an olive tree. The people were pleased with this useful gift.
Athena won. The city was named Athens and the most famous temple of the Acropolis, the Parthenon, is dedicated to her.
The Erechtheion, the temple pictured just above this story, was build to honor both Athena and Poseidon – together.
Have you ever been to Greece? What was your favorite part? I would love to visit Santorini and Crete.