When groups come to London on an educational tour with just a couple of days in the city, they usually arrive armed with an extensive list of things to see and do. Having lived in the capital for a good few years I find myself suffering from a condition common to many Londoners; that my must see and do list grows ever longer. As one of the most vibrant and cosmopolitan cities in the world with such a plethora of events happening all over town every day of the week, it can be overwhelmingly difficult to decide how best to spend your time here.
One of my favourite weekend activities that I recommend to anyone who visits London, however hectic their schedule, is to wander through the East End on a Sunday. When I've worked with student groups in London they often venture to this side of town to visit the Tower of London or for a Jack the Ripper walking tour in the evening, but believe me, there is a whole treasure trove to discover in the east of the city.
My perfect Sunday begins with a visit to Colombia road flower market. "But we're only in town for a couple of days, we can't buy any flowers!" I hear you cry. Indeed, this is true, but whether you go for the beautiful bargains or for the quintessential cockney atmosphere, this is a London market experience that cannot be missed. Trust me, you must go!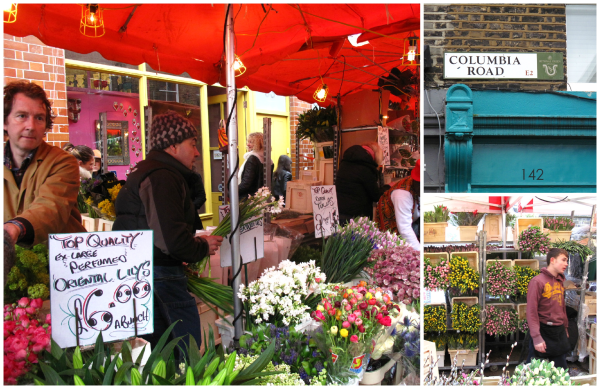 The East End's famous Colombia Road flower market.
Colombia road is a cobbled stone residential street tucked behind Shoreditch station, close to the historical and financial district of the City (or Square Mile as it's commonly known). Lined with independent shops that sell all types of crafty, garden and foodie delights, from 8am every Sunday, come rain or shine, the street is transformed into a beautiful blooming flower market. With a bustling crowd drawn in by the occasion, the heavenly perfume filling the air, the singsong banter of cockney rhyming slang from the cheeky chappies who sell all types of plants and flowers, this is a true assault on the senses.
After the flower market I'll head to Brick Lane just a stone's throw away. You might have seen the film or read the book by Monica Ali of the same name as the street – a tale about a young Bangladeshi woman living in this East End neighbourhood. This is an area that has seen many waves of immigrants make it their home.
During the Victorian age when Britain's empire stretched around the globe and industry began to boom, a great work force was needed to run London's East End docks and factories. Labour came from far and wide – where people had to flee their homeland to escape religious persecution or poverty – they would often arrive here in London's East End. Over the years there came French Huguenots, Irish Catholics, Polish and Russian Jews and Bangladeshi to name but a few of the people who settled here.
Each community brought with it its own customs and traditions that have made a lasting impression on the area. One of the best ways to sample this cultural legacy is through the language of food. At the top of Brick Lane, you'll find one of my favourite foodie places – a 24 hour Bagel shop. The Jewish immigrants introduced the bagel to the area in the late 19th century and today you can savour a delicious salt beef, salmon or cream cheese bagel along with a whole range of sweet treats (my favourite is the baked cheesecake – the best you can find this side of the pond). On a Sunday you can't miss this place – there's a constant queue out of the front door: testimony to the enduring power of the bagel.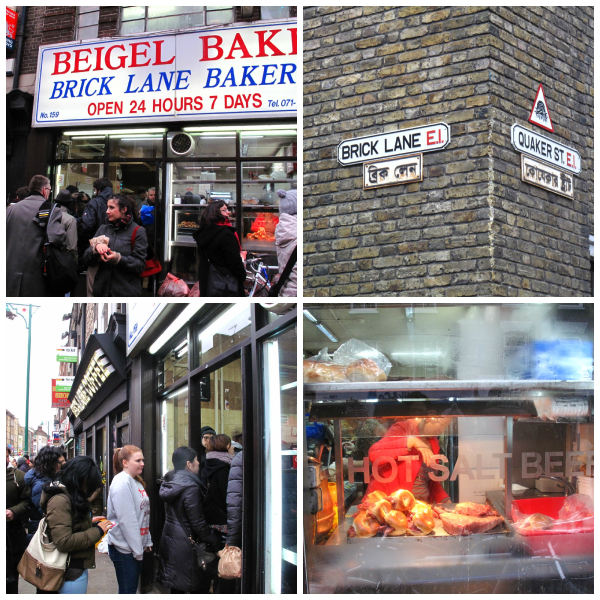 The Bagel shop on Brick Lane – an East End institution.
The Bangladeshi community of East London also makes a very welcome contribution to the culinary map of the neighbourhood. When you reach the bottom half of Brick Lane you could be forgiven for thinking you've been teleported to some far off land with the aroma of exotic spices wafting through the air. There are shops filled with colourful silks and saris, supermarkets selling mysterious and exotic ingredients and every so often the unmistakable sound of the call to prayer. This is where Londoners come for a curry and there's no shortage of places to choose from.
After sampling the delights of the local cuisine it's back to the Sunday markets for which this area is so famous. The centre point is 'Old Spitalfields Market,' housed in a recently restored Victorian covered market, where you can find stalls selling; art, crafts, fashion, vintage, antiques, food and much more. The market tradition has become so popular in this part of town that when you come here on a Sunday today, you can find 'off-markets' occupying just about every available patch of the abandoned factory buildings that are dotted throughout the area – this is shopping heaven!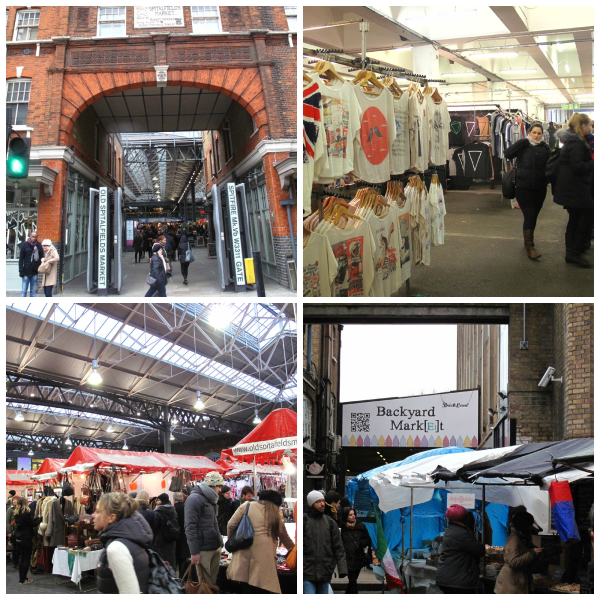 In addition to the original Victorian Spitalfields market, there are many 'off-markets' springing up in the area each Sunday.
With London's docks and industry concentrated in the East End, during the Second World War, this was an area that suffered greatly during the Blitz. Consequently, in the latter half of the 20th century, this was considered such an undesirable place to live that rents were very low and a large number of up and coming artists who couldn't afford the usual high London prices came to the area to live and work. Over the years the artists transformed the once grey industrial area into a vibrant neighbourhood filled with contemporary gallery spaces, design shops, cool cafes and bars. The gentrification continues today and although many of the original artists have since moved on, the trendsetting legacy and flourishing arts scene remains.
To sample some of the best of the contemporary arts scene, head down to the Whitechapel Gallery on Whitechapel road. Artists from Pollock to Picasso and local legends, Gilbert and George have all had their work exhibited here and most of the temporary exhibitions are free.
My final stop in the East End is at another arts venue – one of my favourite places in all of London: Wilton's Music Hall. This is a magical place, so visually stunning and unique that it has appeared in several Hollywood films. Dating from 1859 when John Wilton purchased a small row of terrace houses and knocked down the adjoining walls to create this magnificent theatre. It is considered the oldest surviving music hall in the world. To this day, it continues as a great place of entertainment. Whether you come for a drink in the historical Mahogany bar, a concert, a show or a historical building tour, this is one of the East End's best-kept secrets.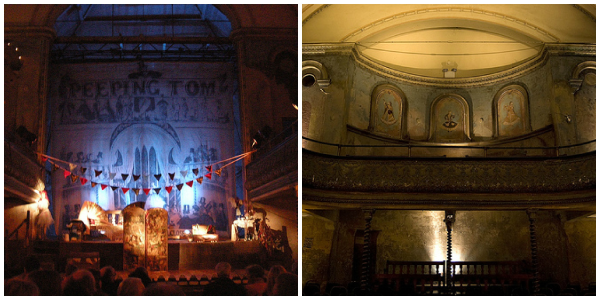 Wilton's – the world's oldest surving music hall in the East End of London. Photosby Vegaway and Salxhart.
---
Maggie McNulty is an ACIS Tour Manager from the United Kingdom. She caught the travel bug at a very early age and takes every opportunity to feed her passion for foreign lands.