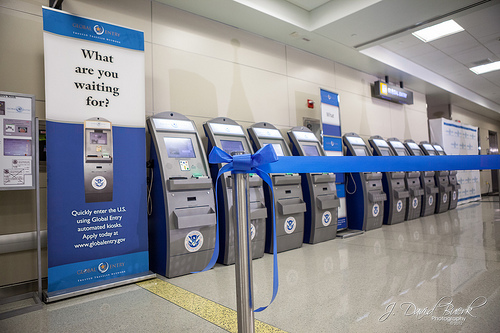 Global Entry is a little bit of a secret out there, but a friend of mine who travels "legally" to Cuba told me it was the greatest move he had ever made. Hearing this, I decided to apply. I had to fill out numerous forms online, wait for about three months, and then go out to Logan Airport in Boston for an interview. Low and behold after giving up large parts of my identity, my fingerprints, and my photo, I passed a security check and am now a Global Entry USA Passport Holder.
You even get a fancy card, which incidentally you never need to use.
So on my first use of the Global Entry pass, I came into Logan on a Sunday evening from London with just carry-on bags. I was confronted in the immigration hall with a crowd that looked like a Sunday afternoon at the Patriots game in Foxborough, MA. At least three planes had landed before mine and there were not enough immigration staff to handle us all. It was an absolute zoo and the lines looked to be a minimum of a one hour wait. Not fun when you have been cramped up on a plane for 7 hours and you just want to go home.
But oh the joy of Global Entry. Man did that feel good. You get to skip around the lines with that air of someone who knew just a little bit more than everyone else. There were the machines –- six of them glowing, calling, enticing, and not one person waiting in line. As the crowds looked on and I looked back, my passport was in that machine, my fingerprints were on the screen, I answered "No" to all of the Customs questions, and watched as the machine popped out my receipt. No tiresome Customs forms on the plane trying to remember your passport number. I was downstairs and in a cab within 5 minutes. I have no idea why I did not do this before. But this truly is one of the great travel secrets of our time.
Happy travels.
For more information, go to: http://www.globalentry.gov/
[Image source: J. David Buerk]
---
Peter Jones is the founder and President of ACIS. Knowing the important difference between a trip that's mediocre and one that's extraordinary, he built ACIS from a deep belief and understanding that teachers and students deserve the best—from itinerary development to hotels to perhaps most importantly, the people hired to guide teachers and students throughout the journey.
[button style="btn-success btn-lg" icon="fa fa-wordpress" align="left" type="link" target="true" title="SUBSCRIBE TO OUR BLOG" link="http://blog.acis.com/"]