Editor's Note: The following is an open letter to parents and was written by ACIS Tour Manager, Thomas Randall. Thomas was compelled to take his thoughts to paper after witnessing the "wifi obsession" among his travelers in which they chose connectivity over exploring the world around them. We decided to share this letter on the blog after watching Look Up, a spoken word film for an online generation.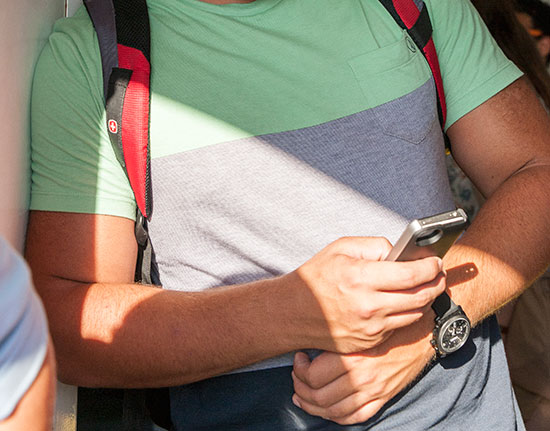 Dear Parents,
Your children are about to embark on an adventure.
This is an adventure on which they will learn how the original proposal for something impressive to be built in 1889 in Paris was not the Eiffel Tower but a hundred foot Guillotine, where they will copy the pose of and feel the tension in the muscles of Michelangelo's 500 year old David and where they will experience inside the Colosseum of Rome the thrill of having 65.000 Romans waving thumbs up at you — thumbs up meaning 'death', not life as we think.
My name is Thomas and I shall be their guide, helping their teachers on this adventure.
But this trip is so much more than dates and facts. Travel is learning.
They will experience rude as well as not rude French waiters, they will learn to look for 'sortie' on the metro of Paris, they will be told how iPhones in a back pocket is a bad idea (hopefully they will listen), they will discover the art of ordering at lunch time in restaurants, how tipping works, that boiled cow stomach in Florence is delicious (don't worry, not obligatory this one, but you'd be amazed how many try it), they will become connoisseurs of gelato — and be able to tell you how to look for the best flavours, they will understand that deep pan is not the real way to serve pizza, they will learn about wake-up calls, planning who showers first in the morning, changing money, withdrawing from ATMs, not spending all your pocket money on day one, but budgeting so you do have enough left for that soccer jersey you want in Rome.
They will pick up words and phrases in French and Italian, as well as English (yes, I'm a Brit and no we do not speak the same language, I learned when I told my first group to all bring jumpers on the evening Seine boat ride as it would be chilly). These trips are 'educational' from the moment that plane leaves O'Hare.
I have been doing my job, leading students from the US around Europe for 14 seasons. I wouldn't change what I do for the world. I get emails two or three years down the line from kids — now students — saying, "hey Thomas, we really did it, we are now on study abroad in Florence, or Rome, or London or Paris." For many, these trips turn out to be the inspiration for their studies.
Now, things do occasionally go wrong; stolen iPhones (no back pockets) bring tears, being a little lost for half an hour and missing the meeting time causes stress, sometimes they might be short changed or buy something that breaks; every single of these things has happened to me also. It is a part of setting foot outside your front door. Dealing with them, overcoming them is learning.
I recently received a college application essay sent to a US university from a girl, Rachel, that had travelled with me a few years ago. She had her phone/camera stolen on one of the bridges in Paris. She cried at the time and her day was certainly not the best, but then she decided not to let them win. She wrote about this experience for her college letter and has been accepted.
Now, I do have one request.
Wifi. Announcing on the coach the next hotel has free wifi, raises the biggest cheer of the tour. And what a wonderful thing it is — goodness knows how we tour guides coped before. I remember standing outside our hotel in Paris one night along with three teachers, forming the longest line outside a solitary phone box so that each and every child could ring home to reassure parents. Now thankfully we can do that from the comfort of the lobby seats.
However I witnessed on my last trip an entire group not exchange one word to each other during a wonderful three course meal in Nice, France, as increasingly all the restaurants have free wifi too. This same group had to be almost literally dragged out into their site seeing of Florence as it would mean abandoning free wifi in the lobby. We will do everything we can to make sure they can be in touch with home at least once a day, but a word from you prior to departure would make a huge difference.
We want them to see and experience Europe, not just Instagram it.
So, let me conclude by stating from the heart how fortunate these children are in having teachers that love to travel. I am paid to do what I do and this is my full-time job. Ok, so I love it, but it is still that, a job. Their teachers truly believe in the value of travel and how it can and really does change the lives of the children they bring on the trips. They are not obliged to run these trips, certainly for them not a vacation. But to see the kids faces and to hear them talk about what they learned when they get home or in the evenings in hotel lobbies is why they do it.
Thanks for letting your kids travel with us, thanks for your trust, we shall look after them and hopefully you'll be amazed upon their return.
Let the adventure begin…
Thomas Randall
You can continue to follow Thomas on his travel blog, 2nd Cup of Tea. If you're interested in watching the Look Up campaign we referenced in our editor's note, we've provided the video below.