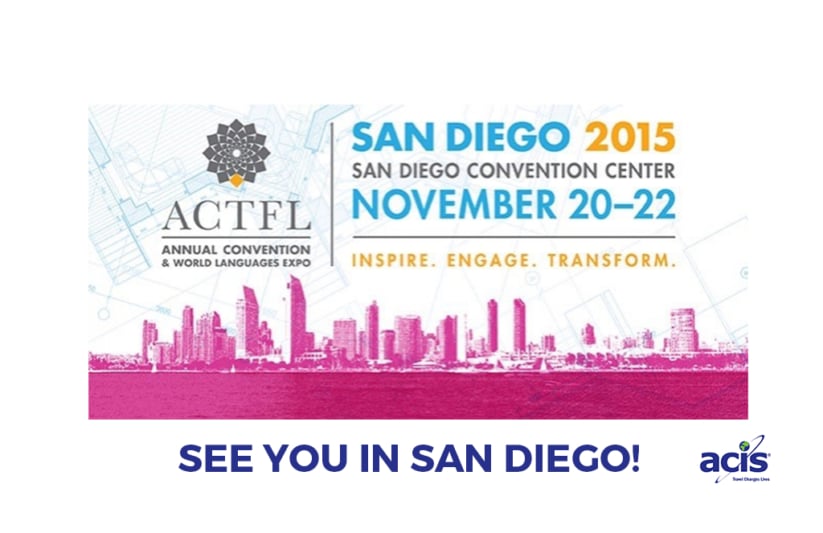 If you're a language teacher and heading to the ACTFL Conference in San Diego later this month, then you're probably getting as excited as we are!
It looks like it'll be a fantastic conference, with plenty of opportunities for networking and professional development. If you haven't already checked out the program online, now is a good time to start planning your time at the conference. Needless to say we're pretty excited that the keynote speaker this year is Rick Steves. His talk will be focused on Developing a Global Perspective through Travel, something in which ACIS passionately believes. If this topic is of interest to you, you should plan to hear his keynote talk, and then come by the ACIS booth to find out how you can use educational travel to put this into practice.
There are a number of new things at ACTFL this year. They include a new feature called TOY Talks, a TED Talks style session conducted by former ACTFL National Language Teachers of the Year. Also new for 2015 is the ACTFL Career Café, an opportunity to share experience with other teachers about career planning. Full details of what's new at ACTFL 2015 can be found on their website.
ACIS will be exhibiting at the conference and cannot wait to meet as many of you as possible! For us, it's a great opportunity to see teachers already traveling with ACIS and also to talk to teachers who may be considering traveling with their students, about the many benefits of educational travel.
If you'd like to find out more about ACIS the do come to the booth to say hello. We have a special raffle for all ACTFL attendees—everyone who stops by the booth will be entered into a prize drawing for some very special prizes.
And that's not all! ACIS is one of the sponsors of the ACTFL app, and so if you take part in the ACTFL Mobile App Trivia Challenge you could be in with a chance of winning a $200 American Express Gift Card. There are three questions relating to ACIS that you'll need to answer. Stop by Booth 1336 and we'll give you a hint or two!
Finally, we're hosting a teacher reception on Friday November 20th in San Diego. If you'd like to join us, you can reserve your spot here.
We hope to see you in San Diego!