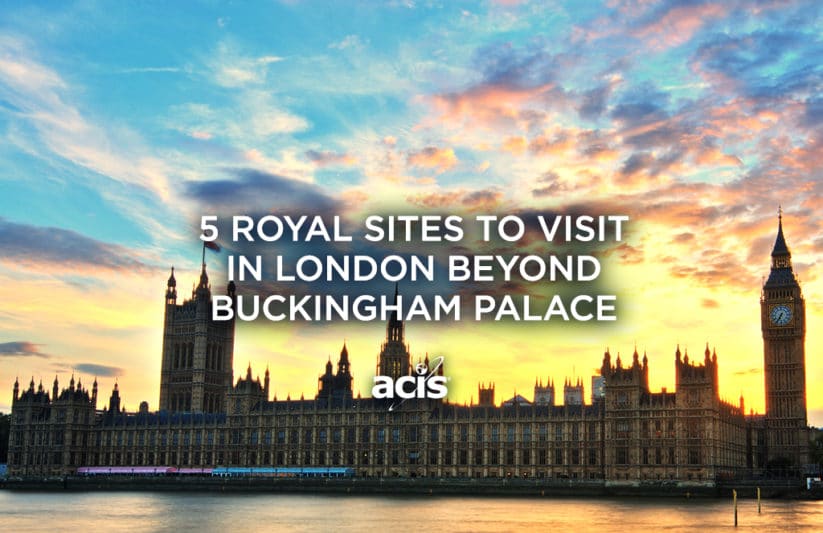 There's plenty to see in London – after all, as Samuel Johnson famously said, "When a man is tired of London, he is tired of life; for there is in London all that life can afford." For many people, sites with royal history are a highlight of the city.
The first that springs to mind is usually Buckingham Palace. Yes, if you are on a student tour to London, you must go to the Palace to see this grand home and the daily spectacle of the changing guard. But don't stop there! London boasts many more wonderful royal places to visit. ACIS Educational Tours offers a variety of school trip itineraries that include London. Here are five not to miss :
1. Westminster Abbey
Located in the heart of London, Westminster Abbey has been the site of every royal coronation since 1066. It's also known as the "royal wedding church": 16 royal weddings have happened here, including those of Henry I in 1011, the Queen and Prince Phillip in 1947 and William and Kate in 2011 – a full millennia after Henry I!
You'll marvel at the soaring arches and the stained glass as you look up. Look down, too: many notable people are buried here beneath your feet, including Sir Isaac Newton and Charles Dickens.
Don't miss the unassuming Jewel Tower nearby. It's one of only two Palace of Westminster buildings to survive the 1834 fire. King Edward III had it built to house his treasures. Look up to see the ornately-carved ceilings.
2. Tower of London
Britain's royal history is alive and well at the Tower of London. Here, Yeomen Warders (popularly known as Beefeaters) lead tours of the grounds. You can see the priceless Crown Jewels of the royal family, and tour this place where many historic royals lived – and died. Yes, it was here that Henry VIII's second wife, Anne Boleyn, was beheaded on the Tower Green.
Be sure to look for the ravens. In historic times, the common folk had no food to feed these birds, so they gathered at the Tower to feast on royal crumbs. Legend says that if the ravens ever leave, the Tower will fall.
3. Kensington Palace
"KP," as the "other" London palace is known, has long been a home for young royals. Historically it was the birthplace and childhood home of Queen Victoria. At just 18 years old, she learned of her ascension to the throne while inside the palace walls, and held her first council meeting there only a few hours after. It is the current London home of Prince William, Duchess Catherine, and their children; the Duke and Duchess of Sussex (more popularly known as Prince Harry and Meghan Markle); and many more minor royals such as the Duke and Duchess of Kent, Prince and Princess of Kent, and William and Harry's cousin Princess Eugenie.
While you can't visit the royals' apartments, many parts of the palace are open to visitors. You can eat at one of two palace cafés. Before you leave, be sure to pay a visit to the beautiful gardens surrounding the palace. The Diana Memorial Fountain pays tribute to the late Diana, Princess of Wales.

4. Windsor Castle
Just half an hour west of London, there's plenty for the royal watcher to see at this residence. Most recently, you may recognize Winsdor Castle as the site of Prince Harry's wedding to Meghan Markle. The castle here dates back to the 11th century and, like London itself, it is built on the River Thames. The castle itself is built on 13 acres, and you can enjoy strolling around inside its gates. The royal family still enjoys spending time here often. You can't tour their living quarters, but many parts of the castle are open to the public. If the weather is nice, take a stroll along the "Long Walk" outside the gates for a beautiful panoramic view of the area.
5. Hampton Court
Another day trip not to miss for fans of royalty is Hampton Court. This palace is known for its ties to the infamous King Henry VIII. In the 1500s, Cardinal Wolsey gifted the palace to the king because Wolsey's favor with the king was waning. Today, it's one of just two of Henry VIII's palaces that remain.
The King planned apartments here for Anne Boleyn, wife #2, but these remained unfinished when she was beheaded. He brought Jane Seymour, wife #3, here, but she died at Hampton Court after giving birth to Henry's one coveted son.
There's plenty to see here, both inside the palace and out in the gardens. You may recognize certain spots, as Hampton Court is a popular venue for films. Disney's 2015 Cinderella and Pirates of the Caribbean: On Stranger Tides are two recent films made here.
Susan Braun taught public school in Indiana for eight years before taking a break to raise her own children. She was awarded a Lilly Endowment Teacher Creativity Fellowship and a National Endowment for the Humanities Summer Study Scholarship, and used both to study European royalty while visiting sites in Germany and England. She's the author of "Not So Happily Ever After: The Tale of KingLudwig II" and also wrote 6 lesson plans on Queen Isabella of Spain!
Want to read more about London and our school trips to Britain