This week's recipe takes us back to Italy, a country known for its pasta! This week's recipe features Pappardelle, a broad, flat noodle whose name stems from the Italian verb pappare–to gobble or eat hungrily with great, childish joy. It comes from the Tuscany region of Italy where according to one popular legend, it was invented in 1487 by Maestro Zafirano, a cook from the village of Bentivoglio. He was inspired, while preparing the cuisine for the marriage of Lucrezia Borgia to the Duke of Ferrara, by the bride's beautiful blond hair.
For more recipes from Italy and other countries from across Europe, check out our World Cookbook!
This week's entry was submitted by Christina Spaulding from our Chicago Office. Enjoy!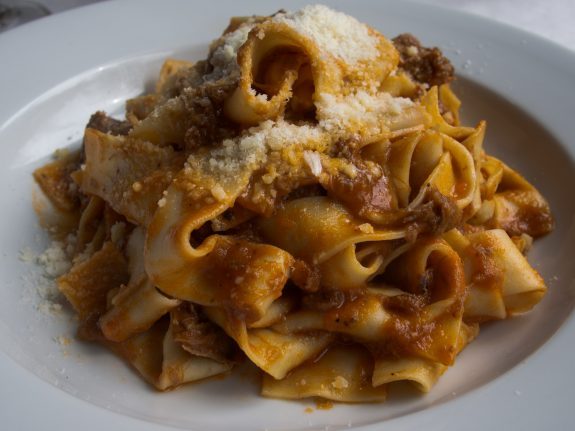 Pappardelle with Porcini and Pistachios
Yield: 6 servings
Total Time: 45 minutes
Prep: 5 minutes
Cook: 40 minutes
Ingredients
6 tablespoons unsalted butter
1 large red onion, cut into 3/4-inch dice
1 pound fresh porcini or cremini mushrooms, thinly sliced
Salt and freshly ground pepper
1 shallot, minced
1 garlic clove, thinly sliced
2 cups chicken stock or low-sodium broth
2 tablespoons chopped flat-leaf parsley
1/2 cup unsalted roasted pistachios
1/2 teaspoon fresh lemon juice
1 small chile, such as red Thai chile, seeded and minced
1 pound pappardelle, preferably fresh
2 tablespoons extra-virgin olive oil
Freshly grated Parmigiano-Reggiano cheese, for serving
Directions
In a large, deep skillet, melt 4 tablespoons of the butter. Add the onion and cook over low heat, stirring occasionally, until softened but not browned, about 10 minutes. Using a slotted spoon, transfer the onion to a bowl; leave as much of the butter in the pan as possible.
Add the mushrooms to the skillet, season with salt and pepper and cook over high heat, stirring occasionally until the liquid is evaporated and the mushrooms are golden about 8 minutes. Stir in the shallot and garlic and cook for 1 minute. Return the onion to the skillet. Add the chicken stock and parsley and simmer over moderately high heat until the liquid is reduced to 1/4 cup, about 8 minutes. Add the remaining 2 tablespoons
of butter along with the pistachios, lemon juice and chile and stir until the butter is melted. Season with salt and pepper.
Meanwhile, cook the pappardelle in a large pot of boiling salted water until al dente. Drain the pasta, reserving 1/2 cup of the cooking water.
Add the pappardelle to the skillet along with the reserved cooking water and the olive oil. Cook over moderately high heat, tossing, until the pasta is coated with a thick sauce, about 2 minutes. Transfer the pasta to bowls and serve, passing the cheese at the table.
If you give the recipe a try, make sure to come back and leave a comment to let us know how it came out!

17 FREE RECIPES
ACIS World Cookbook
Bring the world into your kitchen with recipes from 10 different countries.