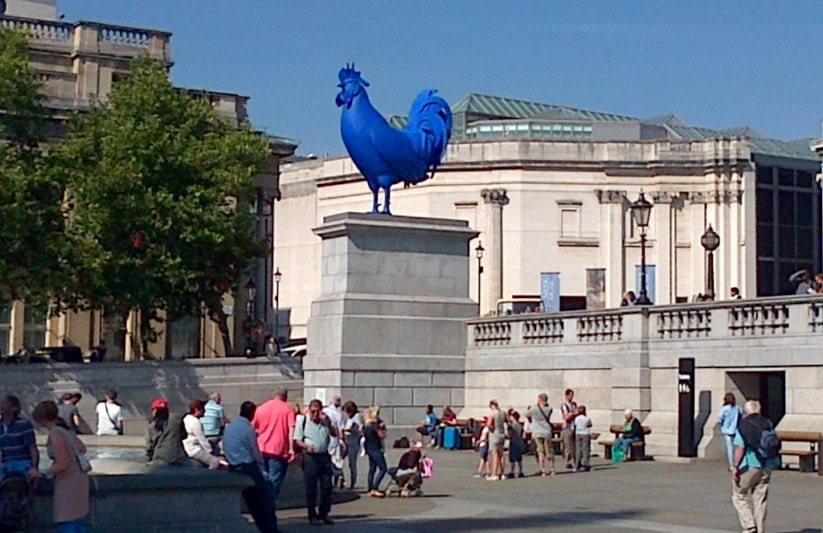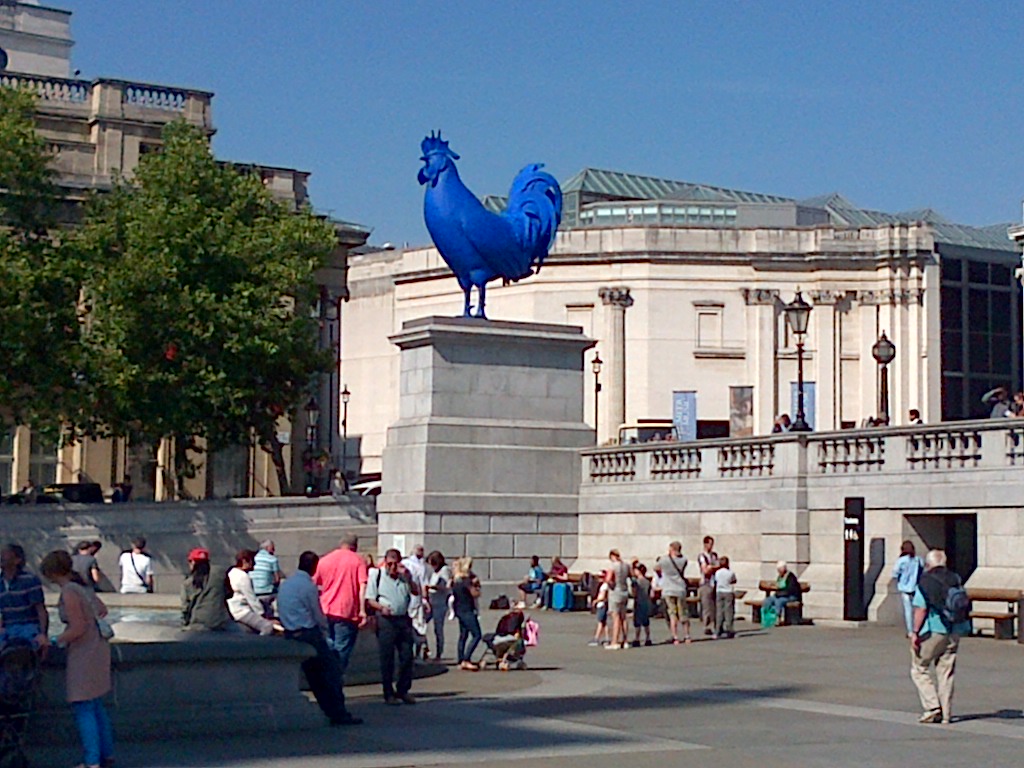 At moments like this, I always remember the line that gave its name to a Broadway musical and later film, 'A funny thing happened on the way to the Forum'.
Dateline: London recently. There I was, happily and innocently enjoying a carefree day on the streets in between people-watching and cafe-surfing on the vibrant Southbank and before hitting another Gallery to infuse some breathtaking art into the soul (that's what you call London life-balance!). I walk into Trafalgar Square and there's this:
A huge blue chicken-bird thing!
What the blue blazing roosters is that all about? You may be thinking. I believe I made a similar utterance.
I guess this is one of those wonderfully surreal moments that can simply hit without warning when visiting anywhere. I recall a few years ago turning a corner in whichever European city I was in at the time and being faced down by a life-sized decorated cow which then seemed to follow me through the cities of Europe that summer (something called 'Cow Parade'). Interesting. Entertaining. Slightly surreal.
Welcome to a great, attention-grabbing development of London's of recent years: a rotating public commission of contemporary art right in the heart of the city in one of its most public places.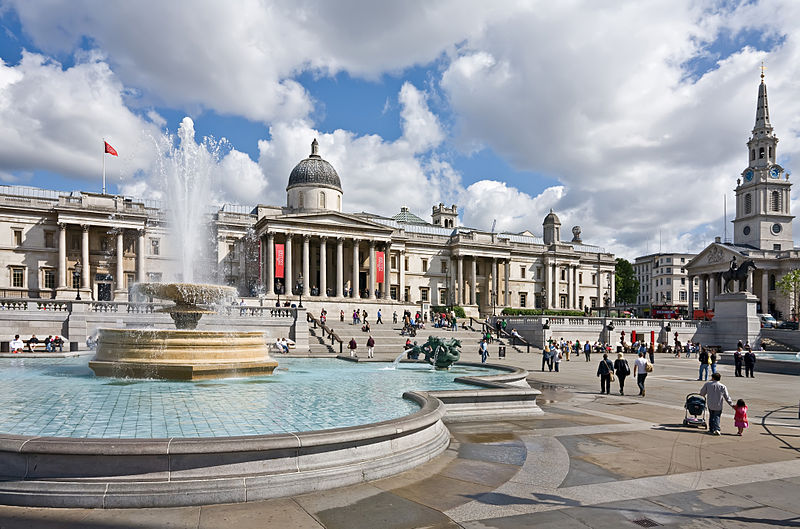 [London's Trafalgar Square photo: David Iliff. License: CC-BY-SA 3.0]
There you stand, with one of the world's great art galleries as a back-drop (The National Gallery), another is just around the corner (The National Portrait Gallery) –- both full of incredible stuff and both free to enter by the way; you're a stone's throw from HM The Queen' s front drive (The Mall); ahead of you is 'Big Ben' (probably looking slightly quizzical at what it glimpses in your direction); left and right are reminders of two great Commonwealth countries, South Africa and Canada (their imposing High Commission buildings, with flags flying proudly) and there, in the midst of all this grandeur, in what is possibly the nation's most famous open space: the aforementioned enormous ultramarine fowl.
To assure you, no, we Brits haven't finally lost the plot! Rather, what you are seeing is a great piece of creative thinking, bringing contemporary art out, loud and proud, into the public domain for all to enjoy.
You see, iconic Trafalgar Square has always been a tad incomplete. This great public space was laid out in the early nineteenth century to honour military heroes and King William IV. In each corner is a plinth, aforementioned 'greats' intended to be on each. Well that was the plan. Unfortunately, plinth No.4 never got its 'great': the money ran out! It has, ever since, been empty.
A New Life for No.4
There have been many debates across the years over what to do about poor old unfinished No.4. The idea that emerged in the late 1990's, courtesy of the Royal Society for the Arts (RSA), was for it to become a rotating public art installation. And so was born 'the fourth plinth' commission.
Since its inception, the fourth plinth has seen quite a gallery: a tree with its roots moulded around the top of the plinth; a ship in a bottle (the ship being a scale model of Nelson's flagship 'Victory' in homage to the location and its historic reference); a pregnant woman; a boy on a rocking horse (a counter to the horse-laden military overtones of the Square's original statuary); even ordinary members of the public themselves, to refer to just a few.

[Some of the previous fourth plinth commissions: (L to R) 'Alison Lapper Pregnant' (Marc Quinn); 'Nelson's Ship in a Bottle' (Yinka Shonibare); 'Powerless Structures, Fig 101' (Elmgreen & Dragset). Photos: (L to R) Getty/Telegraph; Dan Kitwood/Getty Images;Mayor of London]
What any of us think about it, well that's the point; it's up to each person seeing the in situ commission to decide for themselves — the 'what's it about?' moment; to decide whether they like it or not; even, is this the correct use of the empty plinth. I'm sure Admiral Lord Nelson high on his ceremonial column in the Square has probably had a thought or two each time the installation is renewed (but so far he has kept his counsel).
Following the success of the initial series of three commissions, the Mayor Of London has chosen to continue with the commissioning programme. Artists from around the world submit their ideas to a commissioning panel in whom the decision lies. And so, approximately every 18 months, the scene changes and a new work is installed.
For the time-being, and through to the end of next year, it's a giant blue cockerel!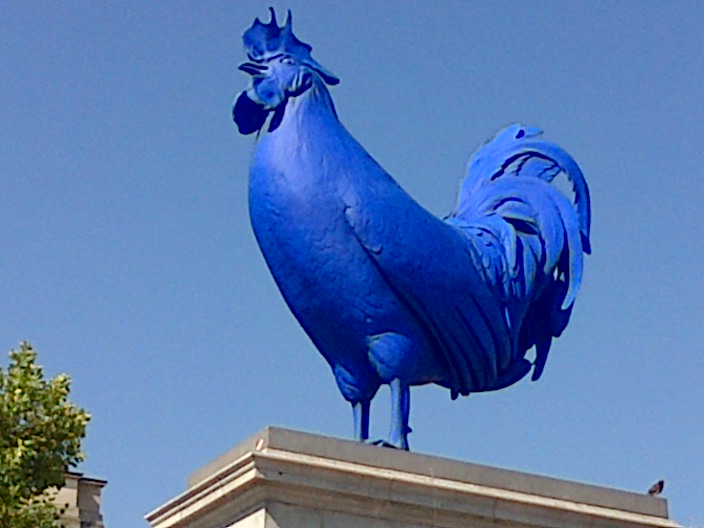 [Welcome to the fourth plinth!…in close up]
This latest fourth plinth commission has been designed by german artist Katharina Fritsch and is entitled 'Hahn/Cock'. It's up to us to decide what it's all about. And as always, it's conversation-inducing.
An impish nod to history?
For some the counterbalance, if not the irony, between the subject of the sculpture and Lord Nelson won't be lost. Trafalgar Square is named to honour the famous nineteenth century naval victory of Britain over France. The Square is presided over by Nelson's Column, a 170 foot high corinthian column commemorating Admiral Horatio Nelson, Commander of the British Fleet, whose tactical brilliance led to the victory.
European politics of the time, particularly the jockeying for supremacy amongst the nations of Europe, meant the 1805 Battle of Trafalgar was of major importance. At the height of the Napoleonic Wars, by beating Napoleon's France at sea off Cape Trafalgar (southern Spain), Napoleon and France were denied naval superiority in European waters. The balance of maritime power was, thereafter, with Britain. Napoleon would subsequently meet his ultimate denouement in Belgian fields at Waterloo in 1815.
In Nelson, you have, as a result of this victory, one of our greatest military heroes, a reputation and a folklore enhanced by his death in the height of battle on board his flagship HMS Victory (and in full dress uniform, no less!).
Whilst his great monument was erected in Trafalgar Square, he himself is buried in the prime burial spot within St Paul's Cathedral – of itself speaking of the esteem in which he was held by the Nation at the time. His ship is preserved to this day as a museum at the home port of the Royal Navy, Portsmouth (on the south coast of England). Anyone sailing to Normandie may catch a glimpse as you leave Port.
And now, in a Square with such echoes of history stands a bird that is a national symbol of which country? – you've guessed it, France! And in its colour, possibly a very Gallic hue. Perching at 15 feet high, it's huge, it's blue and here it is in Nelson's backyard!
Is this counterpoint intentional? Is the fowl cocking a snook at the Admiral? Are we reading messages into the sculpture that aren't there? Might it be only us Brits that would do so (and to such an extent) with a piece of art?
In the Spirit of the 'Fourth Plinth'
This is the thing about the fourth plinth: it's all open to debate. It either leaves you scratching your head as you try and 'work it out' or it may simply leave you with a bit of a smile.
I suppose it really is a truism: always be ready for the unexpected around every corner (or in this case, on it!)
---
Chris Relton is an ACIS tour manager from the UK. His passion for travel has taken him through Europe as well as Australia and New Zealand, the Far East, North America and Africa. In 2012, Chris was chosen to work as a volunteer at the Olympic Stadium during the London Summer Olympics Games and the Paralympic Games.
Interesting in seeing more photos of London? Travel around the world while resting comfortably in your arm chair by visiting our Pinterest page for more photos from the United Kingdom and beyond.
[button style="btn-success btn-lg" icon="fa fa-pinterest-square" align="left" type="link" target="true" title="EXPLORE WITH US" link="http://www.pinterest.com/acistours/"]