Back to Blog Home
GoPlay Sports Tours Interviews Willie McNab of Celtic Soccer Academy
This is a guest blog post from GoPlay Sports, a division of ACIS, which takes club, college and high school teams of all skill levels to world-class venues in Europe, the Americas and Australia.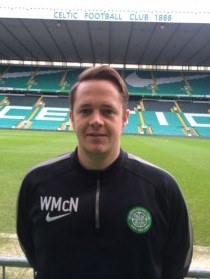 With GoPlay Sports Tours preparing to rub shoulders with Sir Alex Ferguson, Rene Meulensteen, Landon Donovan and Pele at the annual National Soccer Coaches of America Association (NSCAA) convention next week (Jan 14-18), we caught up with Celtic Soccer Academy Manager (International) Willie McNab, to find out what to expect from our first visit to the event billed as "The World's Largest Annual Gathering of Soccer Coaches."
Willie, attending the prestigious convention for the second year, will be aiming to educate in the philosophies and theory of playing the "Celtic Way."
He will be presenting two sessions on "match preparation and analysis" and also on "defensive scenarios" in Philadelphia to a convention that draws approximately 4,000 coaches from the NSCAA's 30,000-plus members, with more than 10,000 attendees over five days of live field demonstrations, lecture sessions and networking socials.
GoPlay: The NSCAA convention takes place next week, how much are you looking forward to attending?
McNab: I'm looking forward to it immensely, this will be the second time I will be in attendance. It's a very prestigious event, very well run and I'm fortunate to be presenting this year on behalf of Celtic Football Club – both with a full demonstration and a classroom session. The sessions will be based on what we're doing with the kids in the Academy and what we're doing internationally with the clubs. It's just a fantastic opportunity to meet a load of like-minded coaches from across the world with coaches of all levels. There are people from within the game there and it's a wonderful networking opportunity and it's a chance for Celtic to really highlight all the good work that's going on in the Academy and internationally as well. It's also a chance to grow the brand of Celtic within North America.
GoPlay: The NSCAA convention in Philadelphia is the biggest of its kind in the world, how valuable is it to coaches?
McNab: No matter what level you're at as a coach you're always learning. I attended the event last year and some of the presenters were excellent – in particular Dick Bate – he was fantastic, his manner with people was great and I picked up so much from those sessions. I'll be there to broaden my horizons as a coach and gaining insights from other coaches from all over the world. I think the NSCAA convention is pitched at every level of the game.
GoPlay: Who are you looking forward to hearing at the convention?
McNab: I'm looking forward to seeing Dick Bate again. I think Manchester United and Barcelona will have coaches there, but I'm really keen to have a look at some of the American coaches also. Soccer in America is really growing and some of the coaches coming through are very good. I'm always interested in the landscape of soccer in the US and obviously you've got some fantastic names who are going such as Sir Alex Ferguson and Pele. And being a Scotsman, Ferguson – one of the greatest managers of all time, who worked alongside Jock Stein – the greatest Celtic manager of all time, just listening to these guys is going to be really valuable for my own personal development.
GoPlay: You are presenting there next week, on defensive scenarios and also match preparation and analysis, how has your planning gone for that?
McNab: I've been to a lot of practical sessions and I sometimes think that defending can be overlooked, just slightly. Everyone loves the attacking side of the game, but it's something we pride our Academy on at Celtic – "how we defend". I primarily work with the Under-13s at the club and it's a big transitional year – coming from seven a side to 11 a side and I just wanted to do something on the pitch that helps them with the transition. Then I'll take my field session into the classroom and just give a brief overview and a snapshot of the Academy and what a normal week is for these guys and how we prepare them and then take that into a match. Then I'll show some video clips of our Under-13s and our Under-20 Development Squad and how they play the same way and the vision that has been put in place by Chris McCart the Academy director. I have spoken to Chris and he was very keen for me to show how this is engrained in the Academy. If an under 13 lad comes into the Academy in his first full year of 11-a-side football, how that carries on with them through to the Under-20s team. I'm excited to showcase what we're doing in a practical and theoretical sense.
GoPlay: As Celtic Soccer Academy manager (international), what makes your Academy different?
McNab: Just to make it clear I am manager of the international side of what we do, Chris McCart is the Academy director, but I've been at the club for eight years now and I've seen the young lads coming into the club at 13, Liam Henderson for example. Liam played against Galatasaray last season, played against guys like Wesley Sneijder and he's played this season and really kicked on and put in some fantastic performances. So being able to speak to some of our international partners about players like Liam has been really valuable. It's great for me to speak about the young players who have made the first team when I talk to our partner clubs across the world. I think it's about 16 Academy players that have made their debuts in the Champions League over the last five or six seasons. It's great to see players make that step because it's always difficult at a club like Celtic. It's always a proud moment to see a young lad who has come through the Academy stepping out at Celtic Park.
GoPlay: The fans seem to have a greater affinity with local players who come through the ranks.
McNab: Yes, we've had people in the past come through – guys like Shaun Maloney, Aiden McGeady and James Forrest and the fans love to see one of their own and I think it's great for the Scottish game. I think what Gordon Strachan (Scotland coach) has done has been great and we're up their challenging. Now you see a lot of the young Scottish players playing at a high level. You see players like Ryan Gauld who recently moved from Dundee United to Sporting Lisbon and now you see a lot of our top players playing at a high level.
GoPlay: I know you've been doing a lot of work encouraging partner clubs over to Celtic Park, what are the benefits for the teams and kids travelling and for Celtic?
McNab: The benefits for the partner clubs are that it gives them a gauge as to where they are in their development as players against a top European Academy. And when they come over its access all areas. They spend time with our coaches, play against local opposition and we try and educate them about Celtic. We don't get the same exposure as the English Premier League, so when the kids come here we try and given them a real feel of the club and get them to a game at Celtic Park. We've got two clubs coming in February and they will be attending the Inter Milan game in front of a 60,000 sell out.

The benefit for Celtic is that we get to engage with all these kids, their parents and coaches and they may become future fans of Celtic. And there might a talented kid that pops up on the radar too.
GoPlay: I'm glad you mentioned that, do you use the partnerships to scout youth talent, and would you be in a position to make an offer if someone came along who caught your eye?
McNab: That's the beauty of the relationship we have with Chris McCart in the Academy that any player that comes over and does well and is good enough then we can definitely keep tabs on them. It's a bit easier to do that with the clubs we partner with in Ireland because of the regulations and so on. And we've seen a lot of growth in Ireland, probably in the last year alone. We went from having three partner clubs in Ireland to just over 20. It's great because it gives us a lot of access to players and we find a lot of the players are fans of the club because of the history and heritage.

We have six partner clubs in the US, but it's about having the right people at the clubs. We want good people who are driving the clubs forward in the right way, because we have got to trust them representing the Celtic brand.
GoPlay: Developing partnerships with clubs in the US is obviously key, have you got plans to develop partnerships in other parts of the world?
McNab: We've got partner clubs in Holland, Sweden, Italy, Poland, Australia, Canada, United States, Ireland and Wales already. But the US has so much potential, the problem is the place is so big, we almost treat every state like a small country. I think once they get their long-term player development model right then they will bring players through simply with the talent pool available. But the place is so big I'm not envious of whoever's job that is to put that together.
GoPlay: Would you be looking at developing a Celtic Academy in the US?
McNab: I don't think we will have a US Academy anytime soon. I think the work we do with the partner clubs gives us the access to lots of players. Some of the clubs in the US can have upwards of 1500 members. The network we are building is great and something we'll work on over the next few years.
GoPlay: I believe you're hosting a coaching convention at Celtic in February, what level of coach is that aimed at?
McNab: It's very similar to the NSCAA convention in that it's open to everyone. It's unique in that fact we're the only club that run this, Ajax have a similar event, but we give total access. We have got coaches coming from Chelsea, Wolves and all over the world and it's a networking and sharing opportunity. It's an open door policy at the Academy and shows how we work with our young players. It's a must for any coach who is serious about their personable development and also their club's development too.
GoPlay: If you take the US high school market, what would a coach from that level benefit from?
McNab: New ideas about how to develop players primarily. There is a big focus on the ages of 13 to 18 at the Celtic Academy and that fits in with High school. We have a partnership with a local secondary school and there are a lot of ideas to be taken from that from a football point of view but also from an educational point of view. It's not just about developing the player, it's about developing the person. High school coaches would also be able to network with a lot of US clubs at the same time and it would show how we've taken the Academy programme and worked education and football together. We can show how we've working the coaching and education together.
GoPlay will be sending their first team to Glasgow Celtic next month, to learn and play soccer "The Celtic Way."