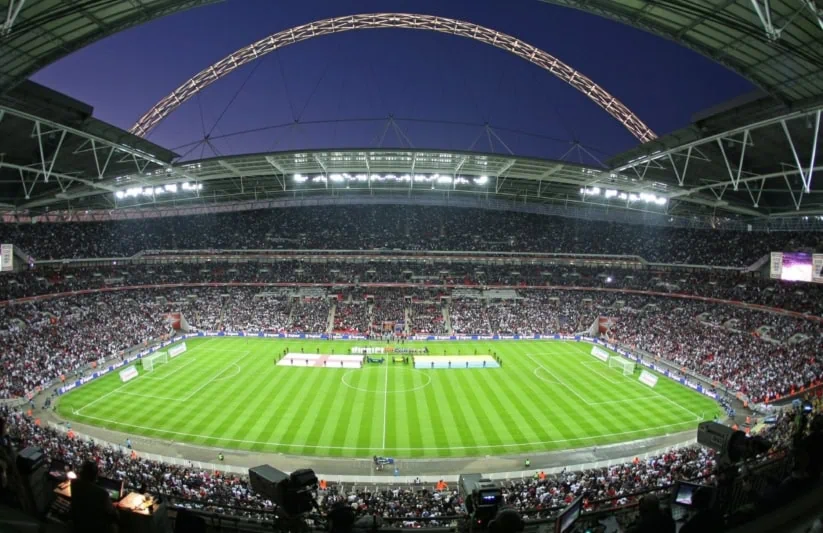 This guest post was contributed by ACIS marketing intern Jeff Zeserson
What better way to learn about a new country than to immerse yourself in the culture? One major aspect of every culture around the world is the culture of sport. From kids playing in the street to international superstars on the field, it is almost impossible to go somewhere in the world where sports aren't a predominant part of everyday life. The sport that dominates them all and brings people together like no other is football, or soccer as it's come to be known stateside.
The sport of soccer has become one of the world's few universal languages. Every walk of life enjoys the beautiful game, and it's loved in every corner of the globe. To learn how each country interprets and treats the game is to learn a little more about that community as a whole. What better way to experience the game in a new country than to visit where it's played.
Here are the top 15 most famed soccer stadiums around the world that you might see on an ACIS tour.
15. Amsterdam ArenA

Location: Amsterdam, Holland
Capacity: 53,502
Year Opened: 1996
Tenants: AFC Ajax, Holland national soccer team
Holland is known for its Total Football style of play but their style is not their only contribution to the soccer world. Opened in 1996 Amsterdam ArenA, which boasts the first retractable roof in Europe, has been at the center of the sport in the country for almost two decades. This stadium has hosted the 1998 and 2013 Champions League Final as well as been a venue at UEFA Euro 2000 and will be a part of UEFA Euro 2020. Legendary club, AFC Ajax, is not the only one to play here as Amsterdam ArenA has seen the likes of Madonna, Michael Jackson, David Bowie, and The Rolling Stones perform.
14. Parc de Princes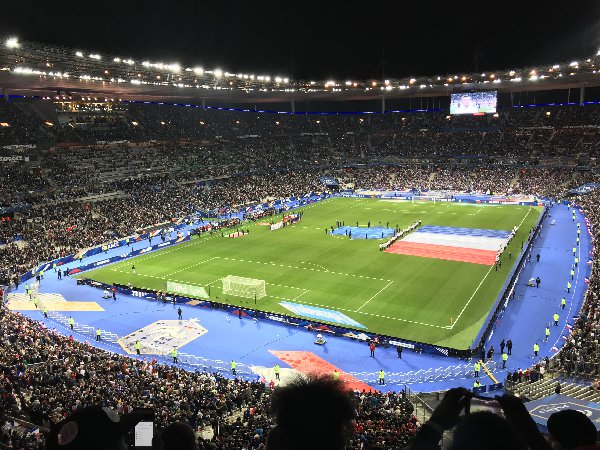 Location: Paris, France
Capacity: 48,712
Year Opened: 1897
Tenants: Paris Saint-Germain
Translated to "Park of the Princes", this venue located in France's capital is the home of French soccer. It plays host to France's most famous club, Paris Saint-Germain, and was the home of the French national soccer team until 1998. It has seen its fair share of big games including two Euro Finals, three UEFA Champions League Finals, and two World Cups. Not officially a soccer stadium until 1972, the ground was used in the 1900 Summer Olympics.
13. Stadio Olimpico
Location: Rome, Italy
Capacity: 72,698
Year Opened: 1937
Tenants: AS Roma, Lazio, Italian national soccer team
An asset of the Italian National Olympic Committee, the Stadio Olimpico is the second largest stadium in Italy. It is home to one of the fiercest rivalries in world soccer, the "Derby Della Capitale" between AS Roma and Lazio. Whenever these two teams play you can bet the stadium will be packed with passionate fans, which really makes this place special. It is also home to the annual Coppa Italia Final, hosted four European Cup finals, and is where the 1990 World Cup Final took place.
12. Emirates Stadium
Location: London, England
Capacity: 60,432
Year Opened: 2006
Tenants: Arsenal FC
Emirates Stadium is the third largest in England and cost nearly $750 million to build. Replacing the legendary Highbury would be no easy task but it has done quite nicely as the new home of Arsenal FC. This modern venue has seen to be a breakthrough in stadium design in the UK and across Europe, which comes as no surprise that Arsenal supporters have to pay the highest prices for season tickets in England.
11. Celtic Park
Location: Glasgow, Scotland
Capacity: 60,411
Year Opened: 1892
Tenants: Celtic FC
The largest stadium in Scotland has been the home to Celtic FC for over a century. Featuring one of the best atmospheres in Europe, Celtic Park is a must-see for anyone visiting the city of Glasgow. Celtic fans have nicknamed the stadium either Parkhead or Paradise. Celtic FC is one half of the "Old Firm" derby with Rangers FC, which is arguably the most heated rivalry in all of sports. Whenever these two teams play, a city splits in half and it's can't-miss action.
10. Stamford Bridge
Location: London, England
Capacity: 41,798
Year Opened: 1877
Tenants: Chelsea FC
Stamford Bridge was originally home to London Athletic Club until Chelsea FC took over in 1905. Known simply as "The Bridge", Chelsea has made this place a fortress going undefeated here for a Premier League record of 86 games from 2004 to 2008. The England national soccer team has played here and it's also been the home of several FA Cup finals. Besides soccer, the stadium has seen many other sports, such as cricket, rugby, baseball, and even American football.
9. Olympiastadion
Location: Berlin, Germany
Capacity: 74,475
Year Opened: 1936
Tenants: Hertha BSC
Olympiastadion was originally built for the 1936 Summer Olympics and has always been a prestigious sporting venue. It did not host soccer matches until Hertha BSC made it their home ground in 1963. A historic symbol in German sports, the stadium has been the venue for both the 1974 and 2006 World Cup, where it hosted the final. It also played the host of the 2015 UEFA Champions League Final. The Olympiastadion was one of the only buildings in the city that was untouched during WWII.
8. Estadio Azteca
Location: Mexico City, Mexico
Capacity: 95,500
Year Opened: 1966
Tenants: Club América, Mexican national soccer team
One of the most iconic stadiums around, the Estadio Azteca seats 95,500 making it the third largest soccer stadium in the world. Sitting nearly a mile and a half above sea level, this stadium is about as intimidating as they come. When full, the atmosphere is unbeatable, which is why the Mexico national soccer team has only lost a handful of games here in almost 50 years. This venue was also the first stadium to host two World Cup finals, taking place in 1970 and 1986.
7. Stadio Giuseppe Meazza (San Siro)
Location: Milan, Italy
Capacity: 80,018
Year Opened: 1926
Tenants: AC Milan, Internazionale Milan
Commonly known as San Siro, this is the largest and most famous stadium in Italy. It is most notable to be the home of two Italian powers, AC Milan and Inter Milan. This stadium becomes a special place whenever these two teams face off in the Milan Derby. The San Siro was a venue at the 1990 World Cup and has hosted three Champions League and Euro Cup finals with the fourth coming in 2016.
6. Estadio Alberto J. Armando (La Bombonera)
Location: Buenos Aires, Argentina
Capacity: 49,000
Year Opened: 1940
Tenants: Boca Juniors
La Bombonera, which translates to the Chocolate Box, has an unusual look to it with one "flat" stand and the other three stands wrapping around the field giving it a "D" shape. What is not unusual about this famed Argentine venue is the incredible atmosphere for every Boca Juniors game. The local fans known as "La Doce" (The 12th man), have been known to fill the stands with streamers and confetti in support of their beloved team. It also acts as a concert venue where famous artists including Lenny Kravitz and Sir Elton John have performed.
5. Allianz Arena
Location: Munich, Germany
Capacity: 75,000
Year Opened: 2005
Tenants: Bayern Munich, TSV 1860 München, German national soccer team
Home to one of the most famous clubs in the world, Bayern Munich, this stadium is a modern work of art. What happens on the outside is almost as impressive as what takes place inside on the field. At night, the exterior lights up and changes colors and is the first stadium in the world to feature this sort of technology. The arena was a venue at the 2006 World Cup and hosted the 2012 UEFA Champions League Final.
4. Estádio Jornalista Mário Filho (Maracanã Stadium)
Location: Rio de Janeiro, Brazil
Capacity: 78,838
Year Opened: 1950
Tenants: Flamengo, Fluminense
There are few stadiums in the world more synonymous with the country within they are located than this one. The Maracanã has been the crown jewel of Brazilian soccer since it opened in 1950. It was built for the 1950 World Cup and crammed in almost 200K spectators to watch the final match, in which Brazil lost in heartbreaking fashion. It has been renovated since for the 2014 World Cup. Brazil has given the world their jogo bonito (beautiful game) style of play along with this beautiful stadium.
3. Santiago Bernabéu Stadium
Location: Madrid, Spain
Capacity: 81,044
Year Opened: 1947
Tenants: Real Madrid CF, Spanish national soccer team
The third biggest stadium in the world and the second biggest in Spain, El Bernabéu is the home to one of the most successful clubs in Europe. Real Madrid was voted the best club of the 20th century and in 2014 became the first team to win 10 European Cups. The stadium has hosted four European Cup and Champions League finals and was a venue at the 1982 World Cup. It is Located in the heart of the capital of Spain and it is a truly special place to watch a soccer game.
2. Estadio del Camp Nou
Location: Barcelona, Spain
Capacity: 99,354
Year Opened: 1957
Tenants: FC Barcelona
The Camp Nou (New Field) is the largest stadium in Europe and second largest in the world. Home to FC Barcelona, this place is truly a cathedral of soccer. Barcelona's motto is Més que un club (more than a club) and the Camp Nou is certainly more than a stadium. Some of the greatest soccer players of all time have played here. It has hosted both a European Cup and a Champions League Final and was also a venue at the 1992 Summer Olympics.
1. Wembley Stadium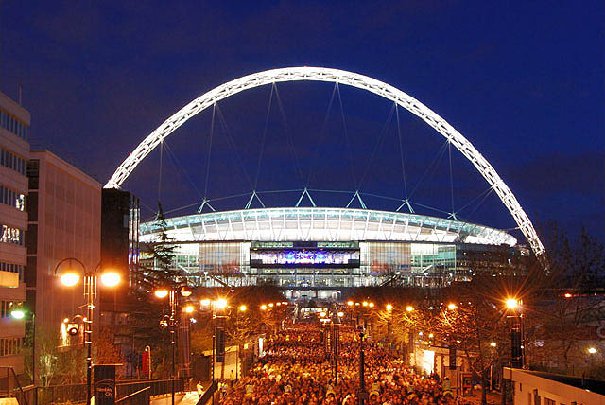 Location: London, England
Capacity: 90,000
Year Opened: 2007
Tenants: English national soccer team
Replacing the old Wembley Stadium in 2007, this place has become the new "Home of Football". Costing a staggering $1.5 billion, Wembley is the most expensive stadium in the world. With its iconic "Wembley Arch" towering over the grounds, this venue is at the top of every soccer fan's wish list to see. It is the second largest stadium in Europe and is home to the England national soccer team and several annual events, such as the FA Community Shield and FA Cup Final. It hosted the 2011 and 2013 UEFA Champions League Final and will host both the semi-finals and final of UEFA Euro 2020.