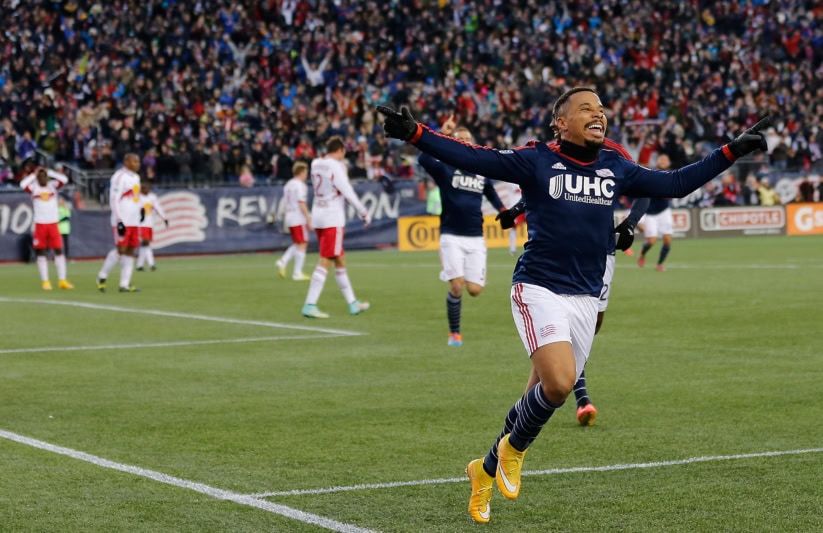 This blogpost is from GoPlay Sports, a division of ACIS, that takes club, college and high school teams of all skill levels to world-class venues in Europe, the Americas and Australia.
Fresh from two goals in the MLS Playoffs against New York Red Bulls, GoPlay caught up with New England Revolution striker Charlie Davies and spoke exclusively to the 28-year-old before this past Sunday's MLS Cup, his youth career, playing overseas and his return 'home' to New England.
GoPlay: Having grown up in New England and watched games with your father, it must be great to be back.
Charlie: Absolutely, this is home for me and it's great to be able to come back and rediscover my previous form. Being in a comfortable situation where everybody supports you and everyone wants you to succeed goes a long way. I'm reaping all the benefits of all the hard work I've put in over the last five years. It's been great to be at home, playing so well and to have such great team-mates.
GoPlay: You played for Greater Boston, now named FC Bolts, at youth level. How did that prepare you for the professional game?
Charlie: It's funny because our left-back Chris Tierney also grew up playing for Greater Boston and he assisted me on both goals so they're doing quite well out of it. I played in some great competitions with them and I played in the Disney Cup and won that playing against some of the best youth teams in the country. It definitely prepared me for the next level.
GoPlay: Did the college system and the limited number of games hinder you whilst you were growing up?
Charlie: No it didn't because I would always play, if I wasn't playing with a team I was practising with my father. I always had time to play and I was always training and watching games. My father made a point of me watching the best and we used to watch Henry at Arsenal and the Brazilian Ronaldo just to see how it was done properly. I just tried to emulate those guys.
GoPlay: Was that a consideration when you moved overseas?
Charlie: To make it in Europe was always my dream. My childhood was all about watching the European clubs play and seeing the atmosphere and the passion of the fans made me want to be a part of it. I thought the best way for me to develop was to be thrown out into that environment.
GoPlay: Did you have the option of signing for the MLS before you went overseas?
Charlie: Yes, I was offered the generation Adidas contract and it was that or overseas, but it was a chance and a trial at Ajax that swayed it and I had to go with my heart and go to Ajax. But playing with the international youth teams I got the opportunities to play against European clubs and seeing the level they were playing at made me want to be involved.
GoPlay: You spent time in Sweden, Denmark and France. How valuable were those experiences?
Charlie: They've been so valuable. You grow so much as a person because you learn so much – the different languages and cultures. And you get a real understanding for the culture and you get an appreciation for things that you might take for granted.
It was a mind-blowing experience to go from college level to the first team in Sweden playing with and against players in national teams. I was thrown right into the lion's den and the shock for me was having to train at your absolute best every single day. I was playing with experienced guys and they would not let you rest. The demands were huge. A lot was expected of you every day and I was not used to that. You can get away with bad habits in college, but at professional level things change and you learn that quickly.
GoPlay: During your time in Sweden, I believe you struggled with the food?
Charlie: Oh yes. My cooking skills do not exist, but now I have an understanding of what to eat and what not to eat before a game. Now you have to eat the correct things beforehand and I have a wonderful wife who makes the best meals. Before I would just get a hamburger because it was quick and easy, but I realized pretty quickly that the coaches weren't happy and the coaches had people watching me to make sure I was eating in the right restaurants. I certainly was not eating right, I was just eating fast food but the coaches found out and they made sure I stopped that quickly.
GoPlay: Thank you for your time, Charlie! And congratulations on becoming Eastern Conference champions. You got two goals and it couldn't really have gone any better could it?
Charlie: Thank you, it was pretty awesome.
While the New England Revolution lost to the LA Galaxy 2-1 during this Sunday's MLS , the team competed in a thrilling game only to lose in overtime to a well-matched opponent. Congratulations to Charlie Davies and the New England Revolution for a stellar performance in 2014!