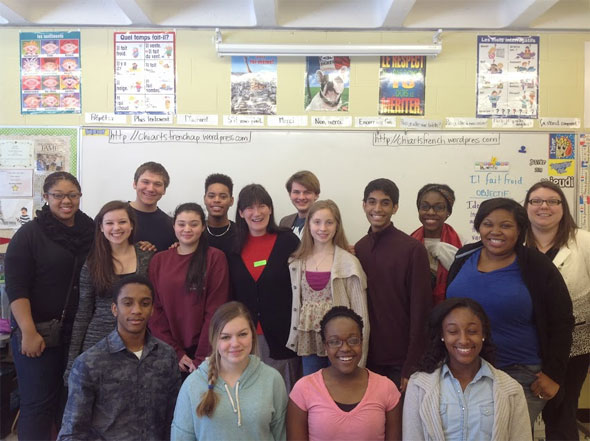 This post was written by ACIS Tour Manager, Julia Thomas. Julia is currently traveling across the United States visiting teachers and students and talking about the benefits of experiential learning and educational travel.
It has been a whirlwind of a week—I started it with a feeling of going into the unknown and now four teacher Roundtables, six schools, three states, 200 students and countless Panera Breads later I feel quite exhilarated by it all.
I feel like I've been given a chance to visit students and teachers on their home turf and this has been hugely insightful. I have one of the most satisfying jobs in the world because I get to reap the rewards of months of preparation by teachers, parents and ACIS crew across the country. But by being here and really seeing this in action has made this statement resonate even more.
I started the week in a Pennsylvania Panera in King of Prussia with ACIS Program Consultants Julie and Ariana, consolidating our plan for the Roundtable event that evening. When the time came I must admit I was a little nervous. I realized that as a tour manager, being out of context was risky. Without the amazing monuments of Europe as my backdrop and the delicacies of Italian cuisine as my teaching tools, would I be taken seriously? I wondered. After a few moments of speaking, my fears subsided and a sense of excitement kicked in.
The next day we had an early start and made our way to Coreyville—my first step into an American school and a fruitful meeting.
I discovered that wifi is called wifive in certain diners and that horse and carts are called buggies. Julie did an excellent job of overtaking them on the road—like a true local—and Ariana did a super job of Googling 'Amish' and giving us a lesson in what we were seeing out of our car windows.
The highlight of our next Roundtable in Long Island was the group who named themselves the Pompeii Prancers. They didn't win the Colosseum gameshow, but if I'd had a prize for team names…
So onto the next leg. Chicago bound.
Another Roundtable with a really exciting exchange of ideas between teachers. I noticed that giving them an opportunity to talk about the way that they teach made them thrive and their common goal of enhancing learning was inspiring.
The next day started with me leading a class on Shakespeare with 100 students and a teacher keen to take a group to the UK. This was such a fun session and the fun continued at another school where I worked with a small French class and took them (in their imaginations) to Nimes.
It was then my turn to be taken on a tour as wonderful program consultant Katie drove me around the sights of Chicago. She was an excellent guide. We popped into the Chicago office, where I met Devin who later supplied me with coffee and her best southern accent impressions to perk up my energy levels. After a school visit to firm up the itinerary for an upcoming trip—I did my best to help tourism in Wales, we made our way to the most delightful tapas restaurant for the last Roundtable of the week. It was a lively gathering and had a real community feel about it. It was a little surreal to be eating tapas and looking out the window at inches of snow!
So today, I have completed the Chicago end of things, leading four classes and working with Italian and British Literature students.
Liz and Karin from the ACIS Chicago office looked after me all day and we reflected on what we had learnt from the week. One thing I know for certain is that I had started to see the full picture of ACIS and I feel excited at how this insight can help me on the road as I begin putting all that build up into action.
Julia trained at Drama Centre London under Reuven Adiv and completed her post graduate certificate in Education at Cardiff University, Wales. She has worked extensively in theatre and education in the UK. Julia has been an ACIS tour manager for six years and has travelled throughout Italy, France, UK, Ireland, Greece, Switzerland, Barcelona, Riga and Stockholm with student groups.