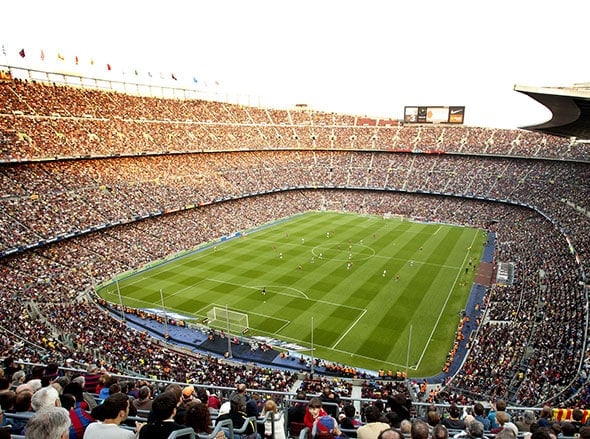 Working as a tour manager in Italy I've taken hundreds of people to visit the most iconic stadium of them all. The Anfiteatro Flavio, also known as The Colosseum. But I am a football (I beg your pardon, soccer) fan and, as the World Cup is not far away, I would like to take you on a tour of Europe through its most iconic stadia.
Even if you are not into soccer, keep reading, because I won't talk about offside, free kicks or great saves. I will guide you through the most amazing stories outside the pitch that keep us Europeans living for this sport.
In Europe there are thousands of football arenas, but I have no hesitation when choosing where to start our journey. We kick off from the country where football was invented, the United Kingdom. And from the stadium that represents the most legendary temple of this pagan religion – Wembley Stadium, in London.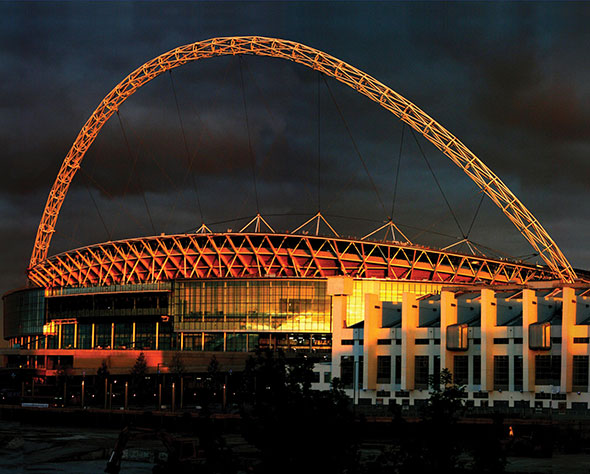 Approaching it, you'll see a gigantic arch that is now an iconic feature of the city's landscape. The stadium we see now was rebuilt in 2007, on the spot of the historic Wembley, where the episode I'll talk about took place, on the 30th July 1966.
It was the World Cup final, and England was playing, in London, versus Germany, in the only final ever played between the inventors of this sport. It's the 89thminute and England is leading 1-0, when Germany, suddenly equalises. In the overtime, at the 101st minute, the English striker Geoff Hurst shoots and hits the bar. The ball bounces on the ground, outside the goal. But the referee got it wrong and saw it in. England got the lead and eventually won the trophy, with the score of 4-2. The line referee, who surely had seen better than the referee, was Tofik Bakhramov, now historically known as "the Russian linesman." The legend goes that when asked how he could have possibly got it wrong, he answered with one word. The name of a city. He said: "Stalingrad." Where 750,000 Russians died against Nazi Germany. Revenge, through football.
Moving up north, we go to Glasgow, in Scotland; home of perhaps the strongest football rivalry in history – Rangers vs. Celtic. This rivalry, known as "The Old Firm" is not relegated on the pitches of Rangers' Ibrox Park, or Celtic's Celtic Park. It is the reflection of a political and religious division. Glasgow Rangers supporters are Protestant, and in the issues with Northern Ireland were in favour of the loyals to the British Crown. Celtic supporters are Catholics, and dream of a unified Republic of Ireland. This fact explains well why Celtic Glasgow is the most popular football team in Ireland. This is such a strong rivalry that fewer than 20 players have ever worn both jerseys. And the traditions are so strong, that only one Catholic has ever been the captain of the Rangers squad: the Italian Lorenzo Amoruso. At the moment Rangers are in troubled waters, and play in the second division. We are all looking forward for the clash to be staged again!
As we have seen, football is tied together with history more than any other sports. Another rivalry similar to the Old Firm is in Spain. It involves the central power of Madrid, and two wealthy cities, each vying for its own independence. Bilbao and its Athletic and Barcelona, with the blaugrana.
The first, Athletic, is the only team in Spanish football who has never been relegated from the top tier of professional football. They play at San Mamés, also known as la catedral de Bilbao. Their Basque pride is so strong that every player has to be from the Basque Region, in the northeast of Spain. Athletic Bilbao represents the essence of the Basque nationalism and the local population sees the team as part of this ideology, almost in the same way as Futbol Club Barcelona is the expression of the Catalanism. FC Barcelona's motto is Mes que un club. Catalan for "more than a club". Because it's not about what happens on the pitch of their Camp Nou. It is about playing and winning to boost their Catalan pride and the desire of independence from the central government in Madrid.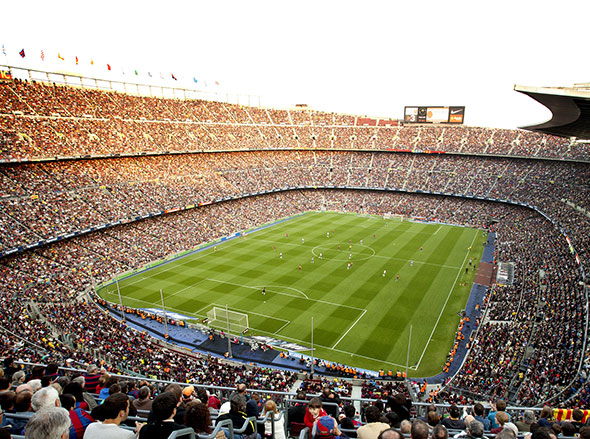 Both, Independentismo Basco and Catalanism were highly despised by SantiagoBernabeu. Football fans have heard this name many times. Real Madrid stadium is named after him. But who was this man? He was a Franchista, a Spanish patriot, who fought with the right wing side during the Spanish Civil War. But historians say that he met with the dictator only in official meetings, when Franco wanted to link his name to the triumphs of Real Madrid.
In those years, the early 60s, la casa blanca was grabbing trophies right, left and centre. This was mainly because they had two strikers like no others. Alfredo Di Stefano and Ferenc Puskas. The first, Argentinian, is considered with Pelé and Maradona among the best players that ever played. Simple as that. The second, Puskas, doesn't rank much below. Having escaped from the Hungarian socialist regime thanks to a trip to the west for a football game, the greatest Hungarian footballer of all times ended up playing for Real Madrid in 1958.
Puskas and Di Stefano together won six national titles, three Champions Leagues (European Cup, as it was called), one Intercontinental Cup and one national cup. That Real Madrid squad was probably the best side of all time. But glory fades away, and while Di Stefano is the honorary president of the club, Puskas, who died in 2006 living on state subsidies, is now buried in the inaccessible crypt of the Cathedral in Budapest, almost forgotten. Not by Di Stefano though, who named his friend of a thousand battles, the best player of all times. Teammates and friends. What sport should be all about, really.
It's time to leave Spain. Remaining on the Iberian peninsula, we drive to Lisbon, to the Estadio Da Luz, where the 2014 Champions League Final has been played just a few days ago, with Real winning their tenth continental title, La décima.
When visiting Benfica's stadium we have to talk about another Hungarian. Béla Guttmann. Probably a name that doesn't ring a bell to the vast majority of football fans. But his name is well known by any Benfica supporter. It's a matter of superstition, and curses. Béla was the coach of Benfica from 1959 to 1962 during the times of Eusebio, the black pearl, universally considered the greatest Portuguese footballer of all times. This duo, together, won two European Cups (remember? What now is the Champions League) in a row, in 1961 and 1962. The latter having been won against Real Madrid, after a spectacular comeback from 2-0 and 3-2 down to win 5-3. Béla and Eusebio's was an epic win, as Real was still the team of Di Stefano and Puskas, able to win 5 consecutive European Cups only few years before.
Guttmann, after such an achievement, felt entitled to a pay raise, which Benfica management denied. Béla Guttmann got furious and said "Not in a hundred years, will Benfica win a European trophy again." That was it, the Guttmann curse. And sadly enough, it worked. Despite prayers on Guttmann's tomb, rituals and ceremonies, processions and so on, Benfica has since then lost eight European finals, between Champions League, UEFA Cup and Europa League.
But when talking about superstition in football, nobody beats Naples and the supporters of the city's football club. Napoli. The Italian side plays at the Stadio San Paolo, home of the loudest and most faithful supporters in Italy. I used the word faithful, because the San Paolo is the temple of a pagan religion. Napoli. And, as with every religion, there is a God to be worshipped. It's name? Diego Armando Maradona. This name should ring a bell. He is a modern icon, even though outside of Naples he is a controversial one.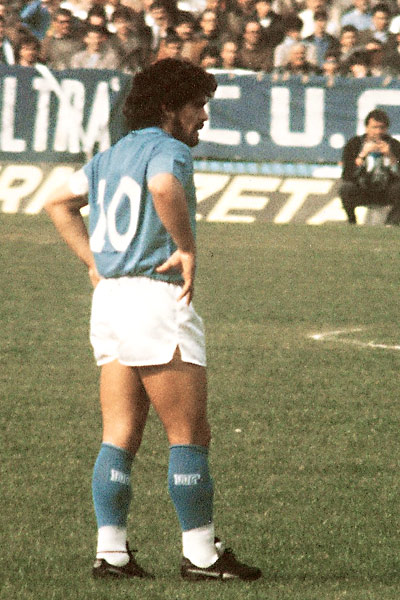 Photo Source: http://en.wikipedia.org/wiki/File:Maradona_1985.jpg
Despite him being alive, when walking through the narrow streets of the city centre of Naples, you can find relics of Maradona. An example? Outside a bar in the old town, a hair of Maradona is preserved in an ampoule. Every time Diego Maradona visits Naples, the town goes mad. The number of kids named Diego there is the highest in Italy. Maradona played for Napoli from 1984 to 1991. Seven years, to become a God.
It actually took him only a few days to acquire that status. 80,000 people were at the San Paolo on the day of his arrival. And they all returned game after game after game. There is not a single sportsman in the world whose history is as tangled to the one of the city where he played as Maradona's. And believe me, it is hard to explain it. Let's put it this way: Napoli is a city of creative geniality applied to the everyday life. Maradona is the same creative genius, but applied to football. A sublime player that played for Barcelona right before joining Napoli. But in Spain, he is almost forgotten. In Naples, say his name and tears of joy will roll down some cheeks.
So, when you're in Europe, sample the bittersweet taste of football. You can do so visiting a stadium, watching a game in a café or joining local kids playing on a square. Because football is fun, and because it belongs in our blood, it's culture.