As you zip along the autostrada between Florence and Rome, Orvieto is one of those places that you may have caught a glimpse of and thought, 'Wow!' This Etruscan town is such an impressive sight; it may even have made it to your bucket list. Perching precariously atop a volcanic tuff rock, surrounded by luscious Umbrian countryside, this really is one of the most spectacularly positioned towns imaginable.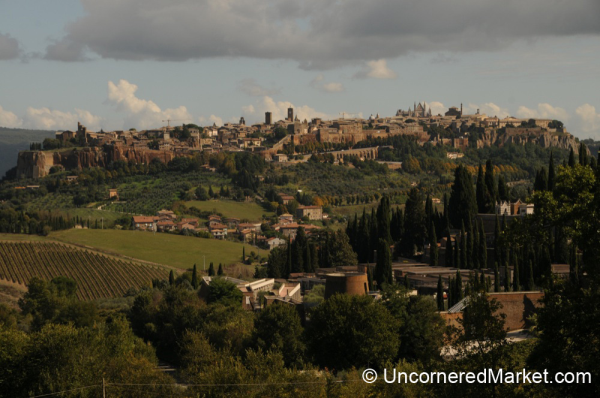 Most tourists who do manage to stop at Orvieto, firstly, tend to be Italian, and secondly, take only a half-day to visit the famous Duomo (Italian name for a cathedral). These poor folks are missing a trick. What's so special about Orvieto is that this is a living, breathing, authentic Umbrian town where locals outnumber tourists. Every street, square and alleyway are oozing with charm, and what's more, once the day-trippers have left, the romance of walking the deserted medieval streets, is truly magical. I made this discovery thanks to a very well travelled and discerning Group Leader who I worked with last month. She'd put together a fabulous custom itinerary for her adult group and Orvieto, was a blissful three-day stop before we reached Florence.
Arriving late on a sunny July afternoon, we wasted no time in heading out to admire the town's main attraction; one of the most beautiful Duomos in all of Italy. Built by order of Pope Urban IV in the 13th century, after a communion host bled and stained an altar cloth in a nearby town, the Duomo took nearly 300 years to complete. In reality, the construction may have had more to do with middle-age politics than religious miracles. During the 12th and 13th centuries, there was an ongoing struggle for power between the Papacy and the Holy Roman Emperor. Orvieto had always been loyal to the Pope, and given the town's virtually impenetrable natural defences, it became the Pope's residence when the conflict reached boiling point in Rome.

The approach to the Duomo is a genius of medieval design whose effect is not lost on sophisticated 21st century tourists. We walked through the dark, and narrow medieval streets, with a giddy anticipation that increased with each glimpse of the glinting façade ahead of us. When we stepped into the vast open Piazza del Duomo, jaws dropped to the ground, gazes rose skywards as we drank in the majestic beauty. Every inch of the Duomo's Gothic façade is covered in beautiful mosaics and ornate sculptures that are carved into the marble. The Romanesque body of the church, like Siena's Duomo, is striped with layer upon layer black and white marble. Inside, there are treasures a-plenty but the undisputed highlight is a frescoed chapel by Signorelli with a post-apocalyptic world as his gruesome subject.
Surrounded by lush and fertile land, Orvieto is famous for its fine wines, particularly a crisp white called 'Orvieto Classico.' Once we'd recovered from the sight of the Duomo, we stopped at an adorable trattoria and wasted no time in sampling this local tipple, along with the typical aperitivo of prosciuto and tomato-laden bruschetta.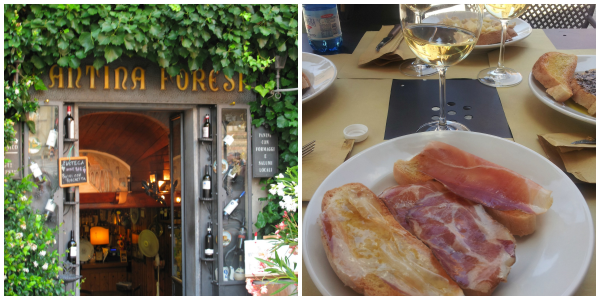 Over the next couple of days, between side-trips, underground tours, and shopping sprees, buying up Orvieto's famous hand-painted ceramics, we continued to gorge on fabulous cuisine. Umbria, like neighbouring Tuscany, is truffle country. It seemed that everything from pasta and pizza to bruschetta, was infused with the precious white fungus (I almost expected to find truffle flavoured gelato)! On our second night, I took the group to Zeppelins. Named after his favourite band, owner Chef Lorenzo served up an immense Etruscan feast. Charismatic and larger than life, he entertained us with local anecdotes whilst seemingly effortlessly making fresh pasta. A few of us got involved; cutting the dough into the delicious tagliatelle that we ate with asparagus and prosciutto a few minutes later. You don't get much fresher than that!

The next day we ventured out into the Umbrian countryside to visit the extraordinary nearby, Civita di Bagnoregio. Known in Italy as the 'disappearing town,' Civita appears to cling to a cliff that drops dramatically into the vast valley below. The first glimpse of Civita literally left us speechless; this has to be the setting that inspired all fairytales. We crossed a footbridge that today is the sole means of access to the town, and passed under an ancient stone archway into the main street. Having been so isolated for so long, little has changed here for centuries; a handful of houses remain, and at the last count, the full-time residents numbered just fifteen. We wandered through narrow cobbled streets, admiring beautiful stone houses, manicured gardens and blooming geraniums that spilled from every window ledge. A delicious calm, punctuated only by the chirruping of cicada, filled the streets and square. Here we sat, drinking in the atmosphere, along with another Orvieto Classico, imagining that we'd stepped back in time.

Over the first week of our trip, I'd noticed the group's appreciation for fine wine, so a visit to a local winery seemed to be in order. This group, I realised, would want somewhere rustic and rural, so I sought advice from the all-knowing, Chef Lorenzo. A few phone calls later, we found ourselves winding through country roads on our oversized tour bus, quite definitely off any tourist route. Marcello, our driver, dropped us at the end of a dirt track where wine maker, Andrea, met us. Softly spoken, bushy haired and unassumingly handsome, he seemed rather bemused by our inconspicuous arrival and the chatter of excited Americans. We followed him up a dirt path that led to his home and winery where his parents, two-year-old son and Whisky the dog, greeted us. Like many Italian families, all three generations live happily under one roof.

After a brief introduction, we explored the dark, damp depths of the cellar that snakes under the family home and houses a long row of wine casks. With glasses at the ready, we sipped a tipple of each and realised that these were some of best wines we'd had yet – superb! When Andrea told us that he didn't sell wholesale to shops or restaurants but instead, made his living from locals who come by to fill up their containers at €3 a litre, we looked at him in disbelief. By the time we left, we were rather more convinced. In the couple of hours we were there, at least half a dozen locals had arrived and filled up numerous gallon-sized containers. Emerging from the cellar into the late afternoon sun, we had the best aperitivo yet: homemade delicacies and a glass or two more. We were a merry bunch as we trotted back down the dirt path to Marcello's bus and back into town. This was the perfect end to the perfect Umbrian experience.
Picture of Orvieto by uncorneredmarket.
---
Maggie McNulty is an ACIS Tour Manager from the United Kingdom. She caught the travel bug at a very early age and takes every opportunity to feed her passion for foreign lands.