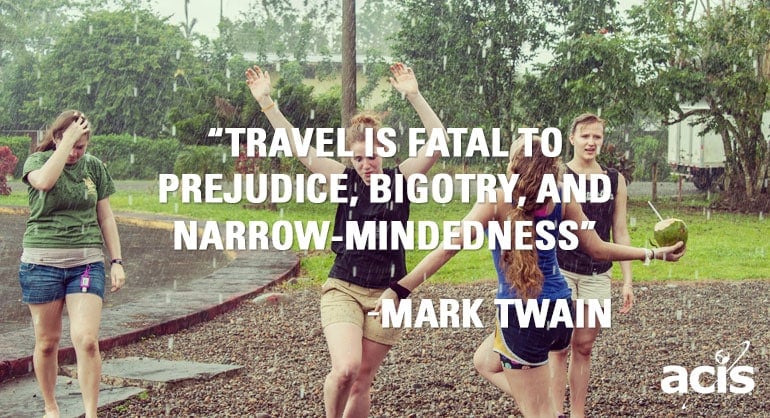 "Travel is fatal to prejudice, bigotry, and narrow-mindedness." — Mark Twain
When you imagine your dream vacation, what do you see? A picturesque mountain top village nestled in snow? Or perhaps a tropical beach paradise complete with calming ocean breezes and warm sunshine?
As a beach girl through and through, I typically imagine the latter. Give me palm trees and hot sunshine over biting snow and cold temperatures any day. I've also started to learn in my own travels that some of those gorgeous, warm-climate destinations are also home to some of the most undeserved populations. It's a harsh reality that many countries with weather and landscapes verging on paradise also have major parts of their communities facing the challenges of poverty. Does that mean these places aren't still dream locations to visit? Absolutely not. But being aware of the local community beyond your hotel walls is paramount to becoming a traveler, instead of just a tourist.
What better way to truly understand a different culture than to positively contribute to its advancement? It's not uncommon for student travelers to experience a bit of culture shock when traveling abroad, especially for the first time. Be it the food, language, or customs of new places, it's normal for young student travelers to have a mix of excitement and apprehension. This is where our motivated group leaders and phenomenal tour managers truly shine – their guidance often helps students move past that apprehension and bring a fatal blow to narrow-mindedness (as Mark Twain famously said) and embrace new cultures through travel. Adding a Service Learning component can offer students the perfect fusion of education, experience, and understanding.
At ACIS, our Service Learning tours are designed to have students actively and positively contribute to the societies they are visiting. Projects range from 1 to 6 days and are offered in Costa Rica, Dominican Republic, Ecuador, Peru and China.
Typically, groups can customize a 9 to 12 day tour around their specific service learning project, but we also have sample itineraries for inspiration.
"The service projects are what really made this trip special. My students walked away better people because of these experiences."
– Amy B. Group Leader, CA.
So while that dream trip with warm, sandy beaches looks appealing right about now (especially for those of us getting walloped with winter snow storms) keep in mind that the opportunity to positively impact the destination of your trip can make all the difference not only to the local community, but to you as a traveler.
Have you participated in a service learning tour? We'd love to hear about your experience! Tell us in the comments.
P.S. We're always working to find new options to support your curriculum focus or service learning goals, just ask any of our International Program Managers!