This week's recipe takes us back to Peru for Sudado de Pescado or Peruvian Fish Stew. This simple fish stew represents the typical way of preparing fish in Northern Peru. Seafood runs deep in Peruvian cuisine from ceviche to all kinds of fish stews. This recipe calls for yellow chiles and white wine as two of its major flavors. While it may sound fancy with its Spanish name and its exotic flavor, it's a perfectly simple dish to throw together in 35 minutes, fantastic for a healthy, tasty meal for the family or to impress a special someone!
For more recipes from Peru and other countries from Latin America, check out our World Cookbook!
This week's entry was submitted by Laura Smart, Vice President of Customer Experience from our Boston Office. Enjoy!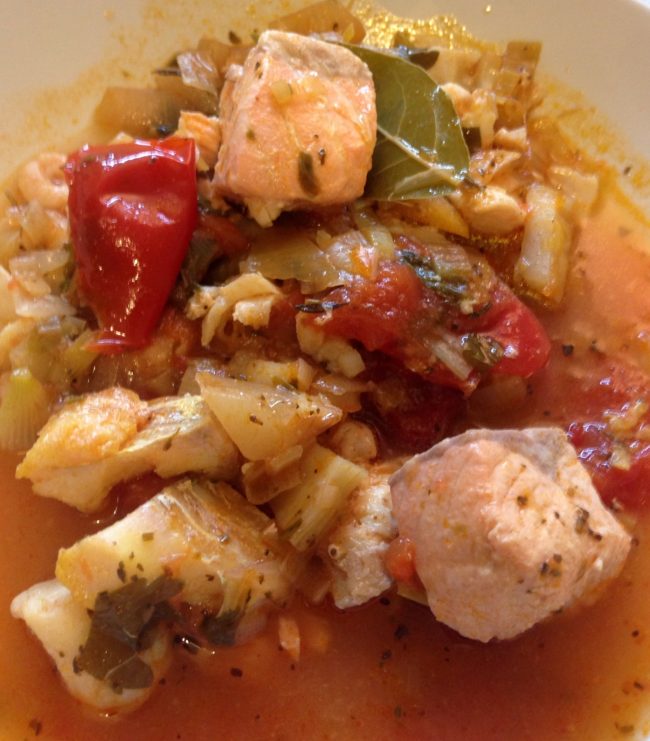 Sudado De Pescado
Yield: 6 servings
Total Time: 35 minutes
Prep: 5 minutes
Cook: 30 minutes
Ingredients
2 tablespoons olive oil
2 medium red onions, chopped
4 cloves garlic, chopped
1 heaping tablespoon prepared aji amarillo paste
1 cup white wine
1 1/2 cups Fish Stock
1 1/2 cups chopped fresh tomatoes
6 (6-ounce) fillets pacific halibut, or other firm white fish
1 pound large shrimp, peeled and deveined
Coarse salt and freshly ground pepper
1 cup frozen peas, thawed
1 cup torn fresh cilantro, for serving
Directions
Heat olive oil in a large high-sided skillet over medium heat. Add onions and cook, stirring, until slightly crispy. Add garlic and continue cooking until golden brown, about 1 minute. Stir in aji amarillo paste and cook for 1 minute.
Add wine and cook until reduced slightly, about 2 minutes. Add fish stock and 1/2 cup tomatoes; stir to combine. Reduce heat to a simmer, and cook until thickened, 8 to 10 minutes.
Season halibut and shrimp with salt and pepper. Add halibut to skillet, gently pushing down, but not covering, with sauce. Cover and cook for 5 minutes. Uncover and add shrimp. Cover and continue cooking until fish is opaque, and shrimp is cooked through, about 3 minutes more. Add remaining cup of tomatoes and peas; cook until vegetables are heated through. Season with salt and pepper.
Transfer fish to a large serving platter, and spoon sauce over fish. Sprinkle with cilantro and serve immediately.
If you give the recipe a try, make sure to come back and leave a comment to let us know how it came out!

17 FREE RECIPES
ACIS World Cookbook
Bring the world into your kitchen with recipes from 10 different countries.