Ask any STEM educator about the importance of what they do, and they'll inevitably tell you that STEM is deeply intertwined with the world in which we live. At ACIS, we see travel as an essential tool for experiential learning, and while educational travel is most commonly associated with world languages and history, the same ways in which those subjects are enhanced by experiencing the world outside the classroom are even more beneficial to students of STEM.
We asked STEM educator and long-time ACIS group leader, Lisa Kerr, about her experience with STEM educational travel:
"I'm an Environmental Scientist, and I've been traveling with students for 16 years. I believe that travel and experience outside of the classroom is one of the best ways to broaden a student's horizon. I truly believe that nature/life is the best teacher. I can remember a specific point on my Costa Rica trip where we were planting trees for a habitat corridor and one student said, 'Wow, this is cool, we are doing what we were taught will help.' That same student is now at UC Berkeley majoring in Environmental Science. Getting students out of their shell and showing them the unique qualities of different lands really does change their lives forever."
Here are 5 trips from our 2017 catalog that present amazingly rich opportunities for STEM students to learn experientially all over the world:
Iceland's Natural Wonders
Students will explore Iceland's unique geology on this eight-day trip. From volcanoes to glaciers to tectonic plate activity, learn how these features impact each other and the island. Start off in the modern capital city of Reykjavik and take a dip in the nearby geothermal waters of the Blue Lagoon. Next, you will tour the Golden Circle and discover Gullfoss, the Geysir Area and Þingvellir. Continue on to Hvolsvöllur where you will hike on a glacier and study several volcanoes (some of the most active in Europe) to learn about their history and impact on the local communities. You'll also be able to experience the local culture through a visit to the Skogar Folk Museum and an Icelandic food walking tour and tasting.
While the trip itself is no longer available, we have other Iceland options as well as the ability to customize your trip!
Ecuador and the Galápagos Islands
Travel to the equator to discover the vibrant Ecuadorian culture and study the various species and unique ecology of the Galápagos. Start your trip off with the highlights of Quito, stop at the Intiñan Museum to learn about the "real" equator and visit Otavalo's famed market. Then, take a short flight to the Galápagos. Your students will learn about evolution at the Charles Darwin Research Station and visit the Cerro Mesa Ecological Reserve to discuss regional conservation and take part in a service project. During your time in the islands, you will also explore different volcanoes, visit a giant tortoise breeding center, go snorkeling at Las Tintoreras, and more! See the full itinerary here.
Sarapiquí Conservation Learning Center (Costa Rica)
This nine-day service learning trip focuses on both community development and ecological projects. Students will get a unique opportunity to experience the rich biodiversity of Costa Rica through hiking and boat tours in the Braulio Carrillo and Tortuguero National Parks. They'll come understand the value and importance of preserving local ecosystems through hands-on reforestation work, and will make important connections to the local culture through a cooking lesson, craft workshop and community development service project. See the full itinerary here.
Dominican Republic Reef Check
During the ten days of the tour, your students will combine both the theory and practical field work involved in protecting the Dominican Republic's fragile coral reefs and ocean ecosystems. Students will undertake Healthy Reef Protocol training and put this into action by collecting data from the reefs that will be vital in ensuring their continued well-being. In addition to becoming familiar with the colorful diversity of Dominican marine life, they'll explore the equally colorful history and culture of Santo Domingo's historic Colonial Zone and local communities. See the full itinerary here.
China's Natural Wonders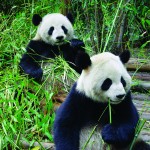 This 10-day service learning focused tour of China combines visits to many world-famous sights such as the Great Wall, Tiananmen Square, and Terra Cotta Warriors of Xi'an with environmental science volunteer projects culminating in an experience packed with learning, memories, and meaning. Students will take part in community reforestation in Xi'an, and volunteer at Bifengxia Valley Giant Panda Research Base. Whether it's cleaning habitats, feeding the animals, or collecting research data, students will come away with hands-on experience in the field of wildlife biology.
While the trip itself is no longer available, we have other China options as well as the ability to customize your trip!
While our trips solely dedicated to STEM education are fantastic opportunities for hands-on learning, many of our more broadly focused trips incorporate STEM learning objectives as well. No matter where you choose to go, we can always personalize a tour for your group that contains experiences to connect with your curriculum.
Here are some examples of STEM-related activities from our 2017 catalog:
Hallein Salt Mine (Austria)
Mined in this region of Austria for thousands of years, "white gold," or salt, was a valuable and commodity. Discover one of the world's oldest salt mines—over 7,000 years old—set into Dürrnberg Mountain. Don white coveralls (to protect your clothing), and take a train 1,300 feet deep into the mine. Then take a slide down the last 140 feet. Learn the important role of the mine within the local area and how it helped ensure Salzburg became a powerful trading community. End your visit aboard a boat tour of the underground lake.
Vauban Eco-Town (Germany)
Just outside Freiburg sits Vauban, a sustainable eco-town in which residents embrace all aspects of environmentally friendly, "green" living. A guided tour with a local resident provides a first-hand account of how each citizen plays a part in the town's success.
BMW World (Munich)
BMW World, a showcase devoted to the history of these world-famous cars, gives students a view into the world of engineering and its real-life applications. The museum shows BMW's technical development throughout the company's history containing engines and turbines, aircraft, motorcycles, and vehicles in a plethora of possible variations. In addition to actual models there are futuristic-looking, even conceptual studies from the past 20 years. The building itself blends in with the exhibition concept.
Pont du Gard (Provence)
The Roman Empire's influence in France is on full display at the Pont du Gard. This Roman aqueduct preserved in almost perfect condition is a true marvel of Roman engineering—the 161-foot tall bridge aqueduct is still standing nearly 2,000 years after its construction. Our tour offers an exclusive guided visit to the third floor and its exceptional views.
Clos Lucé – da Vinci Museum (Loire Valley)
The Clos Lucé, a fortified palace turned Renaissance manor, where, at the invitation of Francis I, Leonardo da Vinci lived, created, and died. Marvel at the display of many of his inventions brought to life as working models. Legend maintains that Clos Luce was linked by an underground tunnel to the nearby Château of Amboise so that Francis I could visit Leonardo when the King resided at Amboise. Tour the Château, including the chapel of St. Hubert where you can view Leonardo's tomb.
Jauri Ecological Farm (Costa Rica)
With characteristic Tico hospitality, retired school principal Don Juan will welcome you at his self-sustaining organic farm in the Costa Rican rainforest. Keep an eye out for tropical birds, plants and other animals as you learn about the planting and harvesting of native produce using environmentally-friendly methods, its various medicinal and cooking uses, and how to process sugar cane (including a sample of the fresh pressed juice, agua dulce). Then collaborate with your fellow travelers and family of staff on the farm to make authentic tortillas and the rest of your lunch using many fresh-picked ingredients.
Great Barrier Reef Snorkeling (Australia)
The Great Barrier Reef, stretching 1,258 miles down Australia's coast, is one of the most stunningly beautiful natural attractions in the world. You'll take a luxury catamaran cruise through the islands of the Outer Reef. Once the boat anchors, you'll have a chance to snorkel up to the reefs to examine their beauty more closely.
Visit our STEM page for more ideas.