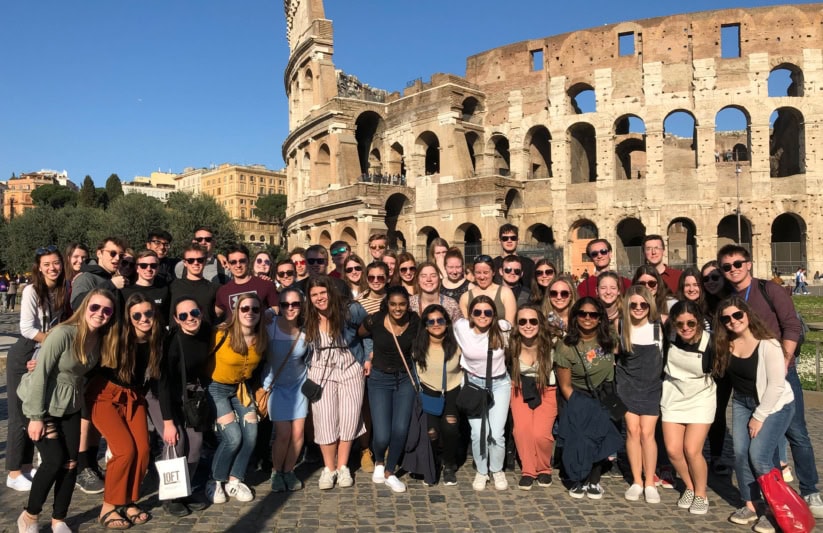 At ACIS, we believe that our student travel programs broaden horizons and create new opportunities for young learners by turning the entire world into their classroom. We know that a meticulously designed itinerary combining guided tours, site visits, and experiential learning opportunities allows our travelers to discover unique insights about themselves and expand their worldview.
ACIS programs are filled with fun and exciting adventures, but they are so much more than that. Educational travel provides students with the opportunity to walk in the footsteps of history's most influential figures, appreciate the artwork that inspired ancient societies, and engage with new cultures in a way that challenges their status quo. It is an opportunity to speak a foreign language, experience new cuisines, focus on personal development, and find the inspiration to become lifelong learners.
Textbooks come to life when you embark on a student travel program, and even everyday objects appear new and exotic. Our travelers make memories that last a lifetime and enjoy benefits ranging from increased confidence and compassion to the discovery of individuality and independence. There have been countless studies proving the educational benefits of travel for students, but not all educational travel programs are the same. We know that any company can promise you the world, but only ACIS has the tools, know-how, and experience to truly deliver a first-class tour.
Learn more about the ACIS difference:
As experts in educational travel, we know that the more thoroughly we immerse students in the local cultures and customs of their destinations, the more knowledge they are likely to retain. Our student travel programs complement classroom learning, and promote the concept of global citizenship. We want students to understand the notion that we are all citizens of a wider world, and encourage them to collaborate with others to improve both their local and global communities.
Time and time again, we have seen that travel changes lives, and we are dedicated to ensuring you love travel as much as we do! Our centrally located hotels ensure easy access to major attractions, so you can spend more time exploring and less time commuting. Our cultural connections are the gold-standard in hands-on learning, allowing students to thoroughly experience the culture and history of their destination. Our global network ensures that teachers, parents, and students can all enjoy peace of mind regardless of whether you're at home or abroad. Perhaps that's why over 500,000 students have traveled with ACIS, and why 98% of recent group leaders have rated their trip as "Good" or "Excellent."
Once you have made the decision to travel, we know the planning process may seem like an overwhelming task. Planning an international tour can take months of preparation, but from the first phone call with your dedicated program consultant to the return flight home, our passionate team will be hard at work to ensure your trip will be a transformative experience for all travelers.
Learn more about the roles played by everybody involved in the planning and execution of your educational tour:
Group Leaders
Although they don't necessarily need to be educators, the majority of our group leaders tend to be teachers. Group leaders work hand-in-hand with their program consultant to select one of our many fabulous itineraries, or customize their own. The group leader is typically responsible for recruiting their group, getting their students ready for the upcoming journey, and handling any necessary disciplinary action while on tour.
Serving as a group leader comes with a lot of responsibility, but also a substantial suite of benefits. All of our group leaders receive free flights and hotels when they travel with a group of six or more students. Group leaders will also accrue World Traveler Rewards (WTR) points, which can be redeemed for additional benefits such as free trips abroad (via Global Conferences), cash rewards, scholarship opportunities, and more.
Assistant Group Leaders
The challenge of monitoring every student in your group increases as your tour grows in numbers. For this reason, larger groups receive additional free spots for assistant group leaders. For each incremental increase of six students, your group will receive an additional complimentary spot for another teacher or chaperone. Your assistant group leader(s) should help you set the tone for the trip and can assist with things like recruitment, organization, and, if necessary, discipline.
It's preferable if your assistant is actively involved in your student's life, whether that's a Department Chair, Principal, School Board Member or other Administrator. Try to choose someone who can generate excitement for your tour, as this will provide the best opportunity to further grow your group.
Program Consultants
The primary point of contact for your student travel program will be your program consultant. They will help you choose or customize a trip that fits your unique goals, assist with recruitment efforts, and ensure that you are prepared for the transformative travel experiences that awaits your group. From the moment you first contact us to the moment you board the plane; your dedicated program consultant will be by your side.
Our program consultants work closely and form deep connections with their group leaders. In fact, many of our program consultants maintain lifelong friendships with their group leaders — and have even attended their weddings! By forming this type of tight bond, our program consultants are able to fully understand your hopes, dreams and desires. That means they'll be able to recommend the ideal hotels, restaurants, cultural experiences, and tour managers for your trip.
"Working with ACIS has been fantastic. My contact at the company, Jeannie, is so helpful and positive and she goes out of her way to make our needs happen with fast communication. ACIS provides great service in comparison to other tour companies, looking for the user experience to feel that no corners have been cut."

— Robert C. | Group Leader
Tour Managers
Guide, teacher, historian, comedian, engineer, and magician all rolled into one, your ACIS Tour Manager is so much more than just an on-tour guide. They have intimate knowledge of your destination and the local culture. They can handle any logistical concerns without breaking a sweat. They keep your students engaged, entertained, and informed while leave a lasting impression on these young travelers.
From the second you land in your destination city to the time you wave goodbye for your return fight home; you will have an ACIS Tour Manager by your side at all times. Each tour manager offers a distinct viewpoint to the excursions they lead, but they all share a passion for education and an infectious excitement for the places you'll visit. They are exhaustively trained, well-educated, and have seemingly infinite patience. Our tour managers are a fascinating lot, who will help ensure your next trip is an unforgettable experience!
"My students and I had the best time and we LOVED our tour manager, Lise Mignon!! She is a must as a tour manager. She made sure we were all well taken care of and would go out of her way to make things special. I will be requesting Lise for our [next] trip. I can't wait!

— Monique D. | Group Leader
Traveler Support
Group leaders are usually the go-to person for parent and student inquiries, and we know it can be daunting to deal with this inevitable influx of questions. That's where our traveler support team is there to help! Although you're likely best suited to answer questions about your school's travel regulations, our traveler support team is here to answer any other queries. Whether you and your passengers need more information about registration, protection plans, safety protocols, or anything else, our team is eager to help!
Looking to connect with a representative right now? Utilize our live chat to speak with a member of the ACIS team!
"ACIS is always a pleasure to work with. Always professional, reasonable, kind, and quick to respond. Thank you for all you do for student travel!"

– Lisa | Group Leader
---
Our student travel programs are filled with adventure, exploration, and education. Our itineraries all contain truly unique cultural connections, which allow students to experience the culture of their destination in an authentic and meaningful manner. Rather than waiting in long lines to see the standard tourist attractions, students on ACIS programs engage in experiential learning opportunities, which range from Pétanque lessons in Paris to cooking classes in San Carlos to flamenco instruction in Granada.
As a company, we aim to empower teachers so they can introduce their students to the world outside their classroom. More importantly, we want to help shift your students' perspectives and inspire the next generation of global citizens. A survey of nearly 1,000 of our former travelers showed we're on the right track, as 73 percent of ACIS travelers identified themselves as being proficient in at least one foreign language, compared to the national average of 18 percent.
Those benefits aren't solely limited to students, as teachers enjoy a number of benefits from establishing a tradition of educational travel. We are proud to have partnered with the University of the Pacific to offer our group leaders graduate-level credits for professional development. We have also heard countless success stories from teachers who tell us how establishing a tradition of travel has improved their profile and visibility, enhanced their reputation, and led to exciting, new career advancement opportunities.
Want to begin planning a life-changing educational travel experience for your students? Make sure to check out the latest travel deals and promotions or reach out to the international program team to get started. We're here to help and look forward to having the opportunity to be your travel planning partner!