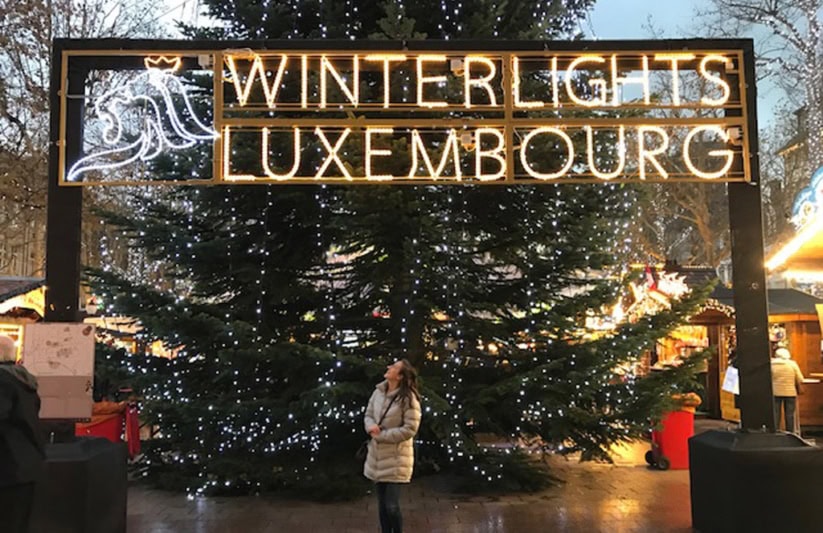 We like to tell parents and students that student travel means much more than going on a week-long trip: It is an investment in the future. As a result, few things make us happier than hearing from parents and students who, years down the road, say that their tour was a stepping stone to amazing opportunities.

In 2014, when she was in 11th grade, Beth Pfohl toured France and Monaco with ACIS. Her mother, Janene, recently informed us of the deep impact that educational travel has had on Beth's career direction, and we are thrilled to share her story in her own words.
---
---
---
I recently returned from being a chaperone on a trip with ACIS to Paris.
This was my second trip with ACIS. Five years ago, I also went along on a trip that my daughter Beth attended. I was asked to go by her group leader because I was both a teacher and a parent. At the time, I was hesitant to go because I had gone on a school trip to Germany back when I was in high school, and that trip did not come close to being the type of top-notch, well-run experience that ACIS provides. In the end I did decide to go and was utterly amazed by how well things were handled from start to finish, and our tour manager Libby was beyond phenomenal. However, the reason I am writing today is to tell you my daughter's story because it shows the incredibly positive domino effect that her ACIS trip five years ago has had on her life – from her college decision to scholarships and awards to once-in-a-lifetime opportunities.
After that trip to France and Monaco when she was in 11th grade, Beth decided that study abroad was of the utmost importance for her college education.
One of the reasons that she chose her school (Miami University of Ohio) was because it is one of the top schools in the country for study abroad. She ended up studying abroad twice – once for a month in the United Kingdom, and once for a semester in Luxembourg where she lived with a local family and had a chance to spend significant time in 15 different countries.
Her academics and enthusiasm for studying abroad resulted in her being chosen by the faculty and her peers as the student chairperson for the Miami at Luxembourg student/faculty council. This position gave her the opportunity to plan events for students, faculty, staff, and local families. She also organized a fundraiser for a local Luxembourg refugee center and planned many three-day travel outings for fellow students.
Our family went over to Europe to visit Beth while she was in Luxembourg.
She set up visits to Germany and Italy for the family and acted as our tour guide. I was amazed at her ability to organize our trips and navigate the various areas we visited – whether she had been there previously or not. She has always been a communicator and has liked reading and learning about other cultures; however, her maturity, independence, and understanding of the world would not be anywhere close to where it is today had it not been for her travel experiences.
Interestingly, Beth served as the student chairperson during the semester when Miami was celebrating its 50 year anniversary of being in Luxembourg. During these celebrations, she had the amazing opportunity to act as an ambassador for Miami and the United States. She attended events at the embassy and gave tours to visiting dignitaries. She was even chosen to give the welcome address to hundreds of guests, including members of the Luxembourg royal family, ambassadors from a variety of countries, and the president of Miami University. She gave this speech part in Luxembourgish and part in English. (She volunteered at a local school whose young students helped her with her Luxembourgish pronunciation.) Thanks to the success of the anniversary events, and due to her embracing the student travel opportunities given to her and her desire to learn everything she could about each country that she visited, Beth was awarded the top study abroad scholarship at the end of her time at Luxembourg. Additionally, upon graduation, Beth was awarded the Miami President's Distinguished Service Award due to her accomplishments while abroad. This award is given to 10-15 students each year who are chosen out of Miami's 4,000 graduates.
Currently, Beth is serving on the Miami Luxembourg Advisory Board and is meeting many more international people in the United States while finishing up a college internship at Disney. As she now looks towards the future, she has decided to look for a job where she can pass along her enthusiasm for travel and cultural education to others as ACIS did for her years ago.
As I think about all of the truly amazing experiences my daughter has had throughout college, I thank ACIS because that one trip 5 years ago truly changed her life path and enhanced it in such a positive way. Having just finished a second trip with my son, I am now looking forward to seeing how his ACIS experience will impact his college career.
If you're feeling inspired, view our selection of European destinations, and learn more about our Homestays options.
See more life-changing examples in our free ebook about the benefits of student travel!