This week's recipe takes us to South America to sample ceviche from Peru. This regionally distinct appetizer is a must-have when traveling through Peru or any of the neighboring countries which each have their own style of the dish. It's a culinary tradition that dates back to the Inca civilization utilizing the food staples of the region. Considered Peru's national dish, legend has it some English-speakers watched fishermen on the coast of Peru eating fish straight from the sea with just lemons and salt. They said "See the beach" and since this is a phrase that the locals could not repeat well, they instead pronounced it "Ceviche."
For more recipes from Peru and other countries in Latin America, check out our World Cookbook!
This week's entry was submitted by Jeannie Page, International Program Consultant from our Seattle Office. Enjoy!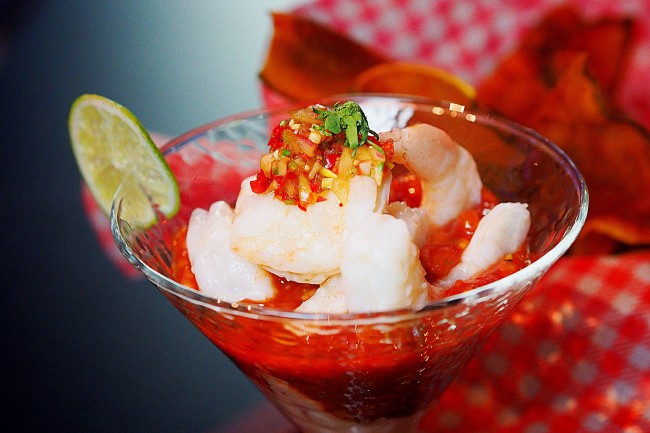 Peruvian Ceviche
Yield: 12 servings
Total Time: 45 minutes
Prep: 40 minutes
Ingredients
For Leche de Tigre:
2/3 cup fresh lime juice
2 garlic cloves, smashed
1 tablespoon (packed) chopped fresh cilantro leaves
1/2 ají limo or habanero chile, seeded
1/2 small red onion, chopped
1/2 cup bottled clam juice (optional)
Kosher salt
For Ceviche:
1 small sweet potato (about 8 ounces)
1 ear of corn, husked
1 ají limo or habanero chile, seeded, halved lengthwise
1 pound fluke, flounder, or sole, cut into 1/2" cubes
1 small red onion, quartered and thinly sliced, divided
Kosher salt
Cilantro leaves
Directions
For Leche de Tigre:
Set a fine-mesh sieve over a small bowl. Purée first 4 ingredients and 4 large ice cubes in a blender until smooth. Add onion; pulse 3-4 times. Strain liquid into a medium bowl. Stir in clam juice, if desired; season with salt. Cover and chill.
For Ceviche:
Pour water into a large pot fitted with a steamer basket to a depth of 1"; bring to a boil. Add sweet potato, cover, and cook until just fork-tender, about 30 minutes. Transfer to a plate; let cool.
Meanwhile, add more water to same pot, if needed, to measure 1"; bring to a boil. Add ear of corn to pot and steam until crisp-tender, 2-3 minutes. Transfer to a plate; let cool completely.
Halve potato lengthwise. Using a small melon baller, scoopout potato balls and place them in a small bowl; set aside. Cut kernels from cob. Reserve 1/3 cup kernels (save extra kernels for another use).
Rub a large bowl with cut sides of chile; discard. Place fluke, 2/3 of onion, leche de tigre, and 4 large ice cubes in bowl; stir well. Let marinate for 2 minutes; remove ice. Fold in potato and corn; season with salt.
Using a slotted spoon, divide ceviche into small bowls or onto plates. Drizzle ceviche with leche de tigre from bowl; garnish with remaining onion and cilantro.
If you give the recipe a try, make sure to come back and leave a comment to let us know how it came out!

17 FREE RECIPES
ACIS World Cookbook
Bring the world into your kitchen with recipes from 10 different countries.