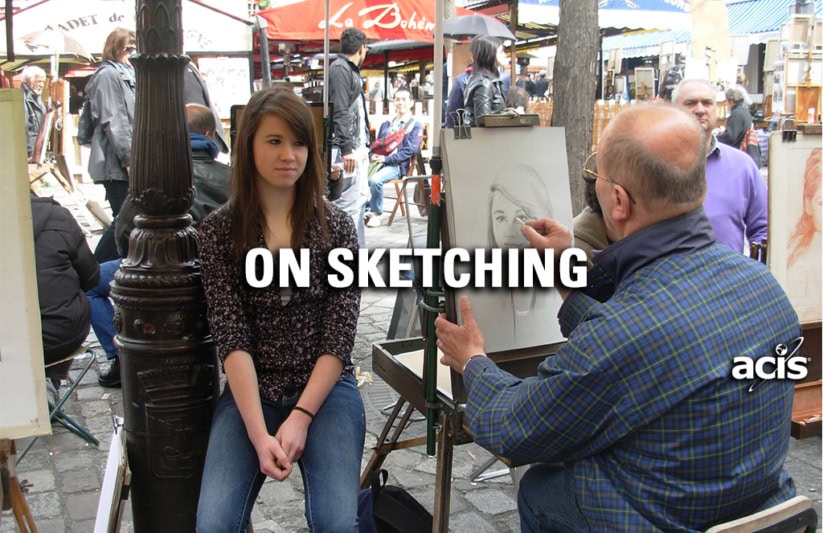 Traveling in a new place can be an overwhelming experience. I was reminded of this fact on a recent holiday in Andalusia. When you see so much splendor, so many natural and man-made marvels over the course of a few days, it can all start to feel a little jumbled up and blurry in your mind.
And of course, we take photos all the time. We snap away at every old building, we immortalize all the interesting objects and people that catch our eyes. Only looking back later, it's easy to forget where we took the picture, or even what was so interesting about that particular street or tree in the first place…
While photography can be a wonderful tool in many circumstances, walking around and looking at the world through a little rectangular screen can also create a certain distance between us and the experience. And while photos can serve as good memory-joggers later on, they can never replace the real value of being in the moment and simply looking.
I find that it's infinitely more valuable to sit in front of one painting for 15 minutes rather than to stroll in front of 50 in the same amount of time. There's really something to be said for taking in the view. No camera can adequately capture those varying shades of pink and orange that form that beautiful sunset on the last day of a trip, let alone the soft silence of that dusk and the warmth of the friends sharing in that perfect moment.
During any trip, we need to find moments like these, when we stop – stop walking, stop talking – and just look. Take it all in, let the scene wash over you, notice things you wouldn't otherwise see: those colorful rooftops, the peculiar dress sense of the locals…
If you've got a creative bunch of students on a trip, it's always fun to get them to carry around a small pad of paper and a pen or pencil. When they're waiting for the bus or for the rest of the group to show up, when they're lounging in a café or on the beach, and during any free minutes that they haven't devoted to shopping, they can sit and sketch.
Sketching is a way of focusing in on one element in a complex and perhaps unfamiliar environment. It's a way of engaging with the outside world that feels very safe. And it's always fun to see what different details students will pick out from the same street scene – a doorway, a sleeping dog or a perhaps a passing stranger.
Sketches don't need to be perfect or realistic, and they are rarely a finished piece of art. Rather, they represent something far more individual and personal, a unique vision and interaction which only you – holder of the mighty pencil – have experienced. So we should be encouraging students to take a moment, look, and sketch. Often, moments like these are what form our most vivid memories later on, and those memories are more real than any hastily-snapped photo.

FREE CATALOG
ACIS Catalog
Browse over 100 educational travel excursions all over the world. From
service learning to cultural connections, find a trip to meet your goals.