ACIS provides annual opportunities for students to win scholarships and free travel through art and essay contests, lotteries and unique company benefits like automatic payment plans.
See the winners of our 2018 contests—they might even inspire your own entry for 2019!
2018 Student Scholarship Winners
Essay Contest
Each year, we send out a call for essay submissions on the importance of travel, revolving around a theme. The 2018 theme was "The World in My World," and we received hundreds of entries detailing the amazing ways that students experience different cultures from day to day in their communities.
Grand Prize, High School – $1,000 Scholarship
Congratulations to Leena Ettachfini from Colorado, whose beautiful essay on the intersection of Moroccan, French and American culture in her everyday life earned a $1,000 travel scholarship! Read Leena's full essay here.
Grand Prize, Middle School – $1,000 Scholarship
What I Call Home by Natsuka Hayashida, MA
"My piece is about how I first realized how diverse my community is. I learned how we share multiple cultures and languages through connections." -Natsuka
Artwork & Photography Contest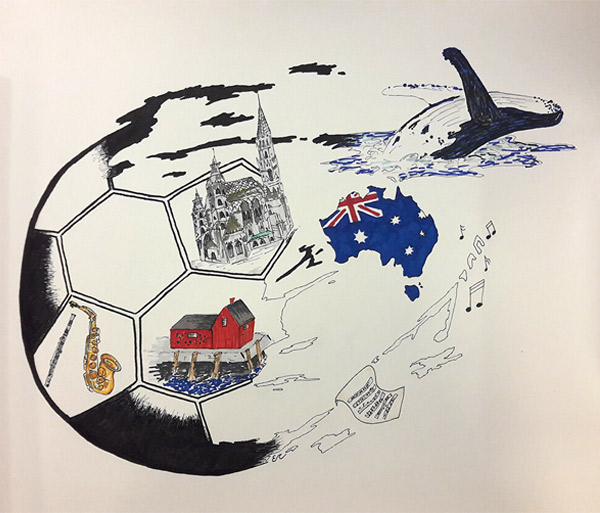 Art Grand Prize, High School – $1,000 Scholarship
My Passions, My World by Emma Christopher, MA
"All of the parts in this piece tie together to make the world in my world. The soccer ball, music, the small red building (Rock Port's Motif #1), and the ocean represent my passions and my world. I will be visiting St. Stephens Cathedral with my music program. I hope to visit Australia to experience its amazing ocean life." -Emma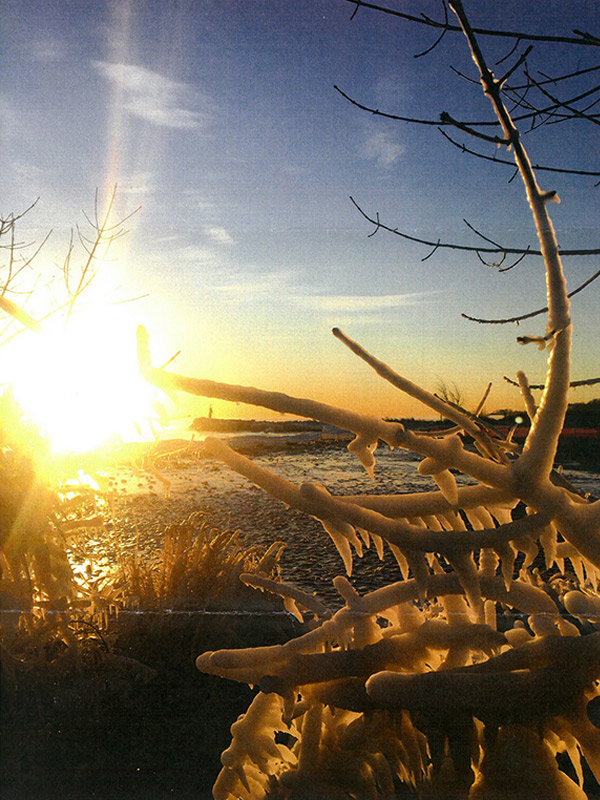 Photography Grand Prize, High School – $1,000 Scholarship
Frosted Sun by Beatrice Alvares, IL
"In the world we live in today, we're surrounded by calamity. The one thing that stays constant, is the sun and the moon. This concept was around before any life form existed. I find this to be my threshold of peace. It is one thing we experience daily without stopping and taking a second to realize it, that's natural. This photo is a representation of that peace. It is something I captured while watching the sunrise at 7 AM, on the lake shore in the bitter cold, where the lake was frozen over and the branches were coated in frosty ice." -Beatrice
Student Ambassador Lottery


Through the Student Ambassador program, group leaders select motivated and creative students to help recruit new participants for their trips. Through organizing trip meetings, communicating with students and creating promotional materials, not only do Student Ambassadors have the chance to take on a leadership role—always a good look on that college resume—but also share their enthusiasm for travel with their peers! For every activity completed, students get an additional entry into the Student Ambassador raffle, which offers a FREE trip! The more you do, the better your odds of winning.
This year, Garrett N. was our lucky winner and his February 2018 trip to Ireland, Scotland, and Wales was on the house!
Sign up for Automatic Payments: Be Entered to Win a Free Trip!
Planning out the finances of a trip can be the most stressful part of any travel experience, but ACIS provides ways to ease the stress, including our Automatic Payment Plans. By signing up for an Automatic Payment plan (for free), you can pay for your trip in installments, on a timeline that works for you. That means avoiding late fees, having control of your trip budget, evening out payments over long stretches of time… And did we mention you'll be entered to win a free trip?
Harris H. from Kingston, WA enrolled in an Automatic Payments plan in 2017 and won our 2018 contest! He will travel for FREE on his Las Selvas de Costa Rica trip this coming June.