Of all of the days to get invited to the Shard for lunch, I chose the rainy day. Of course, this is London and chances are that you are going to be looking out at a cloudy sky and a damp landscape with lashing rain most days of the week. But hey – this is the Shard and I had never been and I was not missing this for the world.
The Shard is London's newest skyscraper and looks just like – you guessed it – a shard of glass. It is taller than the Eiffel Tower, has 87 floors, and was designed by the famous Italian architect, Renzo Piano. Most tourists can see it towering above them when they visit the Borough Market, London's famous food market by London Bridge Station and Southwark Cathedral. You can also visit the observation tower, aptly named "The View from the Shard", but it is essential to make a reservation. The cost of entrance is about ₤25 but it is worth it. Pick a sunny day to go if you can!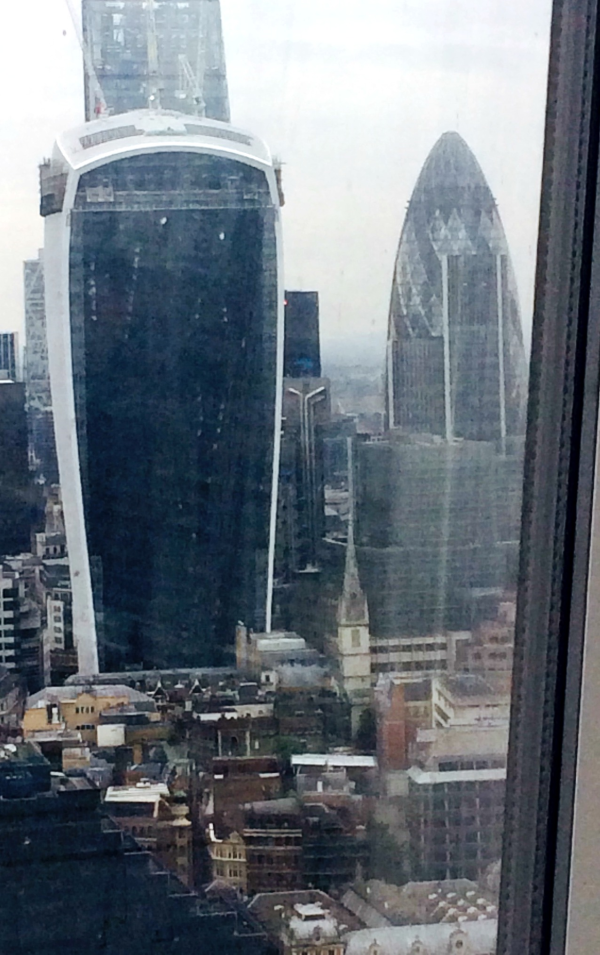 The Shard is part of the London craze for funky and unusual architecture in London's East End. Buildings are named after the things they look like. For example, there's the Gherkin building, the Walkie-Talkie, the Cheesegrater, the Helter Skelter, and the Glass Onion which is one of several nicknames for London's City Hall.
This actually is not a new fad. Crystal Palace was named to describe the royal exhibition hall in Hyde Park. Now it is a football club in the Premiership. Big Ben, the iconic clock tower attached to the Houses of Parliament, was so called because it was designed by Benjamin Hall, not because Ben was a big guy but because the clock weighed 16 tons!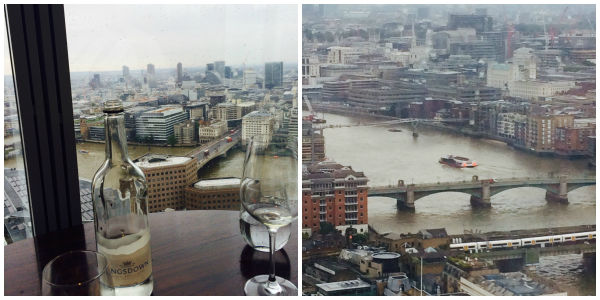 So, here I was climbing out of the Jubilee line at London Bridge, heading to lunch at the restaurant, Aqua Shard, on the 31st floor with an old friend and colleague. It is fairly staggering. Our table was jammed next to the glass with extraordinary views of new London and a little bit of the old London. I did notice St. Paul's Cathedral out there somewhere between the skyscrapers and oddly shaped glass monuments.
The food at Aqua Shard was brilliant and the chef is Anthony Garlando. Beyond the food, one of the great highlights of eating at Aqua was the bathroom. Sinks faced the city landscape and encouraged you to stay a little bit longer. It was like no other bathroom I had ever been to.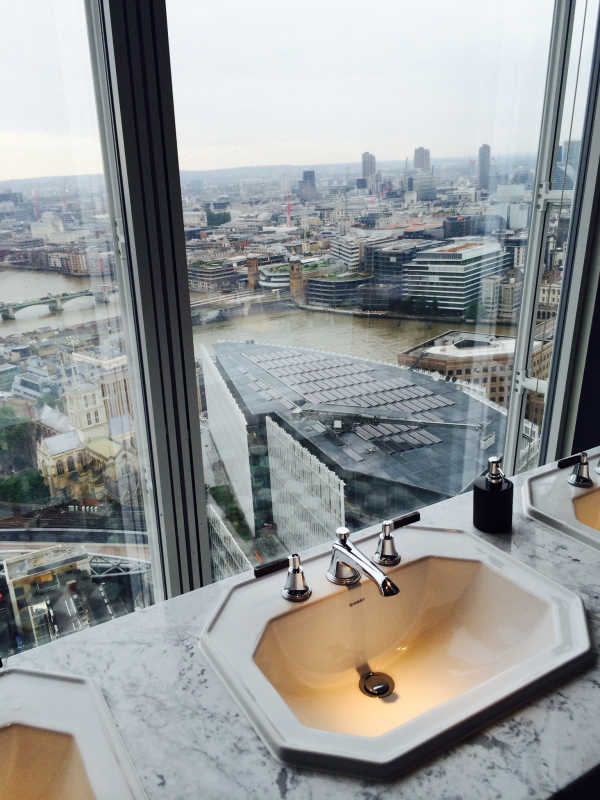 As I raced across town to retrieve my bag from Paddington left luggage and grabbed the Paddington Express to Heathrow, I thought to myself how amazing this city is.