This week's recipe takes us to Ireland for a hearty, delicious, Irish Stew. Stews have been part of Irish culinary tradition for hundreds of years with purists maintaining that the only three ingredients allowed in an 'authentic' Irish stew are potatoes, onions, mutton or lamb, and water. Anything else spoils 'real' the flavor. Our recipe has a few more ingredients than that, but it does include lamb, onions, and potatoes which also have their own place and significance in Irish history. Stews, which are best cooked over an open flame for a matter of hours, provide a window into the history of Irish cuisine.
For recipes from Ireland and other countries from across Europe, check out our World Cookbook!
This week's entry was submitted by Lynne Freeman from our Sacramento Office. Enjoy!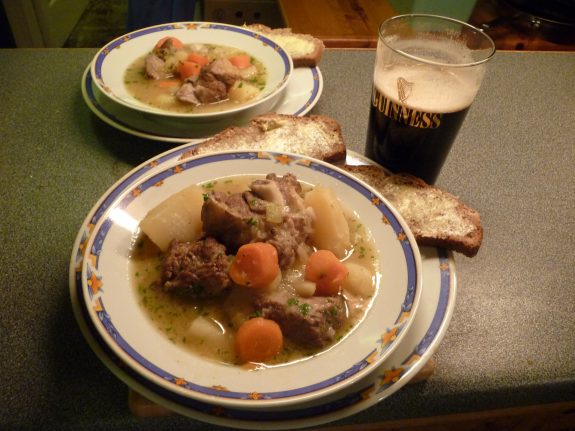 Irish Stew
Yield: 6 servings
Total Time: 3 hours
Prep: 30 minutes
Cook: 2 hours 30 minutes
Ingredients
2 medium-sized onions, chopped
Oil, for frying
1-ounce butter
1 sprig dried thyme
2 1/2 pounds best end of lamb neck, cut into large pieces
7 carrots, chopped lengthways into 2-inch pieces
2 tablespoons pearl barley
5 cups chicken stock, recipe follows
Salt (recommended: Fleur du Sel)
Freshly ground black pepper
1 bouquet garni (parsley, thyme, and bay leaf)
12 medium potatoes
1 bunch parsley, leaves finely chopped
1 bunch chives
For stock:
Chicken carcass
1 onion
4 cups water
3 stalks celery, roughly chopped Bay leaf
Salt and freshly ground black pepper
For herb butter:
1 stick butter
1 small bunch parsley, finely chopped
1 small bunch chives, finely chopped
1 sprig thyme
Directions
For the stock, preheat the stockpot. Combine ingredients in a large heavy-bottomed saucepan and cover with water. Bring to boil and simmer for approximately 30 minutes. Then let it cool down and skim off the fat.
For the herb butter, melt butter in a small saucepan. Add parsley, chives and thyme.
In a large heavy-bottomed saucepan, cook the onions in oil and butter, on medium-high heat until they are translucent.
Add the dried thyme and stir. Add the lamb and brown on a high heat to seal in juices. Add carrots, and pearl barley.
Pour in the chicken stock so that it almost covers the meat and vegetables. Season with salt and pepper, and add Bouquet garni.
Cover and cook on low heat for 2 hours, being careful not to boil.
Place potatoes on top of the stew, cover and cook for 30 minutes until the meat is falling beautifully off the bones and the potatoes are fork tender.
Serve the stew in large flat soup bowls, and drizzle herb butter over the potatoes or garnish with parsley and chives.
If you give the recipe a try, make sure to come back and leave a comment to let us know how it came out!

17 FREE RECIPES
ACIS World Cookbook
Bring the world into your kitchen with recipes from 10 different countries.