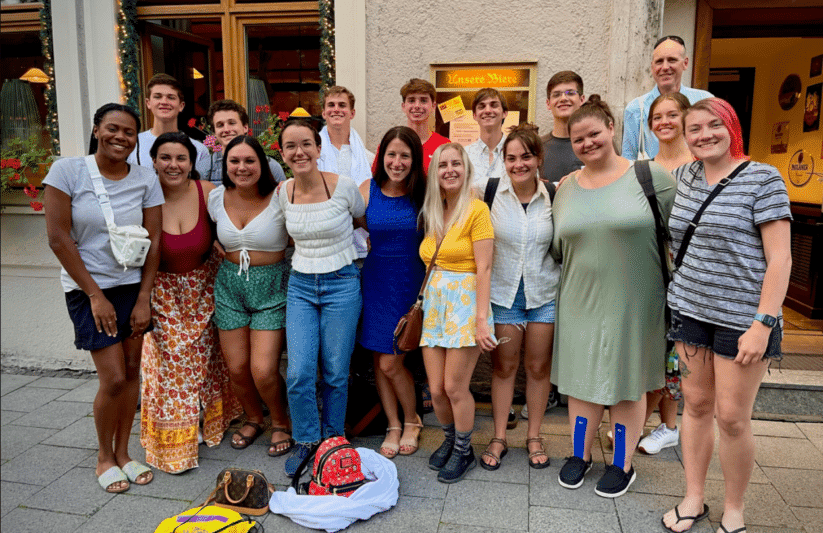 Teri Herbstreit and her recent High School graduate son just returned from traveling on an ACIS Fixed Date Trip this summer. Teri is also, as you'll soon read for yourself, an excellent writer. And when she shared with us the following post about her (not quite) High School trip to Europe, we couldn't wait to publish it. You can find more of Teri's writing at StreiTalk. I particularly recommend her post on packing tips.
Now, hear for yourself all about Teri's recent experience traveling on a Paris, Switzerland and Munich educational tour, and how this formerly "non-tour person" is now a true believer in ACIS and that travel really does changes lives.
I am NOT a "tour person"….But I had a fabulous time with the twice-postponed high school trip to Europe. (Stupid COVID)
Travel Changes Lives. It's true, and it is also the motto of ACIS, the educational tour company that our school hired for a high school trip to Europe. Have you ever watched a kid grow more confident and relaxed before your very eyes?
I got a chance to see some kids I had never met gain confidence and feel more independent. enough to navigate public transportation in foreign languages, try foods they've never heard of, bike through the busy streets of Munich, learn to watercolor on the streets of Montmartre, and make friends with strangers they met just seconds ago.
The Backstory on my High School Trip to Europe
My son signed up to go on a high school trip to France in his junior year. I was tagging along as one of the few adults accompanying the French teacher on the voyage that would start in Paris, go through the south of France, continue in the Loire Valley (including one of my favorite chateaus), pass by Provence, and finally, end in Nice.
Then, COVID hit. All travel was suspended and most kids asked for a refund for the France trip since they were headed for college, jobs, or other exciting prospects.
Noah and I opted to keep our money in the account with ACIS, the tour company our high school used for foreign travel and hope for the best–and boy did we get the BEST.
In 2021, we were cautiously optimistic for about ten minutes, when we realized that it wasn't going to happen. In 2022, however, we were encouraged to look on the website and peruse the trip options open to us.
The smarties at ACIS had put together several fixed-date trips that would keep everyone happy. They had to combine parts of trips so that those of us who rolled our money over and over from 2020 would get a part of what they had originally wanted. Our trip would start in Paris, France; go to Engelberg, Switzerland; and end in Munich, Germany.
Even though flights and fuel prices had skyrocketed since 2020, ACIS honored their commitment to all of us and we were not asked to pay more to cover the higher costs. Airfare, most meals, accommodations, entrance fees to museums and all kinds of other cool things like walking tours with local residents, art lessons, evening boat cruise up the Seine, etc.–ALL INCLUDED.
First of all, I would like to say that unless I had been scheduled to go on this high school trip to Europe, I am not a "tour" person. I would never choose to go on a tour through Europe, especially since I had traveled by myself in Europe and lived there for a year. ACIS changed the way I look at tours, but I think they are a very special group of people, doing very smart things. And…they have wonderful contacts in every country to which they travel.
Setting Up an Educational Trip is a Lot of Work
Oh, to travel, and have someone else worry about the details!
As a parent in a family who likes to travel, my husband and I have spent hours on the internet and phone planning out the simplest of trips.
On this trip, I felt like a VIP, just packing my bag and showing up.
ACIS hires tour managers who really know their stuff. They put together wonderful itineraries, provide lots of free time. The activities that you have scheduled make sense with respect to the trip and they are timed perfectly. For example, we visited a chocolate factory in Switzerland and took a boat cruise down the Seine in Paris. Because we had specific appointments for our group, we never waited in line.
Our Tour Manager was UK native Tim Godby. Tim was amazing. Tim speaks 6 languages and has LIVED in five countries.
Tim was running into people he knew everywhere we went. He was extremely knowledgeable and would tell us history of the pastoral areas as we sped through them. For example, he pointed out houses in Bavaria which still had barns attached to houses, as the people there lived in harmony with their animals.
Knowing facts about places though, doesn't make you a great tour manager. Perfectly balancing a trip with learning, walking, riding, celebrating, and relaxing, is a real art. The itinerary of our trip was a well-researched and well-thought-out schedule, with a good balance of city, mountain, countryside, and small towns.
Jill Federschneider and Kayla Smith were the ACIS representatives traveling with our group of 24. Kayla was very helpful, even though she was there to experience an ACIS trip for the first time. If Kayla didn't have an answer, she got the answer for you.
Jill has been with ACIS more than 12 years. She is normally the representative who pops in on high school trips to Europe and around the world to make sure they are functioning smoothly.
Nice job, right? I'm sure it's not as glamorous as it is in my imagination. Since this was a trip without a high school teacher leading it, because of the COVID situation, she came along to sort of fill that role. Jill was amazing. Warm and caring, she always had the answers to anything, and carried her "Mary Poppins bag" complete with absolutely anything you may have forgotten. She even wrote us a poem that she recited on the last night to many a misty eye….
Well Thought-Out Days
As an example of the well-thought-out itineraries, consider these two days in Paris.
Day One of My Educational Tour:
Breakfast: Deliciously French
Morning Drive: A drive around the city so all the students could see the most iconic places in Paris and get their bearings.
Museum: A passionate expert guided us through the Musée d'Orsay, the former railway station that now houses the world's top impressionist art collections.
Lunch On Our Own: We found a great place near St.-Germaine-des-Prés with the most fun waiter. Sole meunière, one of my all -time faves, bœuf with fois gras, and risotto with asparagus and peas.
A neighborhood walk: A walk through Le Marais (think New York's Greenwich Village) with Edith De Belleville, a local woman who had real passion for the area.
Free time: Before AND after dinner together. I walked around with my son Noah and his friend Jack, and showed them where I lived. We got gelatto, went to Les Jardins du Luxembourg, and Noah did some shopping.
Day Two of My Educational Tour:
Breakfast: Again, fabulously French.
Metro to Mont Martre: After breakfast, we hopped on the Metro and headed up to Montmartre and Sacré Cœur (early, before the tourist flood), where we met a local artist who talked to us about the history of the area, and led us in some impressionist watercolor painting.
Free Time! The rest of the day was free. Several people went to the Louvre, some went shopping, popping in and out of bistros. The ACIS representatives split up and went with different groups to be sure people were comfortable. A few of us strolled around the Louvre grounds and the banks of the Seine.
The rest of the trip was similar. Some days were fairly busy, but there was always free time to wander and explore–like when all the students left after dinner to jump into the Eisbach River in Munich.
The Impact of a High School Trip to Europe
One student said that his change of college major was inspired in part by the trip to Europe.
"I really want to make sure I'm working to live and not living to work," says Jack Mikesell, from Centerville, Ohio. "I wanted something where I could more easily work from anywhere or have more dedicated time off, so Computer Science seemed like a better fit for my lifestyle than becoming a vet."
Jack also said that Paris didn't disappoint (he knew it would be beautiful) and was most surprised by how much he loved Switzerland. He also thought the trip to Dachau, the Concentration Camp was an important stop, and enjoyed Munich more than he thought he would.
"The trip inspired me to want to travel," Jack explains. "And I really think every new experience builds your character."
Oceanna (Osh) Pfeiffer, from Wauconda, Illinois, agrees.
"After this trip I realized how much more I need to travel and explore," she says. "It was just such an eye-opening experience and meeting new people in this way was so different and exciting. I'm already planning my next trip to Europe."
I would have to agree with Osh. I was truly not excited about being thrown in with strangers, but because we were all sharing an experience, there was no banal small talk. Meeting people who also love to travel and learn was one of the best parts.
"I think the coolest part of the trip was being thrust into a group of strangers and having so much fun," says Ellen Manor of Saratoga, New York, another parent on the trip. "Everyone was so compatible."
Every night, the kids stayed up together and talked. They played games, joked and laughed, and talked about the day. Even the most introverted kids enjoyed the time together with people they were just getting to know.
"It was also cool watching the kids and their growing comfort level with each other and the cities–like navigating the subways," says Ellen. "That tells me that they felt confident being in a new place and exploring without us."
Jolie Scheer, a recent graduate from Francis Howell High School in O'Fallon, Missouri, agrees.
"This trip was such an incredible experience," she says. "I can't describe how much fun I had and how much I enjoyed the overall experience of travel." But even more meaningful to Jolie than the enjoyment was the independence and confidence she gained during the trip.
"I had this feeling of independence that I've never had before, and I enjoyed every second of it," she explains. "I have amazing memories I will never forget and I'm ready to travel again someday."
Another parent, Rebecca Pipino, from Saratoga, New York, echoes those sentiments.
"It was great to see my daughter Isabelle confidently use the French she has studied, navigate the metro, and do things like ordering in a café so easily," she explains. "She is going off to school in Boston, so she was trying out some newfound independence–and she really liked it."
"My daughter Kate was genuinely interested in all the history and educational aspects of every day," adds Ellen. "And it definitely sparked conversations of where she would visit next."
Another student, (my kid) Noah Holmes, from Centerville, Ohio, agrees.
"I have even more passion for travel than I did before, and I really learned a lot," he explains. Europeans in general are more laid back. They even look at eating differently than we do. It's more of a big deal. People take the time to sit down together."
"There were bikes, scooters, and motorcycles everywhere," says Noah. "People are more aware of their impact on the world and taking up space. There is so much more public transportation and accommodations for bikes," he adds. "It's a very different perspective."
In terms of whether or not I would recommend ACIS and all they do; I think Jack said it best.
"It's nice to have possessions," he explains. "But experiences like going to shows, traveling, and doing things you haven't done before, are so much more valuable.
"Putting money into an experience like this is completely different. It changes you in a very real way. These are the things that shape us as people. And yes, it sometimes costs money.
Noah and I added some extra days to go to Grächen, Switzerland to see a friend, but if anyone ever asked me about my trip with ACIS to Europe, I would highly recommend it. The trip included airfare, all accommodations, most meals, all transportation, entrance fees, private local guides, and more.
As a parent who has planned family trips, it was a gift to get to sit back and just enjoy my time with my son and the other fabulous kids and parents on the trip.
---
Teri, we're thrilled that you and Noah had such a memorable experience. It really is true that travel changes lives, and a high school trip to Europe can have all the impact in the world even if it happens after high school ends. Thanks for sticking with us, and thanks for writing this post!