Last night ACIS Tour Manager Susana Sassi guided group leaders across the country on 5 virtual walks in Paris. While it's not quite the same as strolling the avenues in person, it was fun to virtually explore and gave us all ideas on what we want to see the next time we visit France.
Paris Walk 1 – Place Charles de Gaulle to Tuileries Garden
Susana described this walk as the perfect introduction to Paris. Just like while on safari you want to see the big 5, on this walk you'll check off many of the must-see sites of Paris. And did you know that the Champs-Élysées is undergoing a renovation? The Place de la Concorde is the first area to be worked on, adding greenery and a beautiful reflecting pool. It will be interesting to see the changes over the upcoming years. One place sure to remain is Angelina, an amazing tea room next to the Tuileries Garden and the perfect spot for the best hot chocolate in Paris.
Paris Walk 2 – Pont Neuf to Rue Mouffetard
There are some spots in Paris that Susana advises us not only do you need to experience, but you also need to watch your students experience, Sainte-Chapelle is on that list. If you've already been, the next time you go, as you first walk in try to pull your eyes away from the amazing space and watch your students take it in. They will be mesmerized, which will make it all the more mesmerizing for you. This route also takes you past Notre Dame, Shakespeare and Company bookstore, the Sorbonne and ends near the Panthéon, a lovely spot for more seasoned travelers to explore.
Paris Walk 3 – Palais-Royal to Galeries Lafayette Haussmann
Susana encourages us to take this walk after visiting the Louvre, and with perhaps a baguette in hand. Doesn't that sound lovely? Wander and explore the exquisite shopping arcades galerie Vivienne and passage des panormas. And when you visit the Galeries Lafayette be sure to look up!
Paris Walk 4 – Montmartre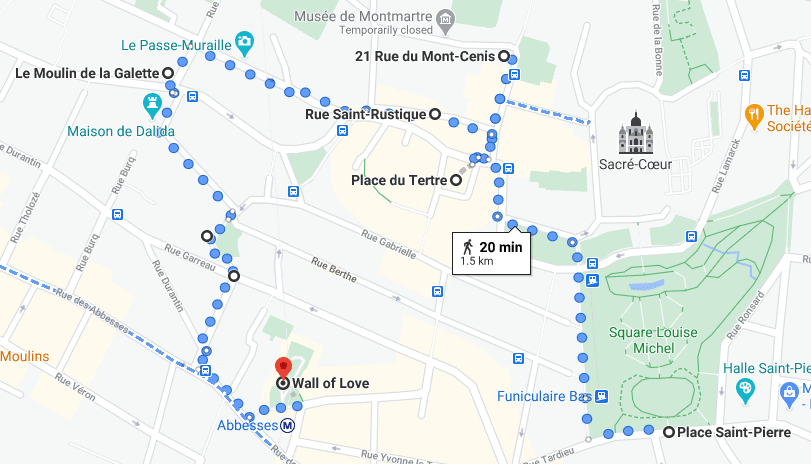 There is so much to see in the artistic neighborhood of Montmartre, a spot that has inspired artists from Picasso to Matisse to more recently, Invader. It's the perfect spot for a scavenger or photo hunt. Susana likes to set the students off in small groups with the contest of taking a photo of the Frenchiest thing you can find. How fun!
Paris Walk 5 – Le Marais
This walk of one of Paris' most charming neighborhoods will take you from big sites to delightful boutiques to delicious eats! You'll see the Place des Vosges which is the only brick façade in Paris, and one side isn't even brick, it's painted brick! Shopping lovers will be in heaven and all this exploring works up an appetite. Check out l'as du falafel, a falafel shop hailed by everyone from Lenny Kravitz to Rick Steves. And if you're interested in an éclair, you must visit l'eclair de genie, according to Susana it's divine.
French Video Lesson Plans
Voyage Voyage
Voyage Voyage is a two-part video lesson plan with accompanying worksheets for high school level French classrooms!