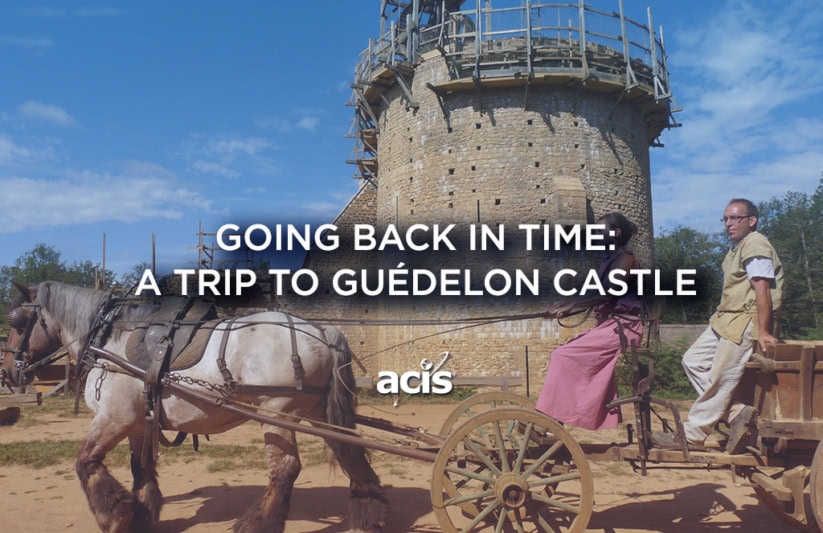 Guest Post by Christy Belbey
I am proud to be a veteran ACIS teacher! I have done 12 student trips with ACIS since 1996. Travel has been a big part of my life since I first went to Europe on an ACIS trip with my French teacher at the age of sixteen. I have seen many areas of France, including Normandy, the Loire Valley, Provence, the Côte d'Azur, and, of course, Paris. For my 12th student trip this spring, I opted for a tour that was more off the beaten path. We explored "la France profonde" in the central and southwestern regions of the country. I even lost cell phone signal for two days! Don't be alarmed, though; this was a good thing for my group! We were in the very capable hands of our tour manager Angélique, and my students and I were able to just soak up the experience and enjoy the beautiful scenery without the temptation of an electronic distraction.
Let me back up for a moment to explain how I ended up in the rural French countryside. I am the type of teacher who pores over the ACIS catalog when it arrives, the one who regularly visits the website to choose her next three student trips. I make lists of places I want to visit, places my students want to visit, and places other people have told me to visit. I enjoy seeing my students' faces light up when we are on metro line 6 and they catch the first glimpse of the Eiffel Tower. I know which Charles de Gaulle-Étoile metro exit will give them the best first view of the Arc de Triomphe. I can find the best ice cream in Nice. But let's face it, sometimes a teacher has to make a trip choice with herself in mind. So it was that I discovered the Guédelon Castle tour.
Never heard of Guédelon Castle? If you like medieval history, put it on your bucket list of things to see. Guédelon is a medieval castle in the style of Philippe Auguste which is currently being built in modern day Burgundy, just a few hours south of Paris. Workers use only techniques and materials from the Middle Ages. The workers quarry and cut their own stone on site. Materials are transported by horse and wagon. To lift heavy stones into place, workers use a man-powered double-hamster wheel instead of a crane. Currently, the outer walls are in place, although not complete, and work continues on the towers. The castle should be finished about 2025. There is even a historical context: Guédelon Castle belongs to a fictional, low-ranking lord named Guilbert. Construction was begun in the year 1228 (aka 1997) when Louis IX (Saint Louis) was on the throne of France. In Guédelon time, it is currently the year 1249 (Louis IX is still king).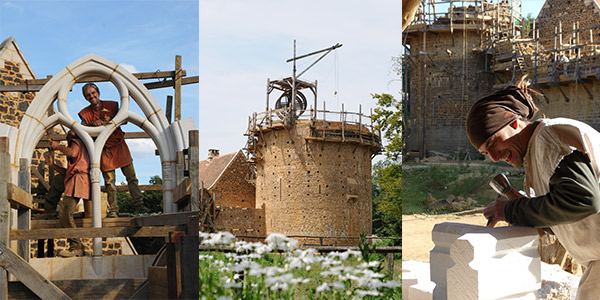 We toured the castle proper, or at least the part that is finished, such as the Great Hall, the bedchamber, the kitchen and the storeroom. We watched the curtain walls in the process of being built. We talked to the woodcutters and the quarrymen. We watched the tile makers at their craft. While you are on the property, you are truly in the 13th century. During our visit, we also had an authentic stone carving workshop. Instruction was in French, so my students had to use their best interpretive skills to follow along. We each received a brick of sandstone and carving tools, a chisel and a mallet. There were various templates for your design. I chose the outline of Guédelon Castle, but my students chose a fortified tower or a fleur-de-lys. We had an hour to work our stone, to make a truly beautiful piece of work that could decorate a castle such as this. You would be surprised at how difficult it is to do! I put a bit too much force on the mallet, and the pressure made the corners break off of my soft sandstone. But what a joy it was to create! I may have found my post-retirement, second career.
With all of our modern technology, sometimes we take for granted the skill required to build the beautiful structures we visit today. How did medieval man build such castles and cathedrals without the benefit of bulldozers, cranes, and concrete? Guédelon Castle provides a glimpse into the process. Although I have been to France fifteen times, this is a site that I didn't know existed until recently. I had begun to think that I had already discovered all that France had to offer, but I am happy to say that I was wrong! This was the most meaningful trip that I have yet taken.
Explore the Guédelon Castle itinerary and more ACIS France tours!