ACIS makes it our mission to fill our Paris trips with incredible experiences, but what we don't list on our Paris itineraries are the invaluable adventures you will find in your free time. The city of Paris owns and operates 14 museums filled with collections documenting the history of the city, many of which are free to enter. During free time and in-between planned adventures in the city, explore a few of our favorite permanent Paris art collections or street art spots at no cost!
For over 150 years, the Musée Carnavalet has been telling the story of Paris, making it the oldest of the City of Paris Museums. Its rich collections are housed in what were once two private mansions built in the 16th and 17th centuries. Between the two mansions you will find a distinctly French main exhibit with free entry. Visitors venturing in will be transported through France's unique history, from the Antiquity to the 20th century. The museum's courtyard and formal gardens are a perfect place to snap a few photos and rest pre or post Marais shopping.
How to get there
Address: 16 Rue des Francs Bourgeois, 75003 Paris (3rd arrondissement)
Metro: Chemin Vert or Saint-Paul
Also known as 'Le MAM', this is a beautiful place to stop when visiting the Trocadero and the nearby Eiffel Tower. The museum features contemporary 20th and 21st century pieces, as well as sprawling murals by French artists such as Raoul Dufy, Gaston Suisse and Henri Matisse. The palace itself is a beautiful example of 1930s architecture and inside houses a beautiful bookshop overflowing with a wide and current selection. Temporary exhibitions run every six weeks so Le MAM keeps you coming back!
How to get there
Address: 11 Avenue du Président Wilson, 75016 Paris (16th arrondissement)
Metro: Iéna or Alma-Marceau (both line 9)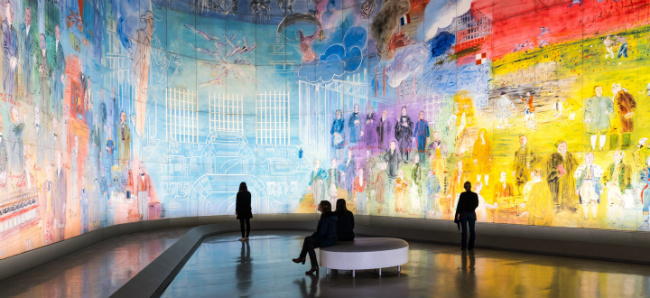 Often overlooked, the famous Musée de l'Orangerie has free permanent collections that include large-scale murals by Claude Monet. Although finished in 1918, Monet donated the murals to the French state following WWI, and it is a truly special experience to stand before the massive works that occupied Claude Monet for three decades. Outside of this collection, entry to the remainder of the museum is also free on the first Sunday of every month.
Find Information regarding free entry to the Orangerie here.
Address: Located in the Jardin Tuileries, 75001
Don't have enough time to make a museum visit?
Hit some of these street art spots for more in-between adventures and free art!
A true example of "it's not the destination, but the journey," Paris is covered in art made for the daily passerby. From large-scale murals in the 13th Arrondissement to guerrilla paste-ups in alleyways, you can find art on your way to, from, or in-between your Parisian adventures. Locals often recommend the Belleville, the 13th Arrondissement and the Saint-Denis as good places to start hunting down public art.
Find any and all street art you could need using this map
Find the perfect Parisian walking route here