Mike Conn, a social studies teacher from Milton, PA, knows what to expect when traveling abroad with students. A veteran teacher and group leader, Mike has been traveling abroad with ACIS for more than ten years – with trips ranging from the mid-east to across Europe. This year, however, things were a bit different. Mike's own daughter, English teacher Paige Conn, joined the trip to London and Paris this June, bringing along her own group of students from The Young Women's Leadership School in New York City.
Family members traveling together on an ACIS trip is nothing new, but two teachers, a family generation apart, based in separate school systems and states, is a rare combination that we were thrilled to facilitate.
The hometowns of the two student groups couldn't be more different. But traveling overseas for the first time, visiting the Eiffel tower, and biking around Versailles together connected the two groups – so much so that by the end of the trip they were dancing together in the aisles at the Mamma Mia performance in London! The experience of totally new cultures connected these first time travelers and resonated with them as individuals.
At the end of the trip, the students expressed their gratitude to their teachers:
"I am so grateful to have been given the opportunity to explore parts of the world that I would not have been able to otherwise. It was magical! I had an awesome time and I felt a sense of independence because I had to manage and budget money and make sure I was on time each morning. This trip also made me realize that I want to study abroad in college." – Tyra R.

"I cannot thank you enough for taking us to London and Paris. For many of us, this was our first time to travel away from home, and for some people it was their first time on a plane. I have learned so much about foreign cultures and history on this trip. It was amazing to see buildings that I learned about in Global Studies in front of my eyes instead of on a computer. I have decided that when I am older I want to travel all around the world and not just stay in New York. I will never forget this week." – Cristina G.

"Thank you so much to you and your father for making this trip the best time of my life. I am taking back the most amazing experiences and memories that I've ever had. From the bottom of my heart, I can't thank you enough for everything that you've done to make this trip come true. I honestly couldn't have asked for anything better. ACIS was incredible, Danny was spectacular, and the service overall left me speechless. I'm the first one in my family to leave North America, and I can't wait to go back home and brag about it. Because of this trip, I want to travel all over the world and discover new places." – Sandra L.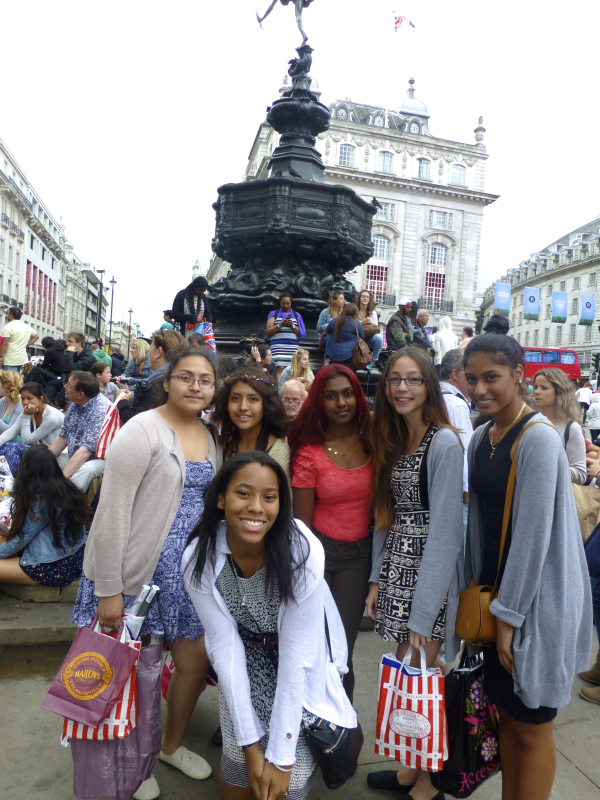 Seeing their students embrace the travel locations delighted their teachers:
"I never felt such an intense bond with students as I did on this trip," Paige said. "They were so interested in everything we did and were so engaged. I was so proud of them."
"Seeing (my student's) faces and the faces of Paige's kids, the wide-eyed wonder of being in a foreign country for the first time… brought tears to my eyes," Mike said. "I watched them soak it in like a sponge. There were memories made that will last a lifetime." (Mertz, Standard Journal)