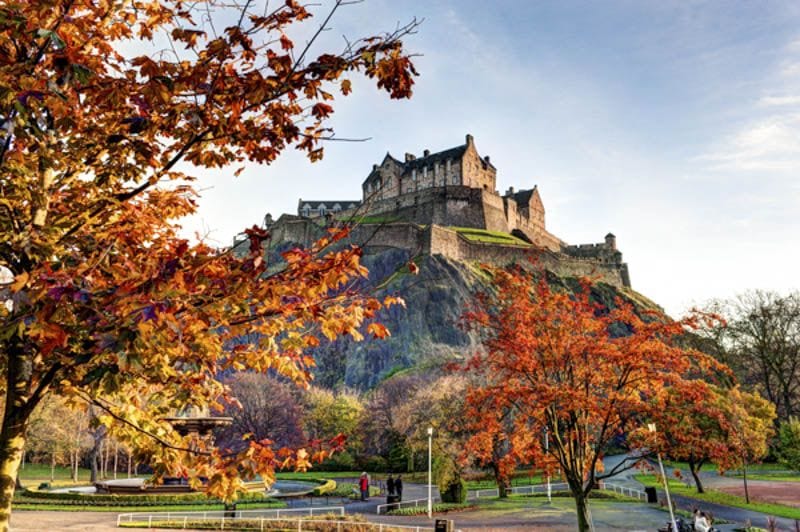 Brendan Donovan is an International and Domestic Program Coordinator here at ACIS. He has been working based in Boston, MA for the past two years.
ACIS is headquartered in Boston, home of the Red Sox, clam chowder and world-famous fall foliage. But did you know that leaf peeping should not be limited to just New England? Check out the following beautiful views from all around the globe.
Kyoto, Japan
Unlike the Cherry Blossoms that blossom for only a few days, Kyoto boasts one of the most amazing and colorful fall foliage, seen from the months of October to December. Mix that with the bold colors of Japanese temples and architecture, you have yourself an unforgettable experience.
How to get there: Highlights of Japan
Edinburg, Scotland
Stroll the tree lined streets and beautiful gardens of Edinburg to witness the city turn to gold and red. The mix of fall festivals and less crowds, Autumn is the perfect time to travel to Edinburg!
How to get there:
Great Wall of China, Beijing
Starting in the Badaling Forest Park section of the Great Wall, you will begin to see the bright red trees lining the wall. Don't forget to check out the city parks and gardens nestled along the wall ablaze with autumn colors.
How to get there: Ancient Beijing
Neuschwanstein Castle, Germany
Known for being one of the greatest castles in Europe and the inspiration for the Disney castle, Neuschwanstein is a can't miss in Germany. Add in the beautiful fall colors in the country side and alps, it is as if you were in a fairytale of your own.
How to get there:
Amsterdam, The Netherlands
Amsterdam is known for many different things, however, visit in the fall and you will see this city like no other. Canals lined with beautiful yellow, orange and red trees makes for one of the most unique scenes in all of Europe.
How to get there: London to Amsterdam
Hraunfossar Waterfall, Iceland
For a couple of weeks in October, the leaves surrounding these waterfalls create beautiful, stark contrast between the yellow foliage and the bright blue water.
How to get there: Discovering STEM in Iceland
Denali National Park, Alaska
Just 250 miles from the Arctic Circle, Denali National Park boasts one of the shortest but most beautiful fall seasons around the world. Between the snow on the peaks, the bright autumn colors, and the greater chance of Northern Lights, you would be lucky to visit Denali during this time.
How to get there: Exploring Alaska