Back to Blog Home
Around the World in 7 Movies: Foreign Language Films to Bring to the Classroom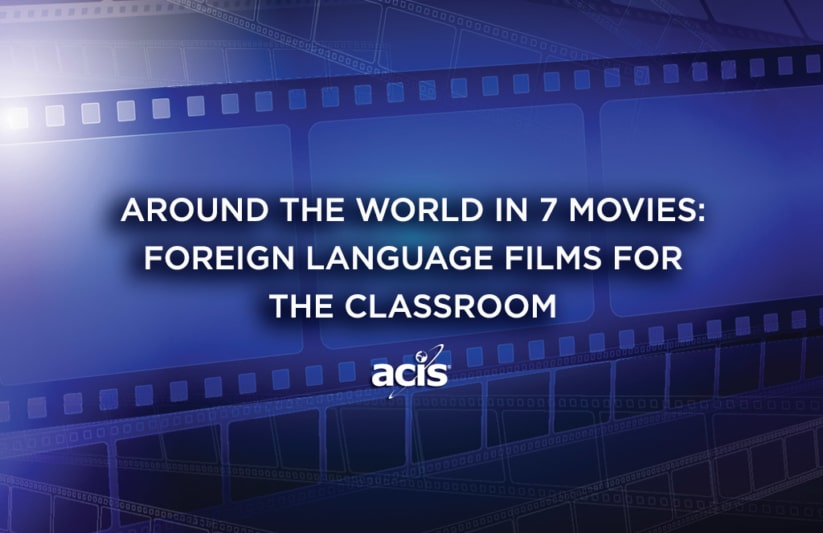 Since the invention of film, movies have served as a powerful tool for spreading a country's language and culture around the world. Films provide foreign language students the opportunity to listen to the interactions of native speakers without leaving their classroom and can even capture students' attention on a deeper level than traditional lessons. This list, which includes everything ranging from documentaries to dramas, contains films certain to engage students in their study of a new language.
1. El Laberinto del Fauno (2006), Spanish
Released in the English-speaking world as Pan's Labyrinth, this "fairy tale for adults" takes place in Spain, during the early years of Francisco Franco's dictatorship. Ofelia, a young girl living with her cruel stepfather and pregnant, sickly mother, tries to earn immortality for herself and her mom by completing dangerous quests for a mysterious, magical faun.
Free Lesson Plan for Spanish Language Students: Queen Isabella II
2. Cinema Paradiso (1988), Italian
While growing up in a war-torn, impoverished Sicilian village, a young boy named Toto befriends the local film projectionist and ignites a life-long passion for movies. The film includes many snippets of classic Italian movies, such as La Dolce Vita and Bicycle Thieves, which culminate in an unforgettable final montage.
3. Persepolis (2007), French
This acclaimed film, based on Marjane Satrapi's graphic novel of the same name and directed by the author herself, received a nomination for Best Animated Feature at the 80th Academy Awards. Based on Satrapi's upbringing in pre- and post-revolutionary Iran, Persepolis tells the story of a young girl's coming of age during a time of war, oppression, and strict theocracy.
4. Lore (2012), German
Set in the aftermath of World War II, Lore focuses on five destitute siblings who must leave their home after their high-ranking Nazi parents disappear. As they make their way across the ruined countryside, the children realize that what they were taught at home is not reflective of the world outside, and the consequences of their parents' decisions come into stark reality.
Free Lesson Plan for German Language Classes: King Ludwig II
5. Mujeres al borde de un ataque de nervios (1988), Spanish
Over a chaotic 48-hour period, an actress named Pepa tries to solve the mystery of why her lover dumped her whilst running into terrorists, jilted exes, and plenty of other wild adventures in the process. This iconic Spanish comedy helped launch the career of Antonio Banderas, well known in the English-speaking world for roles in films such as Spy Kids and the Shrek sequels, and offers a funny, uniquely Spanish take on the noir genre.
6. Beijing Taxi (2010), Mandarin Chinese
It is no secret that China has undergone rapid, irreversible change in recent years. This documentary attempts to tell the story of this transformation by profiling the lives of three taxi drivers over several years leading up to the 2008 Beijing Olympics. This film provides excellent opportunities for listening to simple, spoken Chinese, and also covers hefty topics ranging from sexism to globalization.
7. Monsieur Ibrahim et les fleurs du Coran (2003), French
In 1960s Paris, Momo, a young Jewish boy, befriends his elderly Muslim neighbor, Ibrahim, who runs a Turkish grocery store in their neighborhood. Their relationship takes on the nature of a father/son bond, and their cultural exchange culminates in a road trip to Turkey and Momo's eventual ownership of Ibrahim's grocery store.