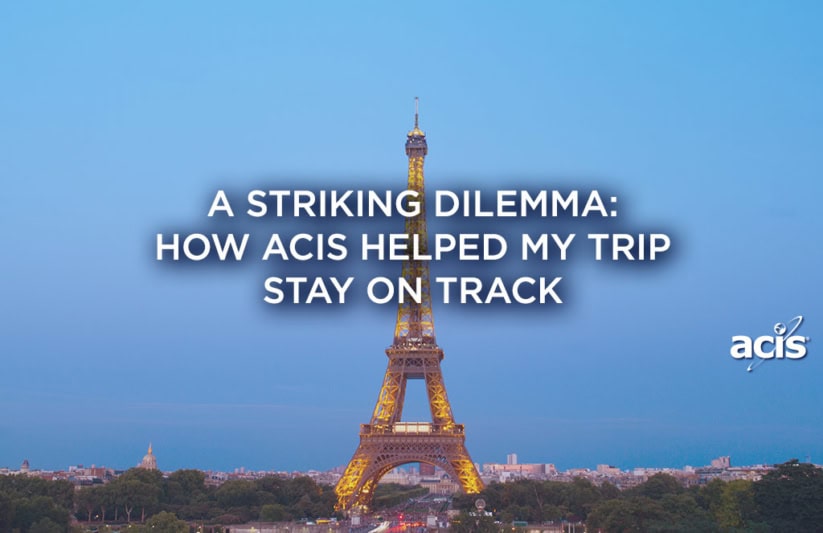 Anthony D'Amico teaches English at Floral Park High School in Floral Park, NY, and has been leading student tours for the past 10 years. On his most recent trip to Greece, his group encountered a setback that at first threatened to derail the trip, but ultimately ended in a new adventure.
As a 10 year veteran group leader, I thought I'd experienced just about every "speed bump" possible on my trips. My chaperones and I have always been able to overcome any obstacle with some minor adjustments and just keeping a calm demeanor. I always tell the students that, "things happen and we need to roll with it." This philosophy has always served me well…that is until my most recent trip to Greece. I was not able to handle this latest scenario on my own, and I had to reach out to ACIS before departure for some serious assistance. I was going to put them to the test.
It started when a parent contacted me the morning of departure to tell me that Air France was set to strike the morning we would arrive in Paris to transfer to Athens. The parents started talking to each other, and they started to become nervous. Some of the parents were even stating that they might not let their children get on the first flight because they didn't want them stranded in Paris. I immediately reached out to ACIS, and I spoke to Julie Fratarcangeli. Julie assured me that they were already working on a contingency plan for us and that she would call me back when she had additional information. Julie was good to her word and we talked about our options during numerous phone calls over the course of the next hour. Julie and the ACIS team had informed me that my connecting flight to Athens was already secured for 8:30pm that night. What a relief! I was very happy that I was being included in the decision making process, and I felt much better that I had a bit of control over what we could do next. As it turned out, we could get a few rooms in an airport hotel, where we could sleep and relax, or spend the next 12 hours in the city of Paris, where we could explore and have a whole new adventure. As a world traveler and someone who has an adventurous streak, I chose the latter.
I have to admit, I was a bit apprehensive with the decision to explore the city because I thought I would have to navigate on my own and I had only been to Paris one time previously. I was not confident that I could lead my group seamlessly from the airport, throughout the city, and then back to the airport on time for our next flight. Shortly after landing in Paris, I realized that all of these concerns would become non-issues for me. Jill Federschneider, an ACIS Regional Director, was waiting for us in the airport with a smile and a plan. All of my concerns and worries dissipated within moments of speaking with her. She had croissants and drinks waiting for us after a long flight, which we very much appreciated. While the students were eating, Jill briefly went through the plan to make the most of our time in Paris. Not only was the itinerary well-planned and thoughtful, it allowed for us to personalize our experience if we chose to do so.
First, Jill had us join an ACIS group for a panoramic city bus tour, where we could see the sights and take pictures. This tour included a local expert, who taught us the history and even added some humor to the tour. The students were so happy to get off of the bus and to see the Eiffel Tower. We took pictures and made a quick stop for espresso to keep us going. The tour was just what we needed to get my students interested in French culture. Jill had to meet another group, but she did not leave us on our own. She handed us off to one of the most courteous tour managers ACIS has to offer; Lise.
Lise was so knowledgeable, understanding and kind. She wanted to know what we wanted to see and then she made it happen. We shopped on the Champs Élysées, had world famous macarons, and a traditional French meal. Lise and ACIS covered all of the expenses and made us feel like we were the most important customers in France. Over the few hours spent with her, Lise made us feel welcomed and appreciated. Lastly, a private coach was waiting to take us back to the airport. From Jill to Lise, our group received the very best treatment while in Paris and they provided a VIP experience the students won't soon forget.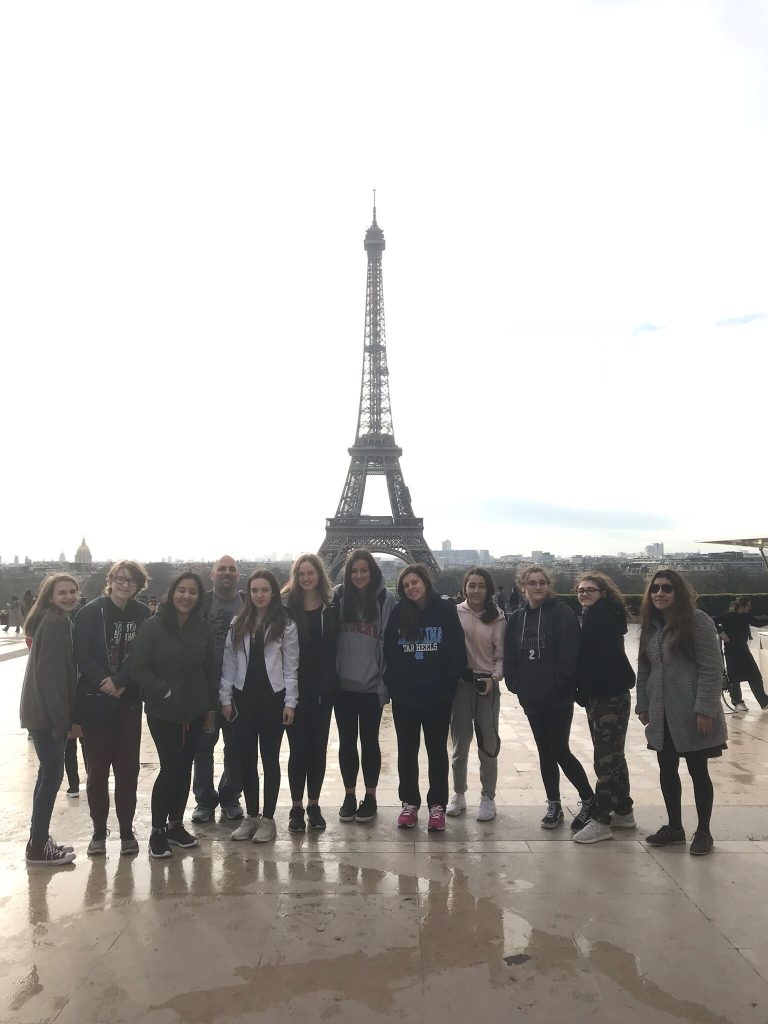 There are times when other tour companies, such as EF and Explorica, try to lure me away from ACIS by offering better pricing or by promising me bigger and better things. Truth be told, I've almost switched companies a few times because the offers were so tempting, but I never have for some reason. I now fully understand the reason. ACIS not only follows through with a great tour every time and provides excellent customer service, they provide outstanding service when things do not go as planned. I can only imagine what it would have been like for my students if we had to sit in an airport for 12 hours instead of touring Paris. I know that ACIS has my back and will support me every step of the way, even when it is something they cannot control.
In the end, my students and parents were thrilled with the service and attention to every detail and they even have said that the surprise excursion to Paris was a blessing in disguise. Jessica Ricci, even though she was in Rome at the time, followed every step of my trip through her more than competent team to assure that we were . Jessica followed up with me again after the trip to make certain that I was satisfied with the service they provided. I told her that I was not satisfied at all; I was just simply elated.
How can you put a price on an experience like this?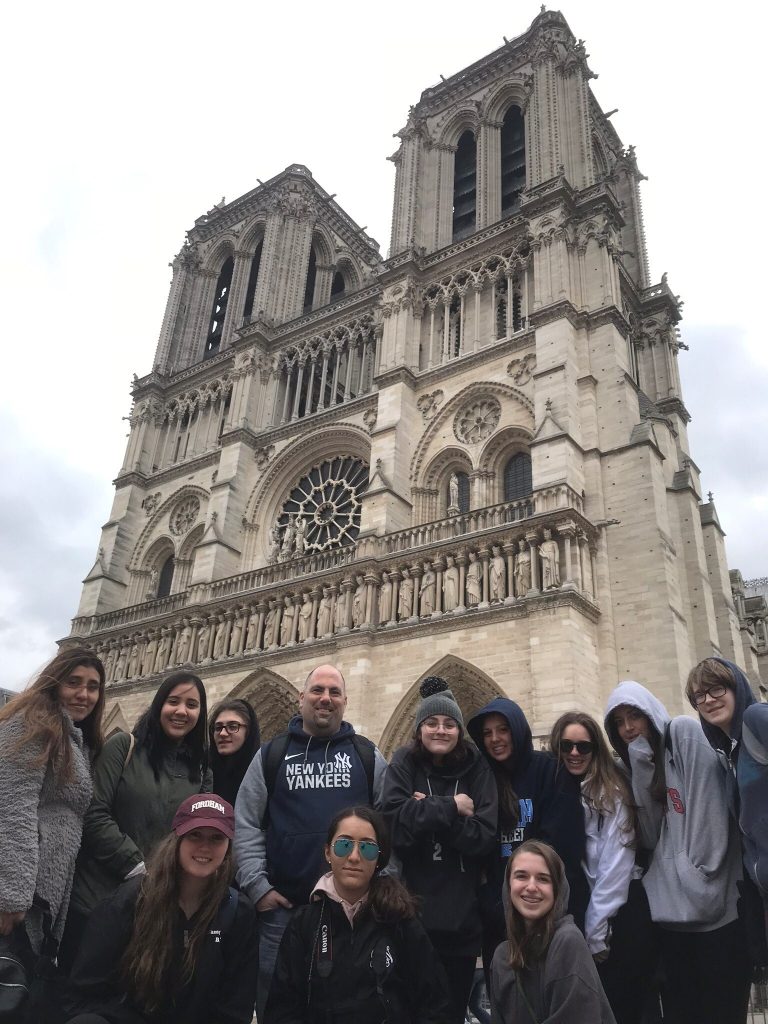 If something happens on tour, ACIS will be there every step of the way. Hear more teachers reflect on their experiences in our #WhyChooseACIS video series!