Every month we bring you a new 'Travel Changes Lives' story that highlights the achievements of our former student travelers. This particular post was inspired by another of our blog posts, written by ACIS Tour Manager Chris Relton. He wrote about his experiences of encountering the British Royal Family while traveling with ACIS.
One of our group leaders, teacher Kathy Mead, commented on that blogpost that one of her student travelers had met the Queen while on an ACIS trip. We were intrigued and just had to find out more! So we chatted with Lilli Evans, former ACIS traveler to find out about her royal experience!
Thanks so much for taking the time to tell us about your experience with traveling with ACIS.
Lilli: Of course! Traveling with Kathy Mead through ACIS (on two occasions!) was a really great part of my high school experience and fostered a love of adventure that I am so grateful to have. I'm really excited to share my experiences traveling with Kathy.
First of all, could you tell us a bit about yourself—where did you grow up and where do you live now?
I have lived all over—born in Houston, Texas and grew up in: New York City (for 4 years); Birmingham, Alabama (for 7 years); and Traverse City, Michigan (for 7 years) where Kathy taught me AP European History. I went to college at the University of Michigan in Ann Arbor, Michigan where I interned in the Canadian Parliament in Ottawa as well as the UK Parliament in London. I also studied abroad in Aix-en-Provence, France for a year. After college, I moved to New York City where I worked at Human Rights First, a human rights advocacy group, before going to law school at the Benjamin N. Cardozo School of Law in NYC. After law school, I started working at the NYC Law Department as an attorney and am now the Deputy Director of Legal Recruitment.
You traveled with ACIS twice, is that right?
Yes, that's right—once to Ireland and the UK and once to Italy and Greece. On the trip to the UK and Ireland, I believe we landed in Shannon and travelled around Ireland, kissed the Blarney Stone, and ended up in Dublin. We then took a boat from Dublin to Wales. From Wales, we travelled through York, then through the Lake District, and up to Edinburgh, Scotland. On our trip, we visited museums, cathedrals, and castles; we paddled in a lake in the Lake District; and met the Queen in York.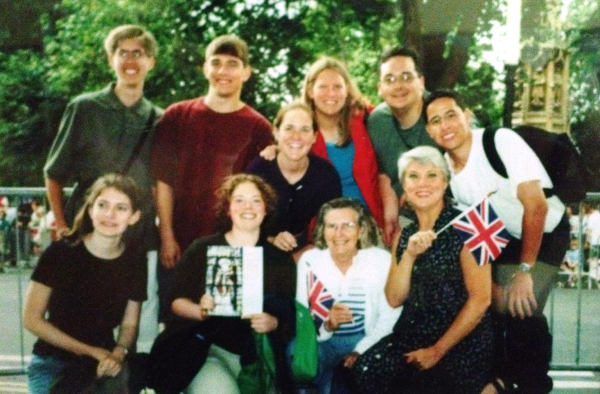 That's amazing—not many people can say they've met the Queen on their travels! How did that come about?
While we were in York, we heard that the Queen was going to be in town at York Minster for the first time in a long time (I think it had been 10 years). We got there early, watched her arrive, and waited outside for her to come out in the hopes that she would walk around the crowd. We were lucky, we arrived so early that we were right up front. I was wearing a bright blue tank top, but had gotten cold and borrowed my friend Nikki's red windbreaker. I must have looked like a Union Jack flag because when the Queen was walking around she came up to talk to me. I was in such shock, I can't really remember what she said to me, but I think she asked where I was from and why I was in York. She must have been rather surprised to hear my American accent.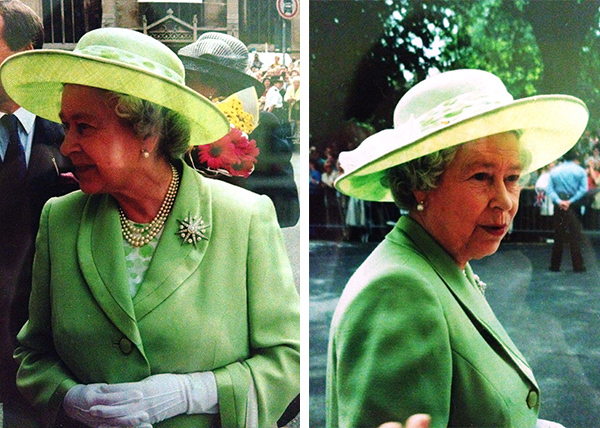 You even made the local press! (The York Press has an archived version of the story) What a fantastic experience. Apart from encounters with Royalty, what do you think you have gained from traveling overseas?
Kathy has this amazing sense of wonder and adventure with life in general and, when traveling, her exuberance is contagious. She passed on to me a love of history and exploration that I cherish to this day.
What impact do you think the trip had on your future career?
I was always interested in government and political science and my travels with Kathy and ACIS made me curious about governmental systems in other countries. During college, I interned for a summer in the Canadian House of Commons for a Member of Parliament and for a summer in London in the UK House of Commons for a Member of Parliament to learn about their governmental systems. I then studied abroad in France for a year where I studied French political science. I now work for the City of New York in its Law Department where my interest in government is used daily.
Have you continued to travel?
After my travels with ACIS, I went to Canada, the UK, France, Italy, the Netherlands, Senegal, Costa Rica, Mauritania, Thailand, Cambodia, and Vietnam.
Do you speak any languages?
I speak French and enjoy watching French movies and tv shows in an attempt to (somewhat) keep up my French!
What are your future travel goals?
I want to go back to Europe (this time to Scandinavia and Eastern Europe); I also want to see Australia, Kenya, and South Africa.
If a student was considering going on their first overseas trip, what advice would you give them?
Go without fear and really experience wherever you are visiting. It's easy to get a little uneasy and stick to visiting places that feel familiar and keep you in your comfort zone. The real adventures and experiences happen when you step out of that comfort zone and experience a new culture.
Lilli, thank you so much for sharing your experience with us. We love hearing about the unplanned, unexpected things that happen when you're traveling that create wonderful memories for life. We think meeting the Queen is a great example of that!
If you'd like to share your ACIS travel memories, tell us on Facebook, and you could be featured in a future student or teacher spotlight!
---
[button style="btn-success btn-lg" icon="fa fa-facebook-square" align="left" type="link" target="true" title="TELL US" link="https://www.facebook.com/acistours"]