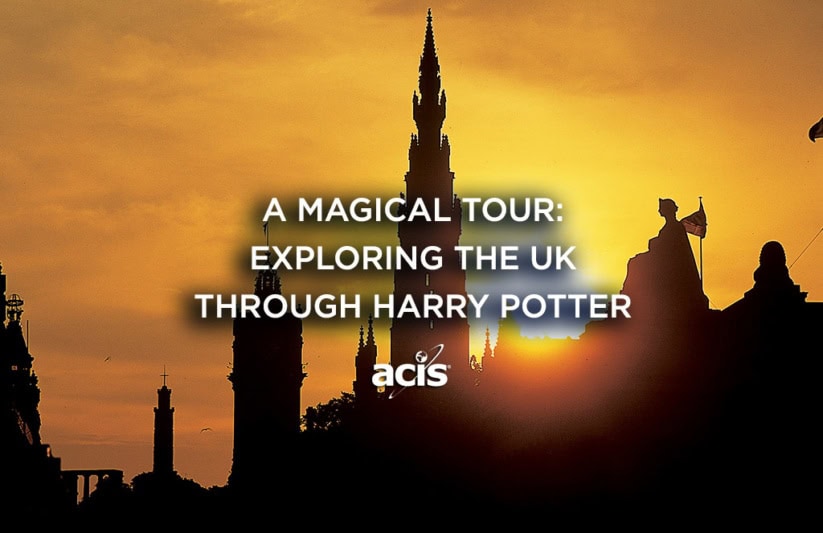 For the many Harry Potter fans out there, visiting the UK can seem like walking into an enchanted land, full of funny accents, eccentric characters, and bewitching castles. Many of the scenes from the books and the films were inspired by or filmed in very real locations. So perhaps next time you visit the UK, you might think about stopping off in a few of these magical places…
Edinburgh, the Scottish Capital
First of all, if the Harry Potter books have a spiritual home, then Edinburgh must be it. This is where, as an unemployed single mom in the 1990s, J.K. Rowling spent her days scribbling away in the Elephant House tea room. If you visit this point of pilgrimage, you can read the innumerable fan messages which cover the bathroom walls, and admire the dramatic view onto Edinburgh Castle.
The whole of Edinburgh exudes a dark and mysterious charm, with its cobbled, winding streets, obscure passageways and century-old legends. You can go on a tour to discover some of the secrets this city has to offer, and if you spend enough time exploring the famous Greyfriars Cemetery (like Rowling certainly did), you may come across the tombstone of a certain Thomas Riddell…
The rugged charm of the Scottish Highlands
Most of the outdoor scenes in the Harry Potter films were filmed in the vast, undisturbed expanses of the Scottish Highlands. Glencoe, for example, is a famous glen that was featured in 'Harry Potter and the Prisoner of Azkaban.' Hagrid's Hut and several other film sets were built in this beautiful valley, which offers a spectacular backdrop to the adventures taking place on-screen. Loch Schiel and Loch Elit also feature prominently in the films as settings for Hogwarts grounds, notably for the Triwizard Tournament scenes and as the island location of Dumbledore's grave.
Perhaps one of the most iconic scenes, that of the Hogwarts Express steaming its way towards the wizarding school across a long viaduct, was filmed at Glenfinnan. This 20-arch viaduct cuts through the Scottish wilderness, and the good news is that you too can ride the Hogwarts Express across it! Only in real life it's called the Jacobite Steam Train, and it travels once a day from Fort William to Mallaig. On the way, you might get a glimpse of the highland red deer, an iconic local animal and also the embodiment of the spirit of Harry's father in the books.
London's hidden secrets
Unlike Harry Potter, you won't be boarding this train at London's King's Cross station, although if you go there, you might find the secret entrance to Platform 9 3/4, complete with half a luggage cart disappearing into the wall. For filming, platforms 4 and 5 were renumbered 9 and 10, and the exterior station shots were filmed at St Pancras station, just next door. But if you're in London, that's not the only place a Harry Potter fan like you should visit. There's also the Reptile House at London Zoo, where Harry discovers that he can talk to snakes, or the Millennium Bridge, which collapses dramatically in the opening scenes of 'Harry Potter and The Half-Blood Prince' (luckily it was all done with CGI and the real bridge is still firmly in place!).
Another beautiful place to visit while you're there is Leadenhall Market. This Victorian-era indoor marketplace may well remind you of Diagon Alley, and it's also a great place to grab a bite to eat, do a bit of shopping, or simply wander around. Nearby, the curve-fronted façade of an optician's at 42 Bull's Head Passage was used as the entrance to the Leaky Cauldron.
How to get to Hogwarts
The setting for Hogwarts School of Witchcraft and Wizardry was in great part inspired by Fettes College, an exclusive private school in Edinburgh, whose architecture dates back to the 19th century, when it was a school for poor and orphaned children. Like the young wizards and witches at Hogwarts, here too children wear uniforms and are "sorted" into one of nine houses. Sadly, they play cricket rather than quidditch, and the school itself is not open to tourists and other mere muggles like us.
If you want to experience the atmosphere of Hogwarts, your best bet may be to walk around some of the beautiful old colleges in Oxford. Specifically, New College and Christ's College were used during filming, and Divinity Hall at the Bodleian Library was turned into the Hogwarts Infirmary. Other renowned historical sites that became Hogwarts interiors on-screen include Gloucester Cathedral and Durham Cathedral, while Alnwick Castle features in many exterior shots.