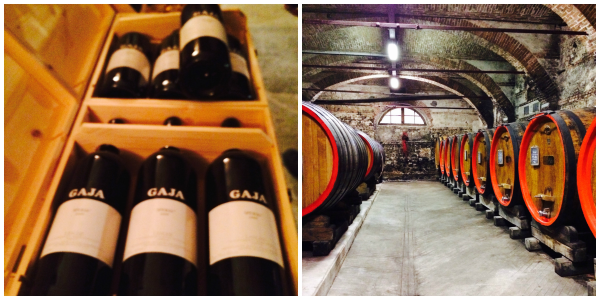 We took off on a wintry day, when the countryside looks a lot less glamorous than the posters convey on the outsides of the brochures, with a promise of good food, fabulous wine, and a shopping bag full of culinary souvenirs to take back home. We would dive into truffles, do a wine tasting in Barolo, and visit an organic flour mill that produced some of the finest pasta in Italy.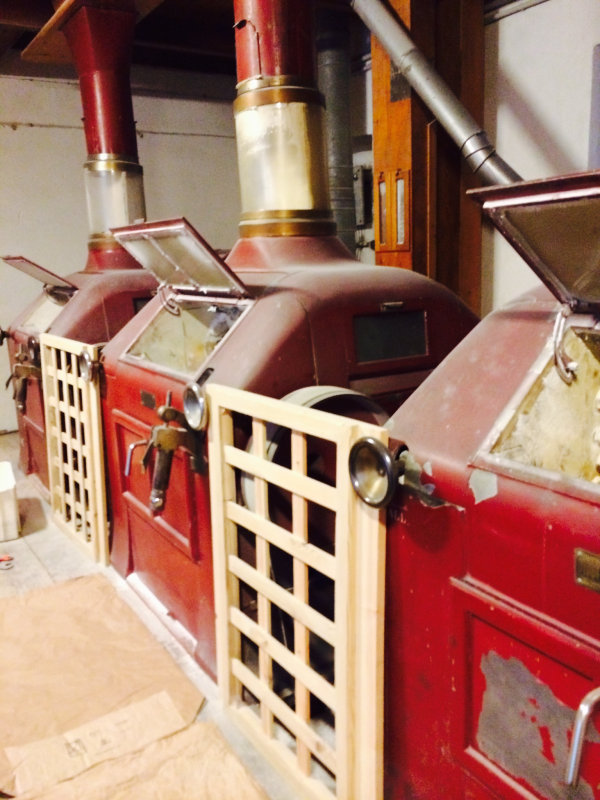 We also popped by the University of Gastronomic Sciences in Pollenzo to have a walk around the capital of the Slow Food movement. Here in the underground vaults is stored a bottle of every wine produced in Italy every year. It is my kind of underground movement in more ways than one. The movement started in 1986 next to the Spanish Steps in Rome as a protest against McDonald's. Good for them. Slow Food is based around preserving local food traditions, staying in tune with seasonal offerings, and keeping chemicals at bay.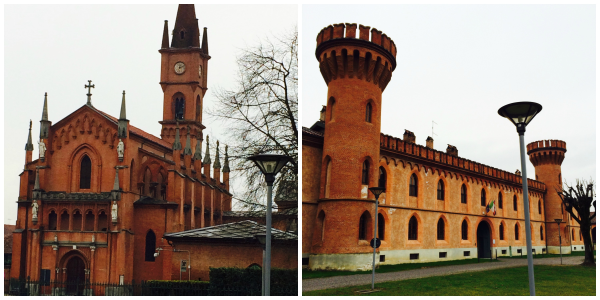 My Italian friend who loves driving like a maniac, especially through winding roads that make me want to throw up, took us first to Fossano to visit a fabulous hotel called Palazzo Righini. Fossano is a tiny town but it is dotted with cafes, restaurants, and a rather magnificent grand piazza. A great cup of cappuccino began our day.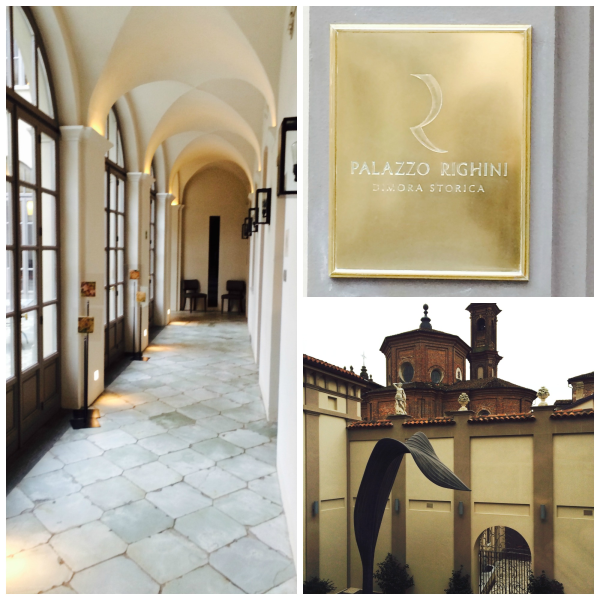 The Wine: Vineyard Hopping
From there we drove into the vineyards and although it was the deep of winter, the landscape of vines that crisscross the hills was pretty impressive. We drove to a large vineyard called Marchesi di Barolo and sampled a few glasses; not easy in the morning. We then moved on to some smaller vineyards down the road. This area is all about Barolo (Italy's most famous wine), Barbaresco, Roero, and Langhe wines. Familiar names pop out like Nobilo, Dolcetto, and Barbera. In the neighboring vineyards to the east, Asti provides us with the sparkling Spumante wine and the sweet Moscato wine. In other words, this is an absolute must for anybody who loves and adores fine wines.
We ate in a restaurant in Bra and I had an insanely delicious papardelle with ragu sauce and my friend had a veal tartar. Vegetarians beware! I also could not resist the bread sticks (grissini) because they had been sourced from the local mill that we had just visited. We drank Gaja Barolo and I wondered how I was going to go out for dinner later this evening. One bird at a time.
The Food: On The Hunt for Truffles
Our wine and truffle day was something that could have stretched into two days. After lunch washed down by Barolo, the last thing I was thinking was more food but I had it on my agenda to visit a truffle producing factory. So, off we went in the hunt for the elusive truffles.
Urging my Italian friend to slow his driving down, we reached Alba, the land of truffles, in one piece. It is always a miracle to me that quite intelligent people (like my friend) drive like maniacs, are fairly abusive to any driver that competes with them on the road, and seems to want to take his and my life in his hands more frequently than is helpful for my well-being.
We came upon Tartuf Langhe in Piobesi d'Alba for a tour and explanation of the art of truffle hunting. We had to dress up in ridiculous outfits because of factory hygiene rules but we got to learn about truffle hunting, the differences between white truffles and black truffles, and the various applications for using truffles.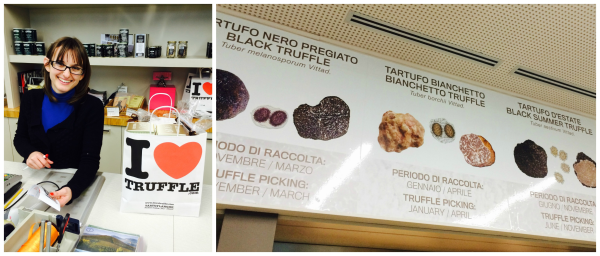 I love truffles, especially white truffles, and honestly there is nothing as delicious as a white truffle being slowly grated over tagliatelle with some butter. It is one of the moments of life that you look back upon and hold dear like your first born child. It is something that never leaves you and here, walking around this truffle farm, the smells hung in the air and I kept on thinking of that bowl of pasta that I had had in Harry's Bar in Venice many years before.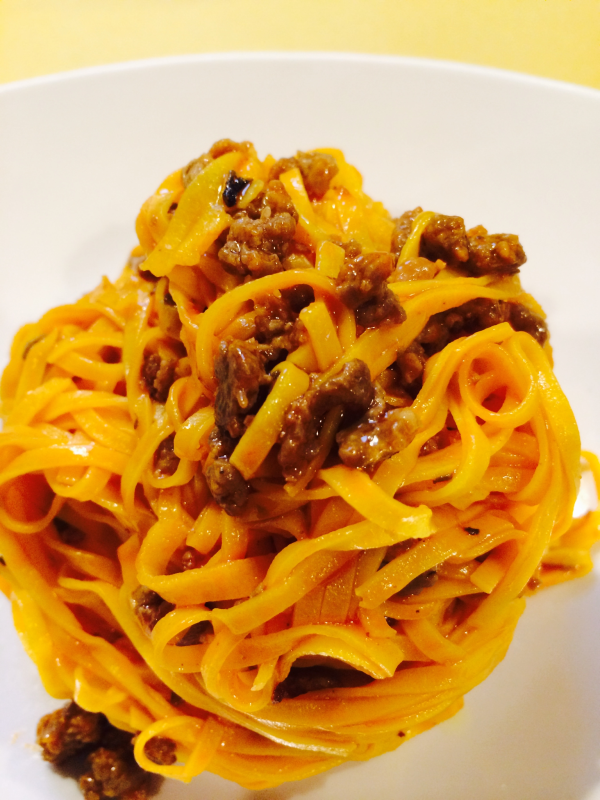 Truffle hunting is a whole mystery really. The truffle hunters are a group of locals with specially trained dogs. Their work starts when everyone else is fast asleep. They work in the dark because it is a highly secretive and competitive business. Truffle spores tend to reappear each year in the same place so when they discover truffles, there's a good chance they will bounce back in the same location each year.
Truffles are found under the ground, sometimes two feet, often by tree roots, which is why you need a trained dog or a trained pig. The Italians use dogs—any kind really, and because of their keen sense of smell, and the pungent smell of truffles, they can sniff out treasures that we can't get to.
The black summer truffles and the black winter truffles are more common and are found in greater quantities. They look a lot like the chocolate truffles you would buy in a chocolate store. They are not as pungent as the white truffle which is why most truffle oils are based around white truffles. However, black truffles are much less expensive and therefore you can actually afford to buy them. If you are cooking, the trick is to use black truffles and white truffle oil with white truffle pasta. That would be nearly as good as having a fresh white truffle grated on egg pasta. Nearly as good but not really as good!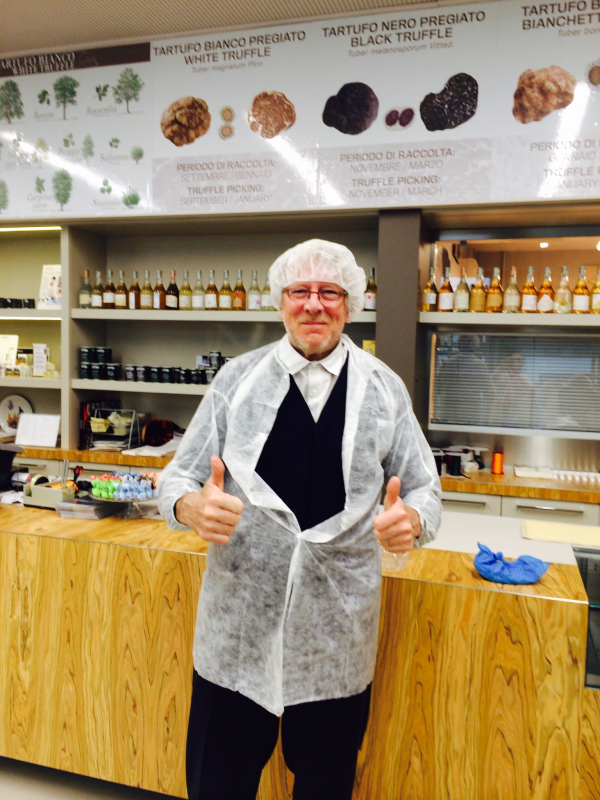 I bought the oil, the cream, some pasta, and I would have also bought soap if they had made it! Instead, we left with chocolates—a new diversion for them.
Now with some fresh knowledge of the midnight truffle hunters and their dogs, my truffle world was nearly complete. Maybe I will train to be a truffle hunter. Yes, it is a competitive business, the stakes are high, and it helps to be a local. But, if I discover a good white truffle with my trusted dog, Alice, I could trade it for a condo in Boston.
Back to reality and Turin and another spectacular dinner somewhere. I am getting to like this place.