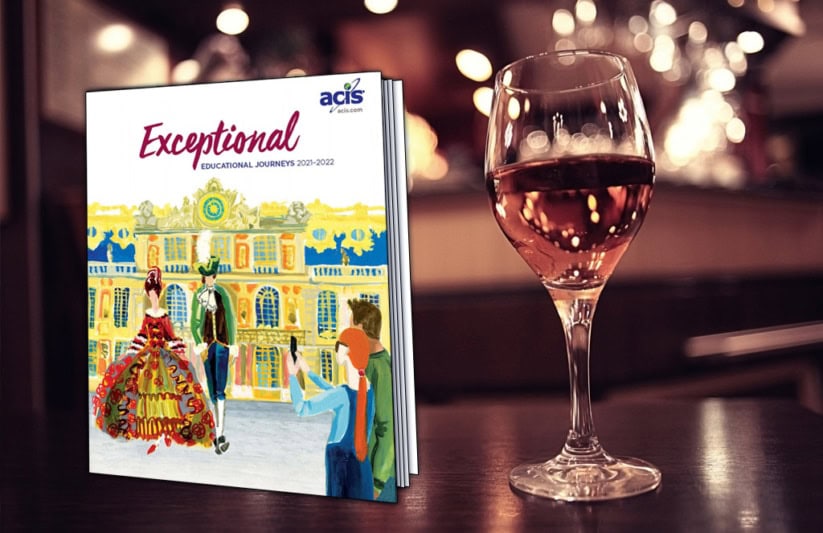 The snowy nights of December are upon us. Time to put on your coziest socks, kick up your feet before the fire and settle in with the 200+ itineraries of the 2021 ACIS catalog!

A glass of wine would complement the scene – but which to choose? Here are some wine pairings to sample as you move through a variety of destinations.
Germany – Riesling
Germany may be synonymous with craft beer, but its cold climate and rich soil also make it own of the world's top producers of Riesling. The sweet notes accompany a pretzel tasting in Munich, balanced by a brisk hike to the famed Neuschwanstein castle.
Goes well with: Highlights of Germany, Hidden Gems of Germany, Munich Hamburg and Berlin, a slice of Black Forest cake.
Italy – Chianti Classico
You can't go wrong with the classics. Just like Chianti, Italy is a fascinating blend of the historic and the modern, from the Medici palaces to the high fashion of Milan. The Chianti's floral bouquet will work nicely with both the Renaissance sites of the north and the sea-salted treks of the south coasts.
Goes well with: Buongiorno Italia, Insider's Italy, Venice, Florence and Rome, prosciutto di Parma
Spain – Rioja Tempranillo
Your itinerary should be as full bodied as your wine selection, so we recommend the lovely Rioja Tempranillo to accompany a whirlwind tour through Spain's most exciting attractions. You'll notice a brightness in the flavor, which will be replicated in your sun-soaked days along the Iberian peninsula.
Goes well with: La Fiesta, Spanish Capitals, Barcelona, Madrid and Sevilla, queso manchego y jamón serrano
France – Sauvignon Blanc
Sample one of France's most famous exports you transport yourself to a land of rich food, beautiful language and centuries-old history. Crisp and fruity, it pairs perfectly with a bike ride through Versailles or a view from the Eiffel Tower.
Goes well with: Fleur de Lys, La Vie en Rose, Toujours en France, camembert or shropshire blue
The British Isles – A Pint of Stout
The best pairing for the British Isles? A healthy pour of Guinness! The caramel and oak notes will make you feel like you're right there in a timber-beam pub, fresh from touring Shakespeare's Globe or climbing Sir Arthur's Seat.
Goes well with: Kingdom by the Sea, Scots Bards and Brits, London and Edinburgh Your Way, a hot plate of chips
Download the catalog and enjoy!