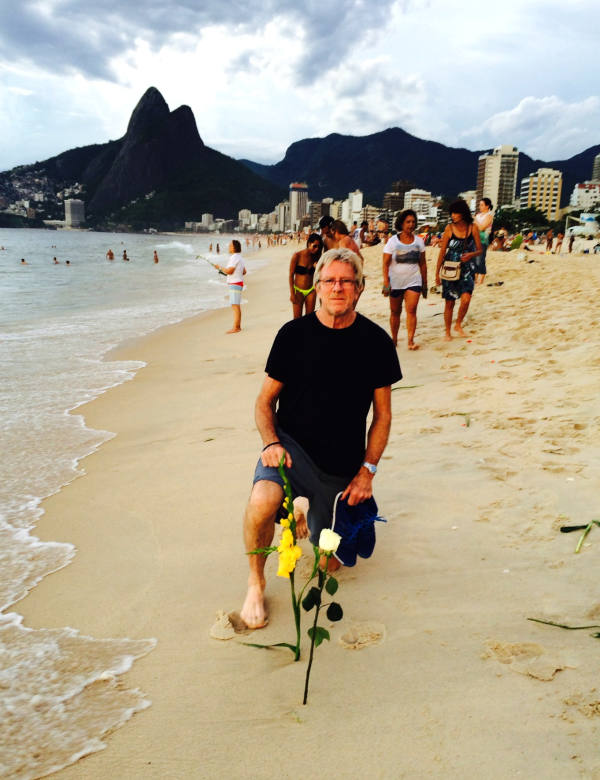 There is something pretty amazing about being somewhere else on New Year's Eve. Last year, it was Bangkok. On a balmy evening, I was on the river at the Oriental Mandarin while fireworks lit up the sky. Pretty nice. So really what could be better? Perhaps spending New Year's Eve in Rio.
Our arrival in Rio de Janeiro coincided with a fairly intense heat wave where it was about 105 degrees Fahrenheit every day. I had been prepped that it was the thing to wear a white shirt on New Year's Eve here. The locals still adhere to customs and traditions, such as wearing new white clothes and washing in the ocean to symbolize renewal, and throwing flowers and small trinkets into the sea for thanks. After that, it's time to party till sunrise!
We were staying in Ipanema, in-between the trendy neighborhood of Leblon and Copacabana, which seemed like the right choice. All of the action on New Year's Eve takes place around Copacabana but stretches along the endless beaches and up into the hills behind Ipanema.  The Reveillon is famous for its samba, fireworks, and the throng of people that line the huge beach. Preparations were made as dusk fell to celebrate a new year. People brought gladioli and laid them in the sea as part of the ritual. We got ourselves dinner and waited for the action to take place. Both Ipanema and Leblon are jammed with restaurants and most had a New Year's Eve dinner special for the night.
But…the funny thing is that there wasn't much action. There were plenty of people gathered around Copacabana and the firework display was decent, but really, the whole buzz of New Year's in Rio just sort of went by without a lot of noise. We ended up at one of the beach bars celebrating the New Year with Brazil's favorite beer, a Bohemia.
It was kind of disappointing. There I was in my white shirt, all dressed up, and nowhere to go.
On the next day, the beach was sheer madness. I have never seen so many people on a beach before. It was kind of fun—after all this was Ipanema—and they closed the road down along the beach for skateboarders, rollerbladers, bike riders and if you can believe it in that heat…joggers.
I grabbed coconut juice from a real coconut, went for a swim, and read about the cold temperatures in Boston. It felt pretty good.