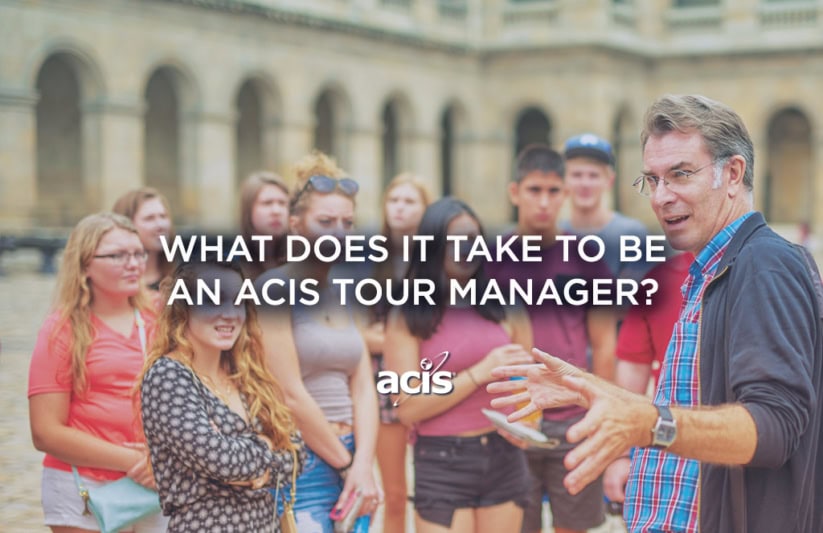 This post is for everyone who has ever wondered how ACIS Tour Managers end up with one of the coolest jobs in the world. Giacomo Gambone, our Director of the Tour Manager (TM) office, gives an insider look at what it takes to become a part of the TM Team and how having fun is part of the job description.
1. How long have you been overseeing the Tour Manager Program?
It will be a year in three weeks! Wow, time flies. I should celebrate! I've been a TM since 2011 and then joined the TM office here in London in October 2013. Since then, I've been working in the recruitment and training of new Tour Managers.
2. Do you have a city you're particularly fond of showing others around?
Absolutely. Venice. Yes, not the most original choice, but I just love the silence of its hidden corners. Everything about this city is special. The way you move around, on Vaporetto water bus, water taxi or on foot, makes it a slower city, and that allows you to appreciate its nuances. Also, every sense is stimulated. The smell is unique, the views are unrivalled, the noise – with no cars – is different, the food is fantastic & unusual and you can feel it moving under your feet sometimes!

3. I speak Spanish, I'm interested in history, and I love to travel: I'm ready to apply, right?
Almost! Our Tour Managers need to be able to work in the European Union. Also, I would say people skills are extremely important, as it is the joy of sharing what you know and your experiences. We employ Tour Managers from all walks of life. Some are professional tour guides, but then we have teachers, lawyers, PhD graduates, translators, students, artists, journalists, and University researchers. That is, I believe, what makes our TM pool so special for our passengers, and for me too as I learn so much from them.

4. What do you look for in a good candidate?
We have an online application form that goes online in October and November (http://www.acis.com/about/join-tourmanagers). There, we ask the candidates for the knowledge of specific cities, their language skills and their availability. Easter is the peak season for us, so availability around those dates is much appreciated. We prefer candidates that obviously can speak great English and have a good command of another language. If the profile is interesting though, we don't discard candidates that don't know many places or just speak English, as knowledge can be built, but personality can't. So ultimately, I look for someone who knows things, knows how to deliver this knowledge and has a sense of humour. Oh, and that is patient!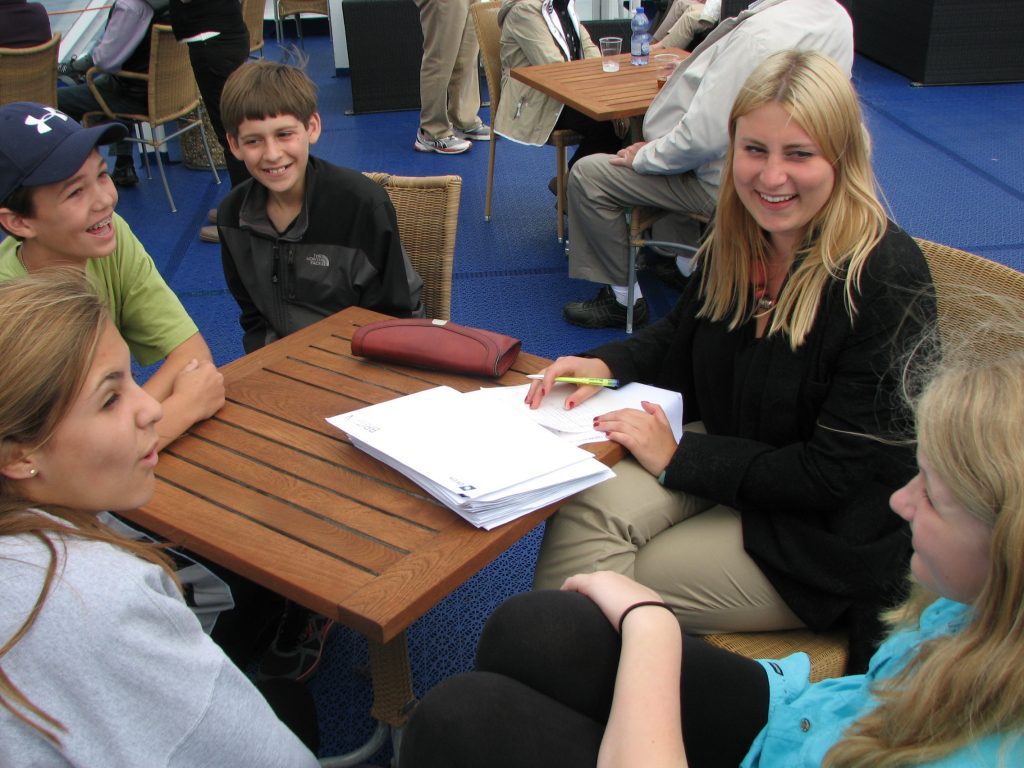 5. Once they've applied, and you've expressed your interest in them possibly becoming a TM, what happens next?
It's a fairly simple process. We interview them (in person here in London or via Skype), then, if successful, we invite them to our Training Weekend. After that, if everything goes well, they are part of the family.

6. Is there a way for interested candidates to "study up?" A TM bootcamp, perhaps?
Yes, every year we have a Tour Manager Training Weekend, in which we go through all the aspects of a tour. From planning to helping groups organize free time, from interactive activities to road commentary on an actual bus! This moment – not run by me but by our "master trainer" Chris Robson – is key for us as we see new recruits in action. It's a lot of fun too, and I would say is a significant part of the success of our new TMs.
After training, all Tour Managers that get assigned to a tour will get a specific briefing and, if completely new to the job, have the opportunity of shadowing more experienced Tour Managers. And the fact that more experienced TMs are always ready to help with tips and suggestions our new recruits, I think says a lot about the team spirit.
As for resources, we provide several documents online, and every TM has access to these. They are updated by other TMs every year.

7. TMs have to be great at relating to and managing students. Is there a way you test that skillset?
A Tour Manager has to have great personality and a good sense of humour. We test that a bit at the interview stage, and see if we can have a fun and interesting interaction with the candidate. Once we invite them to training, we recreate situations that are very similar to the ones on the road (role plays, games, interactive activities, time on the bus etc..) to see if the candidate would do a great job on a bus. Students travelling with ACIS are generally very interested in what they are seeing, and that makes the Tour Manager's job more rewarding.

8. Any advice for those out there looking to become a TM? The dos/don'ts of the interview and the job?
It's a job that you either love or… don't. I'd say show your interest for travelling and sharing stories, do let us know about your interesting path in life, and be yourself.
Don't pretend you know places you've never been to and don't pretend you speak a language if you can't. Trust is important.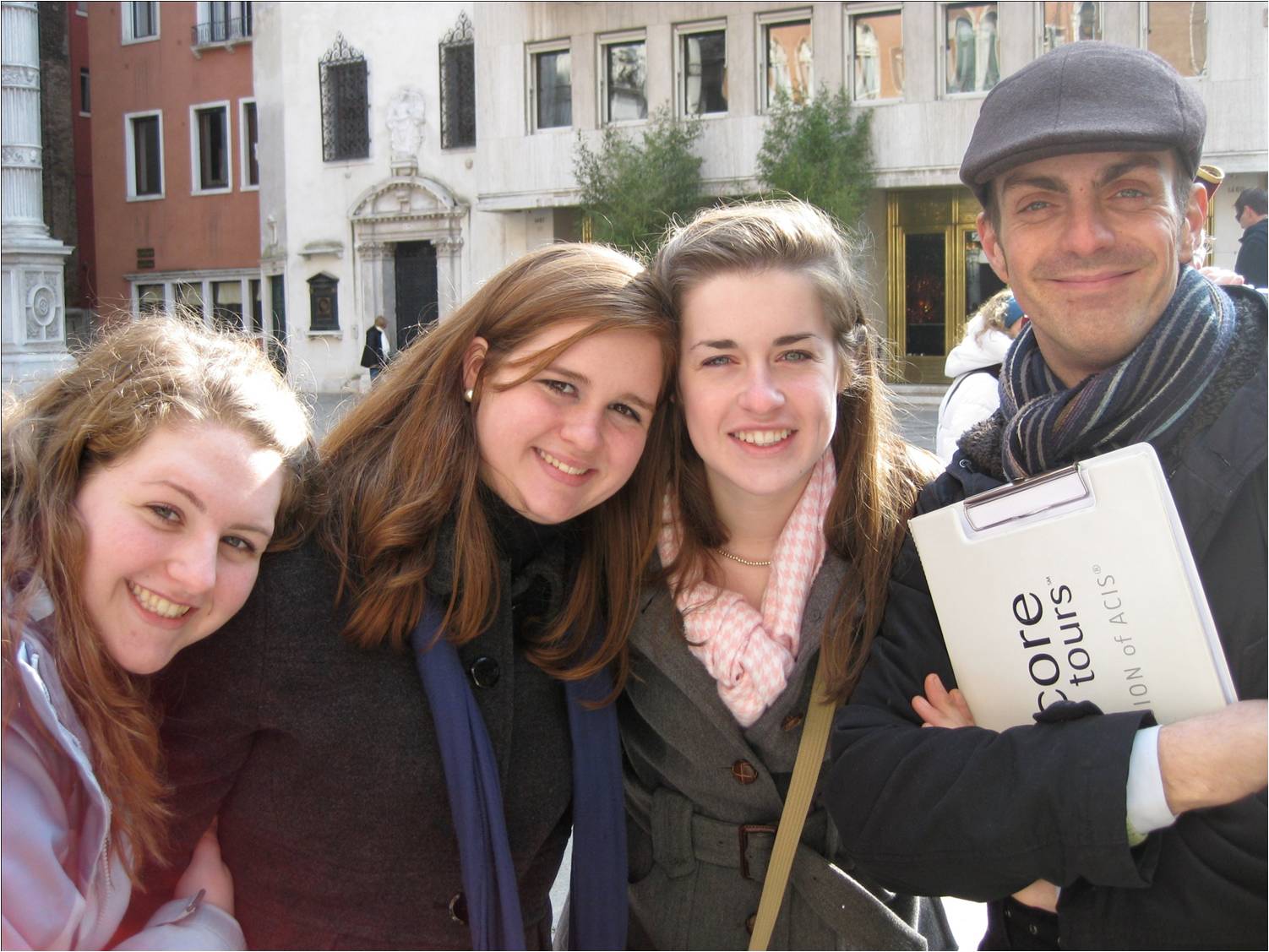 9. What's the best part about being a TM (other than travel!)?
Personally I always thought that the best part of being a TM for ACIS is to be there when students experience something extraordinary. The ethos of ACIS is Travel Changes Lives and it is something I believe in, because I see it! The first time you see the Colosseum, the first time you climb the Eiffel Tower, the astonishing beauty of the Sistine Chapel those are moments you never forget!
Every year we have a TM meeting and party here in London. All TMs who have done a tour with us are invited and very welcome to come. It's a moment to be all together, laugh, dance and share stories… and that is something our TMs are particularly good at.