Get to know our tour managers, well-traveled and fascinating individuals who make your ACIS educational tours truly unique and unforgettable. Today we're happy to introduce you to Lucy Ryan.
Hi Lucy! Thanks for taking the time to chat with us. Can you tell us a little about your upbringing and background?
I have a Masters in Education and a Postgraduate Certificate in Education, both from the University of Cambridge. I also have a Postgraduate Certificate in Journalism from the University of Westminster, a Bachelor of Arts in History and Italian from the University of Manchester and CELTA (EFL) certification from the University of Cambridge.
I speak Italian, Spanish and French. I was born in the UK, but attended the International school in Milan when I was eight. My grandparents lived in France too so I was frequently there on holiday. I then lived, as an adult, in Rome, Siena, Paris, London and Barcelona. I am a History and Italian teacher by profession, although I also teach Spanish, French and English as a foreign language.
Wow! That is quite the number of accomplishments and degrees. What are some of your passions?
I think the TED talks should be a compulsory part of the national curriculum and the start to everyone's day. I greatly enjoy reading and defy anyone to read Bill Bryson without laughing out loud. As a massive fan of politics and current affairs; the second series of House of Cards is preventing me from doing anything!
I love writing. I have just set up my own travel blog. I also recently set up my own business teaching languages through culture, something I do alongside tour guiding. I enjoy hiking and am particularly fond of the American national parks. I also love spending time with my nieces, although love a little less reading (at their request) the same book over and over again…
Tell us about your travels growing up. Where did you go and how did those travel experiences impact your life?
Having been fortunate enough to have lived in Italy as a child and with grandparents who lived just outside Paris, from a young age I understood that travel meant gorging on madeleine cakes, dancing around to 'Voulez-vous dansez grand mère', sitting in sunny piazzas and being entertained by the gesticulating Italians; in short travel meant escapism. In order to continue my Peter Pan existence, I continued to travel and live abroad, studying at Università di Siena, working as a Business English teacher in Paris, working as an Events Manager and English teacher to politicians in Rome and working as an English teacher in Barcelona.
Travelling is akin to falling in love. The mundane becomes exciting. Buying a coffee, taking a walk and boarding a train is that much better simply because you are in a foreign country.
What's one thing you wish every young adult/student could experience while traveling?
I want trips to replicate that magical moment when you find a book that you simply can't put down, but never want to end. I want students to feel that about travelling. I encourage all my student groups to smell the croissants in Paris, feel the sun on their face in Barcelona, taste the fabulous food in Italy, listen to the Tower of Babel that is Europe and sit and watch the people in the piazzas.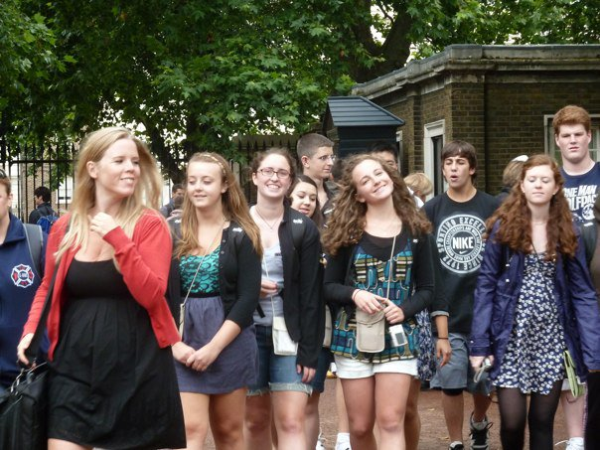 Can you tell us something interesting about yourself that others may not know?!
When I left university I worked as a Lloyd's broker for Aon, in London. Aon is actually an American company based in Chicago, but with offices worldwide. Despite my failing catastrophically the maths part of the assessment weekend (even with my poor grasp of mathematics, I understood that only answering eight out of the fifty questions meant things weren't looking good), amazingly I was offered the job. This was largely due to the fact that, despite thousands of applicants there were very few who could speak several languages which meant I got the job ahead of all the others. It definitely pays to travel and learn languages.
What's your favorite foreign expression?
'Joie de vivre' or 'La Dolce Vita'. It is not enough to exist, you have to live.
What would you tell a parent about sending their child on an ACIS educational tour?
Travelling as a child rather than as an adult is akin to learning to ski as a child rather than as an adult. You don't fear, you only see excitement. Most young people growing up today learn about the world via the rolling twenty four hour news, normally showing the very worst of human behaviour. Travel is an opportunity to see the very best.
Finally, I would use the words of one of your countrymen, Mark Twain, as the below quote is on my business cards and is my life motto:
"Twenty years from now you will be more disappointed by the things that you didn't do than by the ones you did do. So throw off the bowlines. Sail away from the safe harbor. Catch the trade winds in your sails. Explore. Dream. Discover"
Thank you, Lucy, for telling us your story! If you'd like to travel with Lucy, she frequently manages tours through Italy, Spain, France, Greece, the UK, Germany, Austria and Switzerland.
Want to know more about our tour guides? Don't miss learning more about them on our tour managers page.