What a week. I have to admit, this trip was not the typical ACIS tour. When I was asked to be the Tour Manager of a Global Teacher Conference in Turin, Italy from July 22nd to the 27th, I thought it would be exciting for many reasons. First of all, it was a food and wine themed tour, then it was in Italy and, most importantly for me, it was all happening in the area I am from. Well, it goes without saying that this trip went above and beyond my expectations more than any others.
We landed in Malpensa and drove through the Pianura Padana to Torino. The drive is quite scenic with rice and corn fields that completely surround the motorway. In Turin, we stayed at the Principi di Piemonte, right in the center of town, perfect for visiting the old cafés sprinkled around the elegant grid of streets surrounding our hotel. A must drink in winter is the Bicerin, whilst in the summer I couldn't resist a good gelato in Gianduja flavor. What is it? Well, I mentioned it in my article about chocolate!
The welcome reception at the Principi di Piemonte was a triumph of Piedmontese delicacies. In the food bonanza: peppers with anchovies, veal with tuna cream and peaches filled with chocolate and amaretto cream. At first, the group was weary of these different dishes, but by time we had our first bites, the group couldn't get enough – they were asking the waiters not to go anywhere with those trays!
The day after, we went on a sightseeing tour that covered the church of San Lorenzo and the Duomo, where the Holy Shroud of Turin is kept. It will be on display in 2015. Yes, you should put it on your travel list! We then moved on to a cheese tasting session in the Porta Palazzo Market. Cured cheeses, mozzarella, gorgonzola and parmesan, enjoyed with Dolcetto red wine, in one of the largest and most buzzing markets in Europe- is there really anything better? Well, apparently there is. So keep reading!
In the afternoon our guide, Carol, took us to the Egyptian Museum. Why? Well, this museum is the second biggest in the world after the one in Cairo, a fact that Torinesi brag about. This became a joke throughout the trip, everything we were doing became "the second best thing after…!"
Being a food and wine themed tour, dinner was of course exceptional. Ristorante l'Agrifoglio prepared many local delicacies. Porcini mushrooms, cheese fondue and ox were served with abundance. The food was so good that we had to meet the incredibly busy chef. If you are reading, Mr. Chef, we are sorry for interrupting, but we had to meet you!
LANGHE, THE FOOD.
After a wonderful breakfast at Principi di Piemonte, we set off to Piobesi D'Alba, to visit a company that processes white and black truffles. Tartuflanghe was created in 1980 by two experienced chefs, Beppe and Domenica, who now produce a range of products, from truffle scented spaghetti, to sauces, pâtés and so on. Following the visit to the factory, we made our way to the fields where Ottavio, the truffle hunter, was waiting with his dog, Ricky. He started hunting, and found a couple of summer black truffles. Suddenly, a bunch of pheasants arrived and Ricky's primordial instinct led him to chase them instead of truffles! We took that as a sign and went back to the factory to taste the delicious truffles. Mixed with cod, salmon, peppers, honey and cheese it was an enlightening experience to see all of the different kinds of pairings, such as the truffle scented honey, which really caught my attention.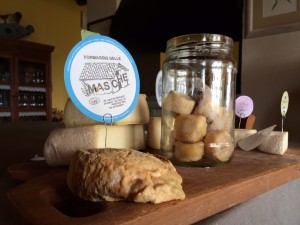 Langhe, and in particular the city of Bra (stop giggling, kids!), is also the area where Slow Food was created. This institution, known worldwide for its support to local producers and organic crops, branched out about ten years ago in a university, the Università di Scienze Gastronomiche, in Pollenzo. Classes are held in the Agenzia di Pollenzo, a summer palace built in 1835 by Carlo Alberto, member of the Savoy family. In the same building, visitors can find the Banca del vino – the Wine Bank. By far, the most solid bank in Italy. It contains 100,000 bottles, and its aim is to keep memory and track of every wine produced in the Bel Paese. Our trip to Pollenzo had another goal, though. We had to learn how to make gnocchi. Yes, we put on our white hats and guided by our chef, Fabrizio, we started rolling dough. And then we kept rolling. And rolling. And then cutting. And then rolling again. The result? A tiny piece of dough, as big as a fingernail, that we later had as lunch, cooked with ragù sauce. ACIS President Peter Jones joined us, and I got the impression from him that we did a pretty good job.Buonissimi, or as we say in Piedmont, propi bun.
During this eventful week we also visited an olive oil producer. Paolo Pejrone is a famous landscape architect that in his spare time produces a good quantity of olive oil in the delightful hills of Ravello. His oil on roasted bread was a delicacy. Absolutely fantastic. And enjoying it in the middle of a beautiful garden, with rare plants and flowers was a pain, but someone had to do it.
Last but not least, we visited a cheese producer, Cascina Raflazz, in Paroldo. The Adami family owns and runs this business, which is not limited to cheese production. The farm can host up to 12 people for an overnight stay and up to 70 in their restaurant. These businesses are called agriturismo, and are a huge success in Italy. We learned how to make goat cheese and cheese made with a mix of cow and goat milk. Then, the fat part of the visit arrived: the tasting. Eight types of cheeses, plus one. The bruzz. The monster. The super sharp cheese cream. Only the bravest tried it. Or the shameless. I clearly belong to the latter category, therefore I had it. I wouldn't have it for breakfast on my toast, but it was good. Every type of cheese was great and all is owed to nonna Renza, who taught to the family how to make cheese. Of course, we had to meet her. Her happy and proud eyes were one of the nicest memories of the trip.
WINE MAKERS IN THE LANGHE AREA.
Langhe, apart from providing tasty food and strong gastronomic culture, is the land of wine. During this week we visited three wine makers; a global brand and two smaller producers. It was great to see the difference in scale of production between the three wine makers, but all three wine makers were equal in their amount of passion and pride for the final product. The global brand we visited is Gancia. Spumante producers from Canelli, it's a developed brand known worldwide. During the tour, we walked next to a few very large, 100.000 liter tanks, containing sparkling wine. After the visit, we went to our ritual tasting session. Popping bottles like it was New Year's Eve! After we had a sample of vermouth, a drink known all over the world associated with drinking a Martini, but whose invention is claimed by Gancia. "A Gancia, shaken, not stirred" just doesn't quite sound right guys, sorry!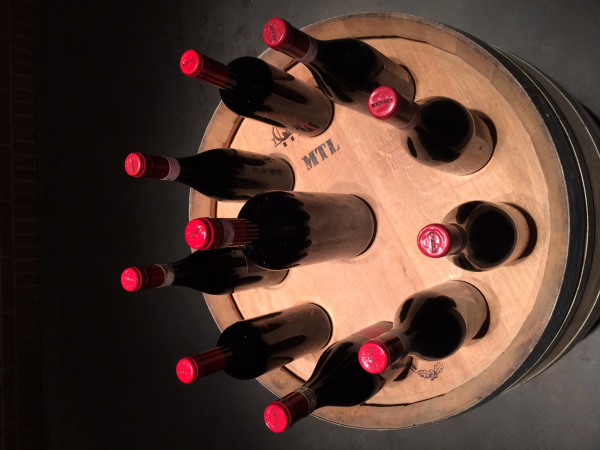 The two smaller producers we visited were the Marchesi di Barolo in Barolo andPodere Einaudi in Dogliani. The Marchesi are established in Barolo, cradle of the production of a wine whose name I can't quite recall… oh, yes: Barolo. During the tasting we tried Barolo and Barbaresco. Both produced from the Nebbiolo grape, just 1.5 miles away one from the other. Wine produced in Barolo can't be called Barbaresco and the one produced in Barbaresco can't be called Barolo. It's a strict rule. The difference between the two is basically the land on which grapes grow, and the sun exposure of the two different areas. Barolo then ages for at least three years while Barbaresco slightly more than two years.
On our last day of the trip, we visited the Poderi Einaudi in Dogliani, founded by Luigi Einaudi. Wine production was, let's say, the side business of this man. His main job? Well, he was President of the Italian Republic from 1948 to 1955. He started the business aged 23 and, as his bio states, never missed a harvest, not even while in charge of the Republic. The place is an absolute gem. It's an old farmhouse on the top of a hill, overlooking endless vineyards. While visiting, there was a blissful sunshine that made it really special. This was the last visit of our trip, which finished right before the sun set on a week to remember.
Does exploring wineries, truffle hunting, or cheese tasting through Italy appeal to you? Next year, you could be on a Global Teacher Conference! Check out Benefits for Teachers for more information.